Nintendo launching Yo-Kai Watch worldwide
Multimillion-selling 3DS hit in Japan will launch in North America, Europe, Latin America, more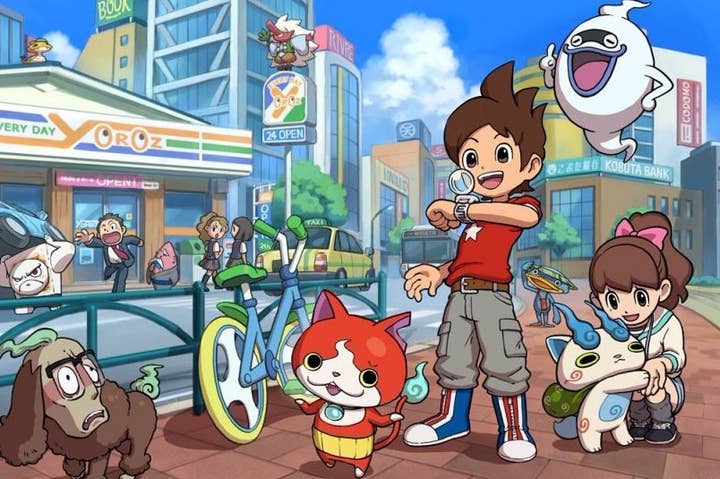 Since its debut in July 2013, the Yo-Kai Watch franchise has sold more than 7 million copies in Japan alone. Today Nintendo confirmed plans to bring the hit 3DS series of games to the rest of the world, including the United States, Latin America, Europe, Australia, New Zealand and Korea.
Nintendo didn't say when the franchise would debut in which markets, but Hasbro has announced plans for a worldwide launch of its accompanying toy line in 2016. Additional global partnerships for the franchise's merchandising and TV tie-ins are expected later this year. Those deals could prove to be huge; Yo-Kai Watch toys and merchandise have brought in more than $1 billion in retail sales in Japan to date, a number that Nintendo said specifically excludes games, music, and publishing revenues.
If it sounds like Nintendo is trying to create a new Pokemon phenomenon, the company's synopsis of Yo-Kai Watch's plot is only likely to strengthen that impression.
"Published by Nintendo, Yo-Kai Watch centers on a boy who gets a special watch that lets him befriend and help mischievous Yo-kai and later summon them to fight other Yo-kai," the company said. "Players can overcome challenges and help various characters solve everyday problems with the help of Yo-kai friends."
[UPDATE]: Analysts GamesIndustry.biz reached out to seemed a bit skeptical of the series' potential to replicate its Japanese success in the West. Wedbush's Michael Pachter cited the anime art style and "odd gameplay" as qualities of the series that give him pause.
"I would have probably said Pokemon would be a bust before it was huge here, but I tend to think that Yo-Kai is not as 'cute' as Pokemon, so I'll go with a bust in the US," Pachter said.
IDC research director of gaming Lewis Ward wasn't sure how the appeal of Yo-Kai Watch would translate across cultures.
"I don't blame Nintendo for doing everything possible to create the next Pokemon here in the US, but this is basically an unknown franchise here," Ward said, adding, "Japan also has the benefit of the manga and animated TV series to drive interest over time. This transmedia content difference is going to translate into lower sales for sure, but it's very difficult to predict how large this drop-off will be."