Yo-Kai Watch franchise to start worldwide expansion
New toy deal with Hasbro signals global ambitions of Level-5's lucrative multimedia IP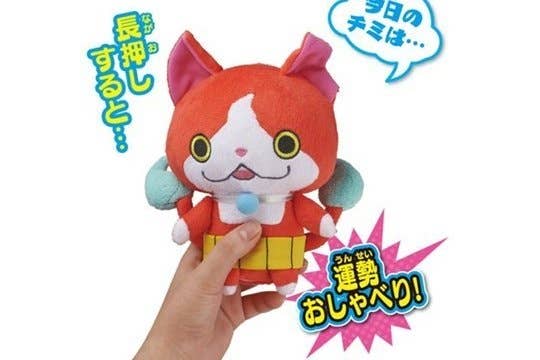 Level-5's Yo-Kai Watch franchise will start rolling out worldwide in 2016 following a strikingly successful year in Japan.
The Yo-Kai Watch IP was the source of three of the six best-selling games in Japan last year, including the number one: Yo-Kai Watch 2: Ganso / Honke. Despite the first of those games only being released in July 2013, the 3DS series has already sold more than 6.5 million units.
And Yo-Kai Watch is a thoroughly modern brand, made in collaboration with Dentsu Entertainment and TV Tokyo Corporation so its audience can grow across numerous platforms simultaneously. The Yo-Kai Watch television series has the best ratings of any show for kids aged 4 to 12, which, in turn, feeds into strong sales of its manga, toy and merchandising lines.
However, its growth to date has confined to Japan, something that will change in the coming years, starting with a partnership with the global toy manufacturer, Hasbro Inc. This particular deal is for an "innovative toy line" that Hasbro will launch worldwide in 2016, but there will be other partnerships for games, broadcasting and merchandising announced later this year.
"We have seen the massive success of the Yo-Kai Watch franchise in Japan and are thrilled to be chosen to help expand the property to new markets," said John Frascotti, president of Hasbro Brands, in a statement.
"We look forward to creating exciting and innovative play experiences with this amazing property for kids to enjoy around the world."