NHL 13 sales up despite lockout
EA Sports sim posts best ever first-week sales, up 9% year-over-year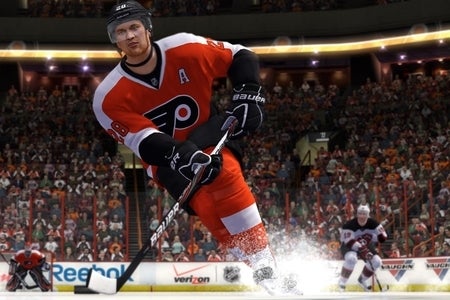 The NHL might not be playing this season, but that's not stopping fans from picking up Electronic Arts' latest sim bearing the league's license. The publisher today announced that NHL 13 posted the best launch numbers in franchise history last week.
EA's internal estimates put NHL 13 worldwide sell through up 9% over last year's version of the game, which was itself a new high for the franchise. Although the game launched September 11 and the lockout didn't take effect until September 16, a lack of progress in discussions between the league and the NHL Players Association had left the stoppage as a foregone conclusion.
EA did not give specific numbers for NHL 13, but last year the publisher reported first-week sales of 451,000 in North America and Europe, with a total of $27 million in revenue generated.
NHL 13 features Philidelphia Flyers star Claude Giroux on the cover, and EA is touting new GM Connected and NHL Moments Live modes. To date, the publisher said nearly 50,000 players have tried out the GM Connected feature, and a total of 3.7 million online games have been played. (Last year's game saw 6.9 million online game sessions in its first week.)
Hockey fans may have to get their fix from the EA Sports sim for a while; the NHL and NHLPA have taken a break in discussions, and the two sides are not expected to meet again for the rest of the week.