Newzoo: Top 25 public gaming companies are still growing, but slowly
H1 2018 growth was lowest year-over-year since 2014, with China licensing freeze hurting industry leaders
2018 has been a good year so far for most of the top 25 public gaming companies, though perhaps not as great a year as could be hoped. According to Newzoo, the collective growth rate of these top 25 companies is the lowest it's been since 2014 due to a handful of major global factors.
Newzoo's report says that the top 25 public companies by game revenues generated a combined $50 billion in revenue in H1 of 2018, up 12% year-over-year. Though these industry leaders are still showing growth, that growth has slowed considerably in 2018 and will likely continue into 2019.
Several of the reasons for the slowed growth are reflected in the previously-reported-on Newzoo Global Games Forecast for 2018, which lowered to $134.9 billion in expected revenue for the year due to factors such as the Chinese game license freeze and a lack of diversity in the mobile market.
A major example of both can be seen with Tencent. Though still in the #1 spot on the top public companies listing, this past Q2 was the first time in over five years that the company has not reported double-digit year-over-year growth. NetEase (#6), Tencent's main Chinese competitors, reported H1 revenue decreases.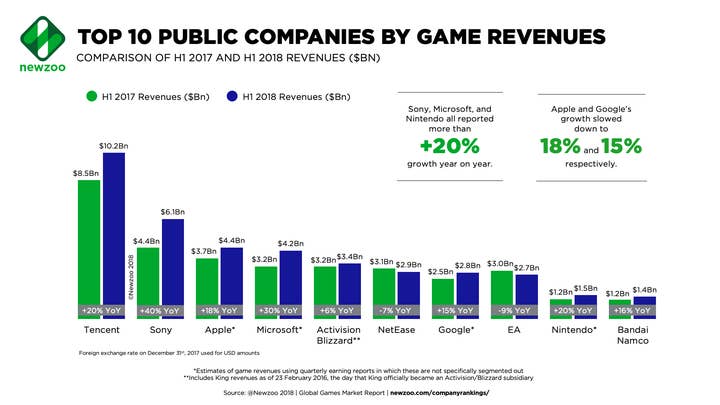 All that aside, console publishers and especially the big three platform holders are having a strong year. Microsoft, Nintendo, and Sony all reported over 20% year-over-year revenue growth and combined brought in $10.8 billion in console revenue.