Newzoo lowers global games forecast for 2018 to $134.9 Billion
China's licensing freeze, mobile copycat fatigue bring mobile market predictions down by $7 billion
Newzoo has announced today it will reduce its initial forecast for the global games market in 2018 from $137.9 billion to $134.9 billion as a result of both lower-than-expected mobile growth and, to a lesser degree, higher-than-expected console and PC growth so far this year.
The most significant shift in the forecast comes from mobile, which Newzoo predicts will reach $63.2 billion in 2018 rather than the previously-predicted $70.3 billion. The reductions are due to two factors: the first is China's licensing freeze stopping new games from entering the largest global market almost entirely, and the second is an unexpected lack of global mobile blockbusters.
Newzoo notes that although China's licensing freeze affects both mobile and console games, mobile is more dependent on a constant flow of new releases to keep itself afloat and is thus more dramatically affected. Chinese companies are expected to begin showing stronger effects of the freeze in H2 of this fiscal year, and Newzoo now predicts the Chinese mobile market will reach $19.4 billion in 2018 (10.6 percent growth year over year), having previously predicted the market to grow to $23 billion. The report concludes that though the trouble will likely be resolved in H2, the Chinese market may be slowed for some time to come.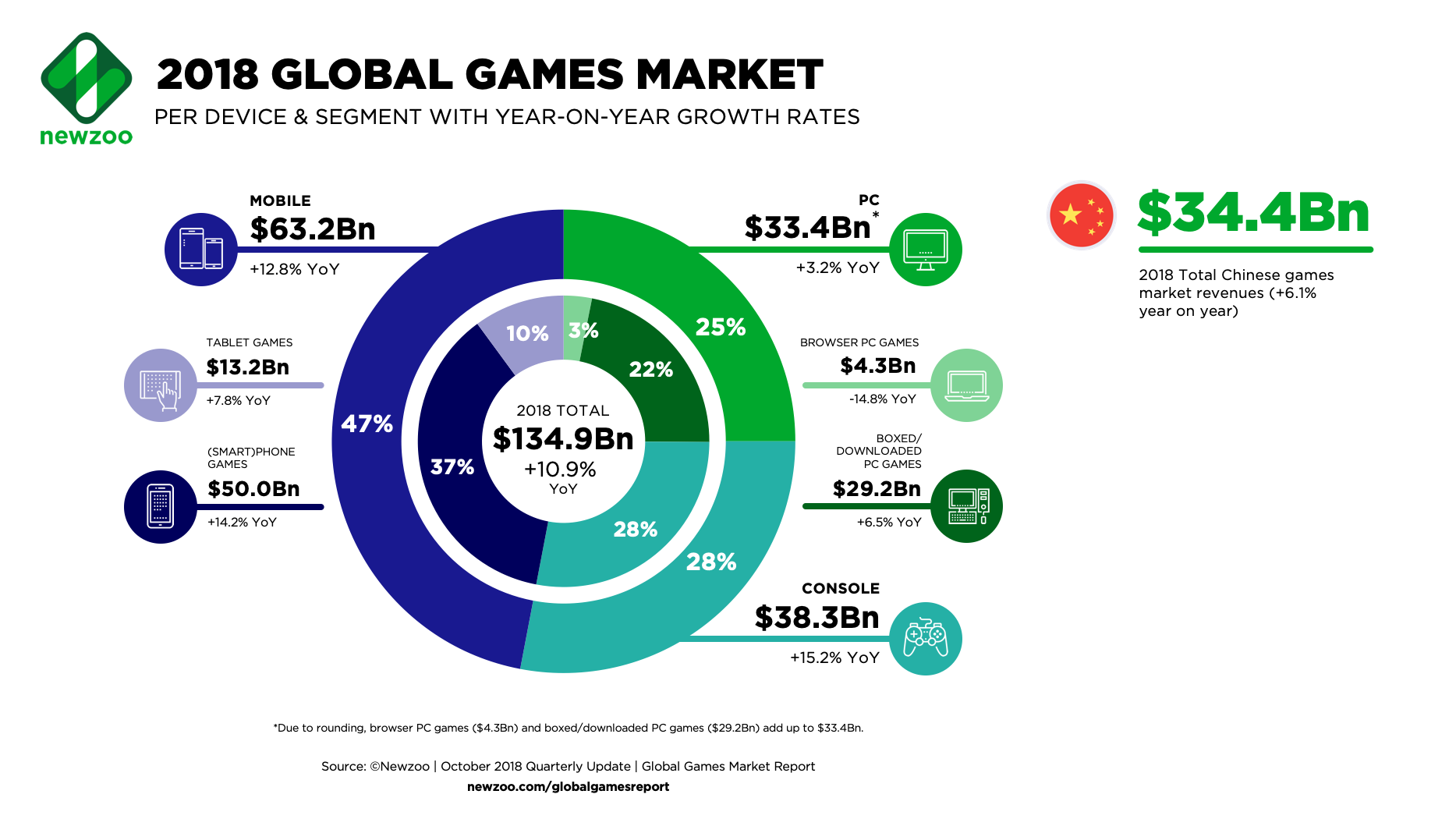 The second cause of the reduction in the mobile forecast, a lack of major global releases, is shown in that the top 100 grossing mobile games are not performing as strongly as initially epected due to factors such as Apple's App Store revamp and a lack of fresh innovative titles in a market saturated with clones.
Despite these reductions, Newzoo says mobile will remain the largest gaming segment, making up 47 percent of the market in 2018 - down from its previous prediction of 50 percent.
Balancing out the mobile forecast somewhat is the console gaming market forecast. Newzoo has increased its estimate for the console gaming market this year, predicting it will grow to $38.3 billion as opposed to the previous estimate of $34.6 billion. This prediction is based off of strong H1 reports from all three major platform holders, and the report notes even this expectation may be too low if American and European markets keep achieving well through the remainder of the year.
Finally, Newzoo has increased its PC gaming predictions somewhat from $32.9 billion to $33.4 billion due mostly to the boom of battle royale and innovations in monetization led by the genre through games such as Fortnite and PUBG.