Newzoo: Esports viewership will continue to bear greater resemblance to traditional sports
Three-year market outlook predicts a continued increase in esports "awareness" even as repeat viewership declines
Newzoo has just published its three-year predictions for the consumer side of the esports industry.
These included the prediction that a quarter of the world's population would be "aware" of esports by 2021. Currently, Newzoo reports 1.387 billion people as "aware" of esports globally.
The graph shows that early predictions of there being 190 million occasional esports viewers (those who view less than once per month) by 2017 were only two million below the current estimates. Its a similar case with the number of "esports enthusiasts" (those who watch esports more than once a month); predictions in 2015 expected there to be 145 million by 2017, but the latest figures estimate that number to be closer to 143 million.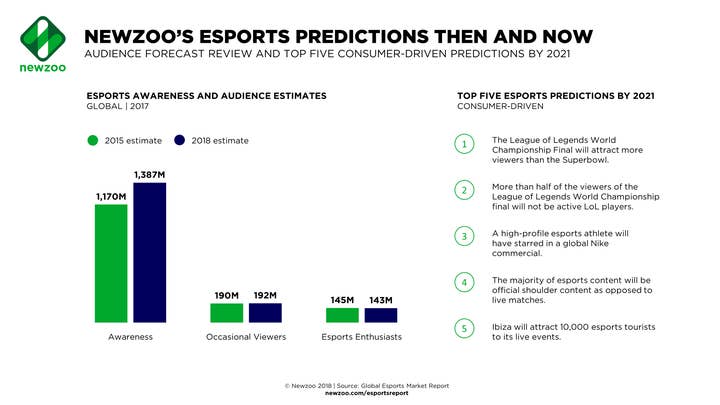 Overall, Newzoo predicts an increasing trend in the resemblance of esports to more traditional sports.
The report foresees that in three years, over half of the viewers of the League of Legends World Championship Final will not be active players in the game, building on Newzoo's current data that 20% of the game's esports viewership doesn't play.
As for those matches themselves, Newzoo also predicts that most of esports content by 2021 will be "shoulder" content, including commentary, game analysis, documentaries, behind-the-scenes features, highlight videos, and more.
This type of content is already on the rise online, and may make more sense as companies begin to partner with TV networks to bring esports content to places where traditional viewership already exists.
Other predictions for 2021 included that the League of Legends World Championship Final would bring in more viewers than the Six Nations Championship, that esports will see more viewers than tennis in the US, and that the world's 10 largest capital cities will all have dedicated esports stadiums by the same year.
For the record: This article originally stated there was a rise in occasional esports viewers and decline in "esports enthusiasts". It has been amended to clarify that these numbers represented predictions made in 2015, and the latest estimates made during 2018.