New Kickstarter from CastAR's Jeri Ellsworth raises $560,000 on day one
Hardware engineer is now working on Tilt Five, augmented reality glasses for 3D tabletop gaming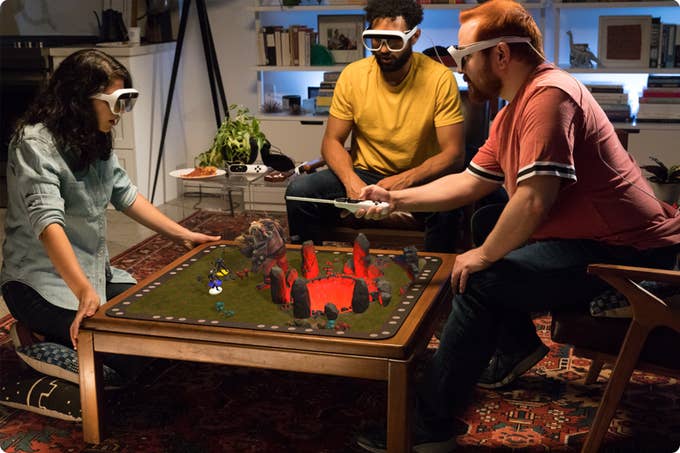 The newest crowdfunding from one of the CastAR co-founders has smashed its target in less than 24 hours.
The Kickstarter campaign for Tilt Five: Holographic Tabletop Gaming set a goal of $450,000, and has already raised $567,052 from 1,143 backers. There are still 33 days to go on the campaign.
Tilt Five is the brainchild of Jeri Ellsworth, the former Valve hardware engineer that helped drive previous Kickstarter success CastAR to a total of $1 million.
CastAR was based on research Ellsworth and her colleague Rick Johnson conducted at Valve. With Valve's permission, they took the project forward with the aim of releasing a new brand augmented reality glasses.
However, key investors later pulled their funding and a failed Series B funding round led to the company's closure in 2017.
Two years later, Ellsworth is once again forging ahead with Tilt Five. These AR glasses will interact with a game board laid out in front of players, providing them with an animated 3D tabletop gaming experience.
The glasses will feature a patented 110-degree field of view so users have a wider perspective on the game board, as opposed to most AR glasses where the bulky housing narrows their vision. A wand controller has also been designed for the actual game interactions.
It's designed to accomodate solo players, local multiplayer session and can even connect to the internet so you can play with other Tilt Five users elsewhere. It will ship with a collection of free single-player and multiplayer games for Windows and Android devices.
The LE version will be the standard model, while an XE version comes with a larger game board. Ellsworth and her team have already been showing pre-production units to both developers and consumers at events like PAX West.
The project's current timeline estimates shipping will being in June 2020.
"It's time to put our foot on the gas and make sure we get a bazillion units out into the wild," Ellsworth tweeted. "More units = more games, more friends to play with and more people online for late night game fixes."