NBA 2K13 sets first week franchise sales record
2K Sports doesn't state how many units were sold, but sales were up 49% over NBA 2K11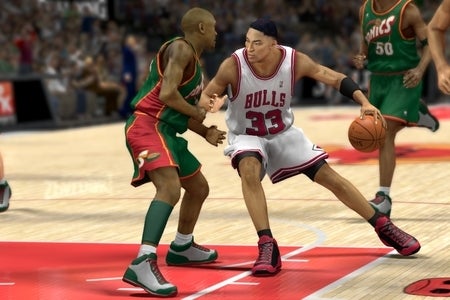 With EA Sports not a factor in the NBA simulation video game market for another year, Take-Two can enjoy being the sole choice for NBA fans. And today, 2K Sports announced that its NBA 2K13 has already set a new first week sales record for the franchise, surpassing the previous franchise best-seller, NBA 2K11, by 49 percent.
Strangely, 2K Sports decided not to share its unit sales number. NBA 2K11 went on to sell more than 5.5 million copies worldwide, so if 2K13 is on pace to possibly exceed that, the publisher has to be pretty pleased.
2K Sports commented on the game's "record-shattering growth" being attributable to the "expanding global popularity of the NBA 2K brand, which accounted for a 66 percent increase in international sales as compared with NBA 2K11."
The game has seen a dramatic rise in online gameplay totals as well. 2K said that the number of online users has more than doubled from last year's NBA 2K12, while the number of played online games grew by 127 percent over last year.
From a marketing perspective, one of the key's this year was the inclusion of Jay Z, who served as the game's executive producer. Not only did the rap artist create a special soundtrack for the game and assist in the title's visual style, but he apparently "played an instrumental role in securing the 1992 'Dream Team' for this year's game."
"Our early sales figures are a validation of our ongoing efforts to push this franchise to new heights," said Jason Argent, vice president of marketing for 2K Sports. "We owe it to our great fans to continually improve our title - year in and year out - and that's exactly what we've done with NBA 2K13."