More than 25 publishers and investors join GI Live: London
Google, TinyBuild, London Venture Partners, Frontier, Team17 and more join the line-up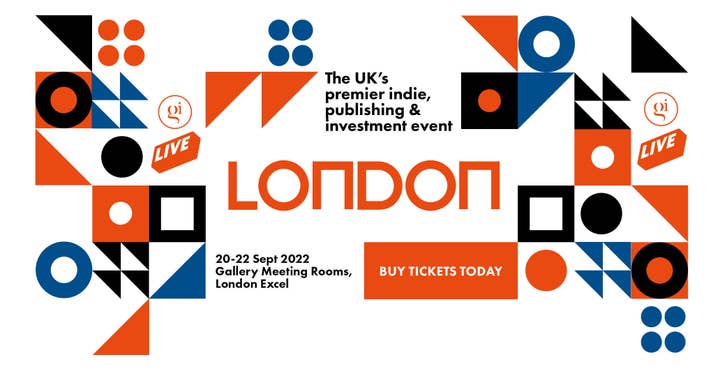 Over 25 investors and publishers are looking to meet indie developers at GI Live: London next month.
The first day of the event is Tuesday, September 20th and is an online-only meeting day.
The second and third days of the event (Wednesday, September 21st - Thursday, September 22nd) will take place in person, and includes a number of live talks, face-to-face meetings and roundtables. Plus, attendees can visit EGX, the consumer show that takes place at the same venue (London Excel).
You can buy a digital ticket, which includes access to the digital meeting day and the ability to watch our talks online. Our physical ticket includes complete access to the entire three days (plus 4-day access to EGX). You can also book a permanent meeting table for yourself and a team mate. All tickets are on sale here.
Companies attending the entire event include Curve Games, Frontier, London Venture Partners, Marvelous Europe, PlayStack, PQube, Sega, Square Enix, Team17, TinyBuild, Tripwire Interactive, Working Capital Management and Xbox.
Companies attending the digital day only inclde 101XP, Amplifier Game Invest, Bandai Namco, Blitworks, Boombit, Good Shepherd, Google, Hidden Trap, HoYoVerse, JanduSoft, Kakao Games, Lessmore, Plaion, Ripples Asia Venture and Skystone Games.
Alongside these companies, Valve will be conducting a live Q&A with developers at the event, answering questions about Steam and Steam Deck. Other speaker sessions include Rare Studio Boss Craig Duncan discussing the UK studio's transformation. Gina Jackson OBE will look at the perception of the games industry from the outside, while indie narrative developer Caroline Marchal from Interior Nights will be talking about her experience launching the hit Xbox game: As Dusk Falls.
More speakers and attending companies will be announced in the coming weeks.
Interested in sponsoring the event? Contact George Corner.