Mobile games are losing to video in the battle for users' time
Games still earn the majority of revenue, but App Annie report shows video apps streaking ahead in terms of hours spent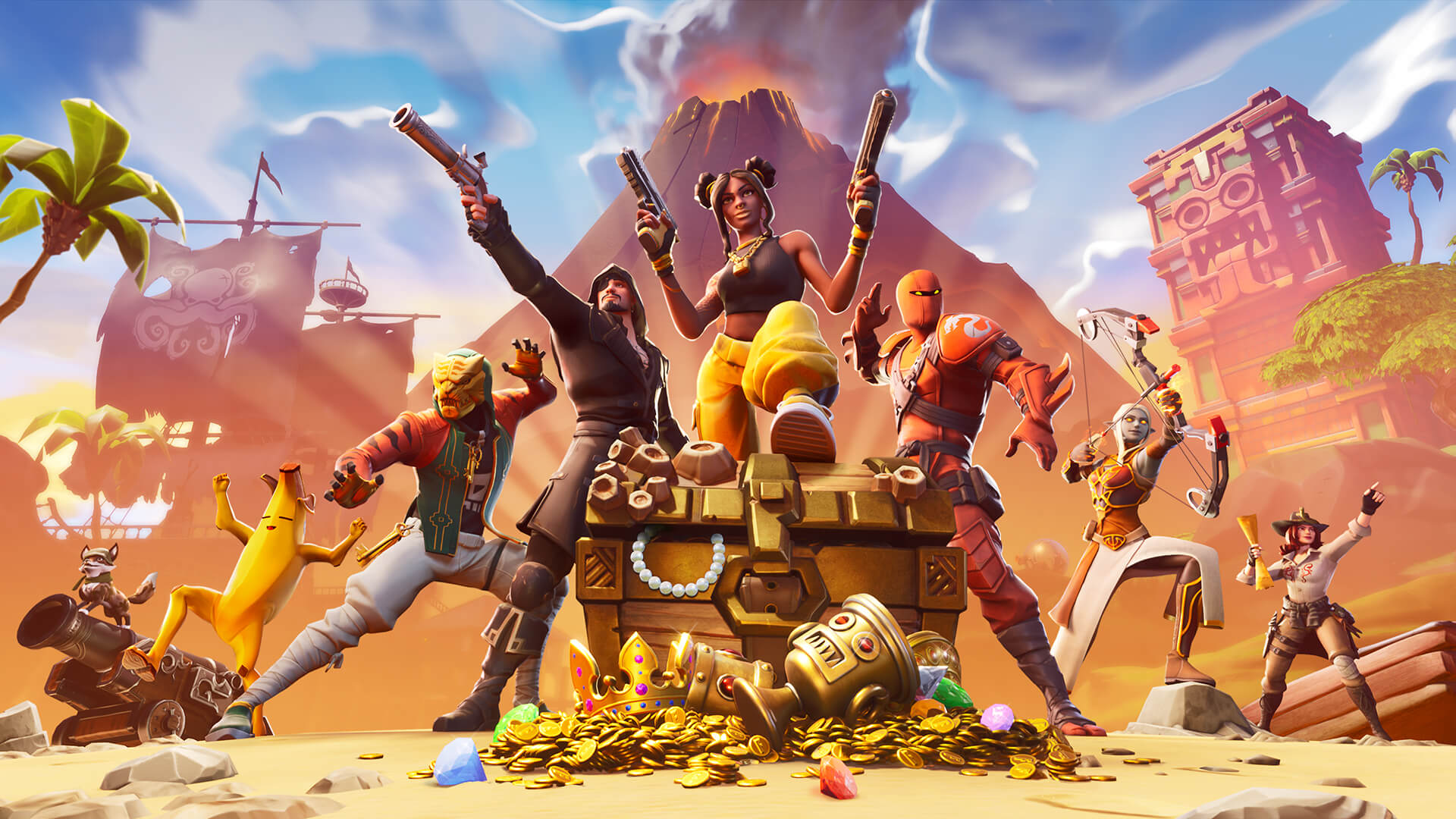 Games remains the single most lucrative mobile app category, according to new data from App Annie, comprising 74% of consumer spending in 2018 -- but it has fallen significantly behind video in terms of how long users spend in apps.
App Annie's annual report showed that 95% of spending on games was through in-app purchases, with just 5% on paid downloads.
The dominance of games in mobile spending is well established -- as is the dominance of in-app purchases as the primary revenue stream for developers -- but other data points in App Annie's report are more surprising.
Despite the huge amount of money spent in games, it is one of the weaker categories in terms of time spent in apps, with just 10%. The number of hours spent in games has increased 30% since 2016, but this rate of growth is behind other key app categories.
The most notable of those is video players, which enjoyed a 125% increase in time spent across the same time period. In 2016, App Annie's data showed games and video as roughly equivalent, but mobile users are now spending far more time watching video than playing games -- 15% of time spent, versus 10% for games.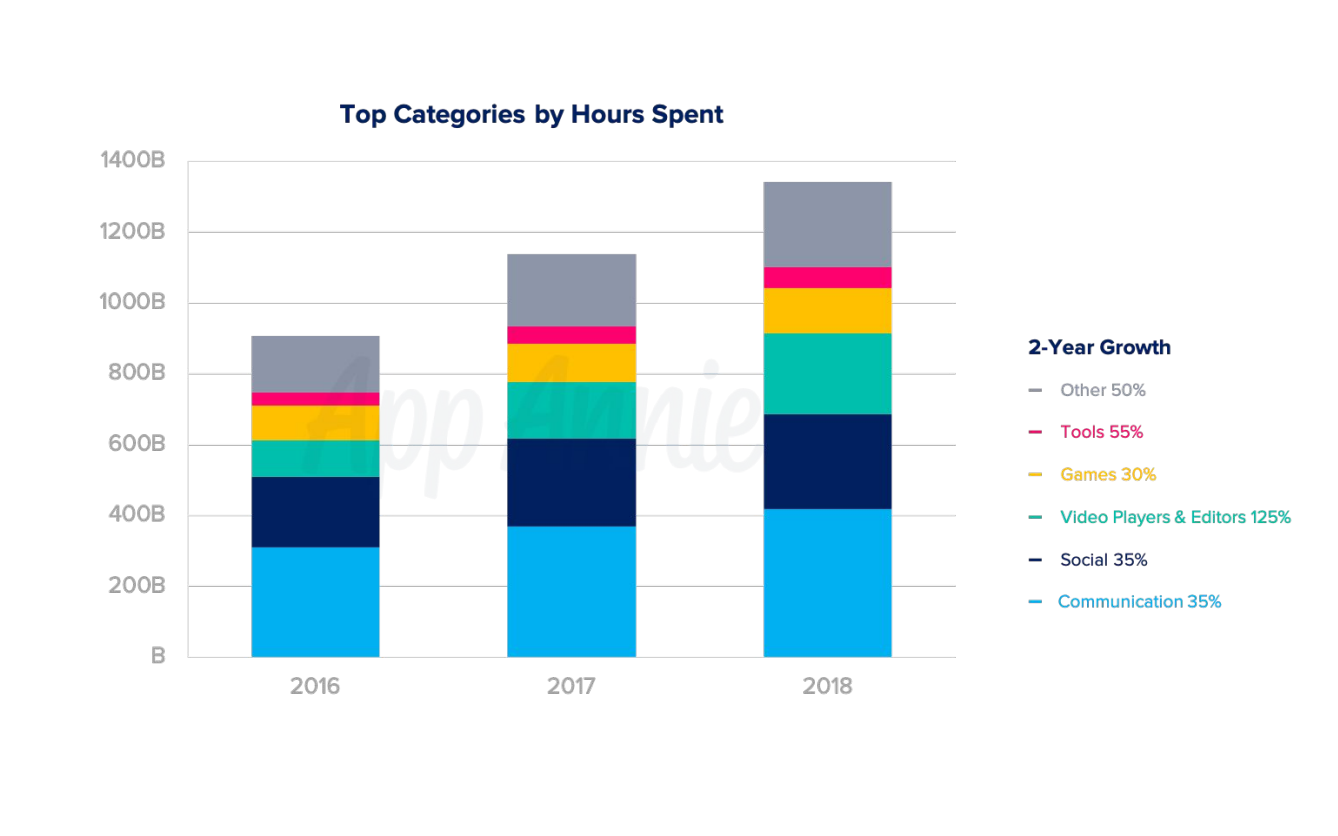 This speaks to a growing sense within the games industry that the main competition is not so much between publishers, as between entertainment companies in the broad sense. At the start of this year, for example, Netflix cited Epic Games' Fortnite as a bigger threat than HBO.
User habits also showed a relatively narrow appetite in terms of variety of games played. Across ten of the world's biggest markets, App Annie recorded a relatively large gap between how many games, on average, are installed per device each month -- from three in China, all the way up to eight in the US, the UK and France.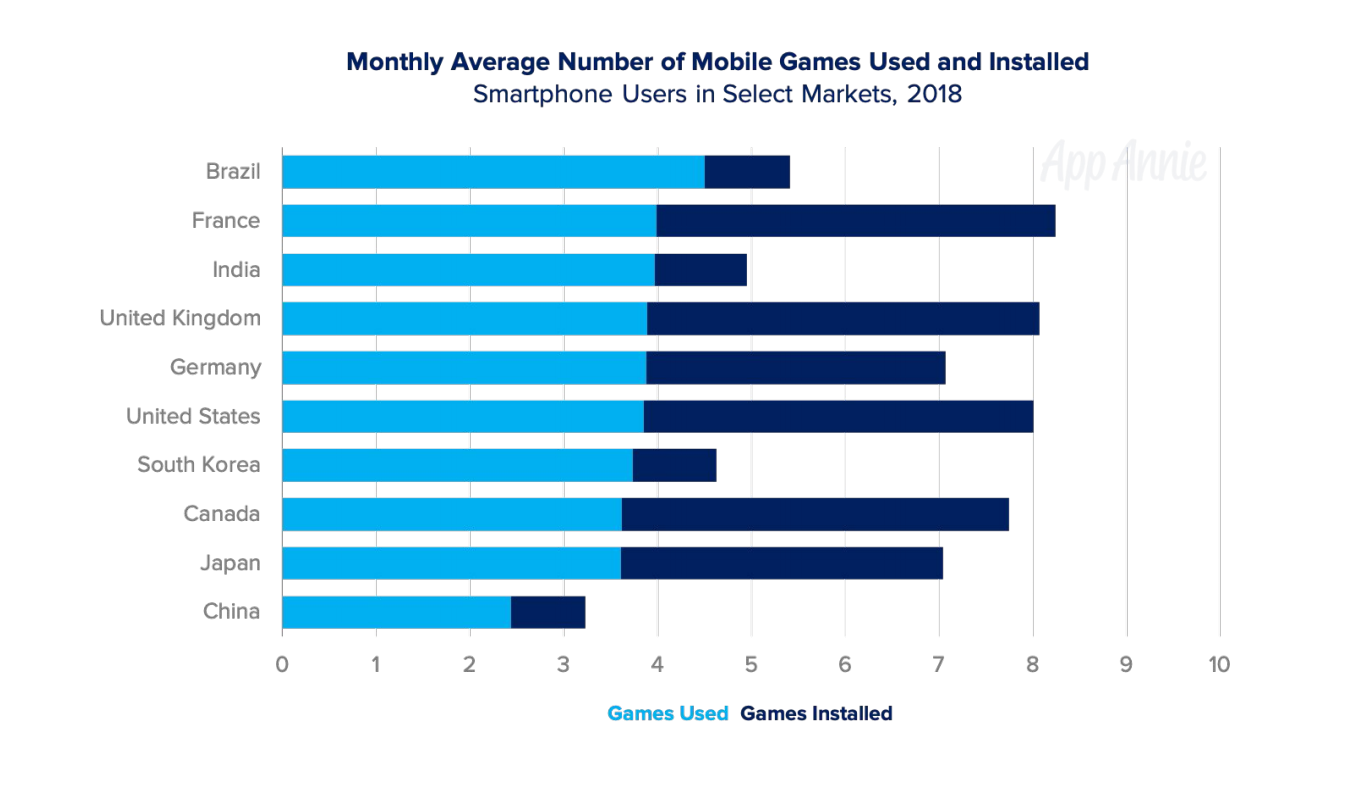 However, in terms of number of games played, the results were almost uniform, with eight out of ten countries playing on average of between three and four games a month regardless of the number of installed titles.
In terms of genre, App Annie recognised battle royale as a particular success story of 2018. Out of the same ten regions, only France and India didn't have at least one battle royale title in the top five most downloaded games of the year.
Battle royale is also a relatively new category, with Knives Out, PUBG Mobile and Fortnite mobile launching after September 2017. App Annie also noted that PUBG and Fortnite are cross-platform experiences, and the first releases where "mobile has held its own" against PC and console.
Looking ahead, the biggest release of 2019 is expected to be Harry Potter: Wizards Unite, developed by Niantic and Portkey Games. App Annie expects Wizards Unite to make $100 million in revenue within 30 days, behind only Niantic's previous title, Pokémon Go.