Microsoft to sever all ties with KSI
London launch event "does not represent Microsoft's endorsement of KSI's personal views." [UPDATE: KSI rep responds, "Sexism is not something he condones or wants to be associated with"]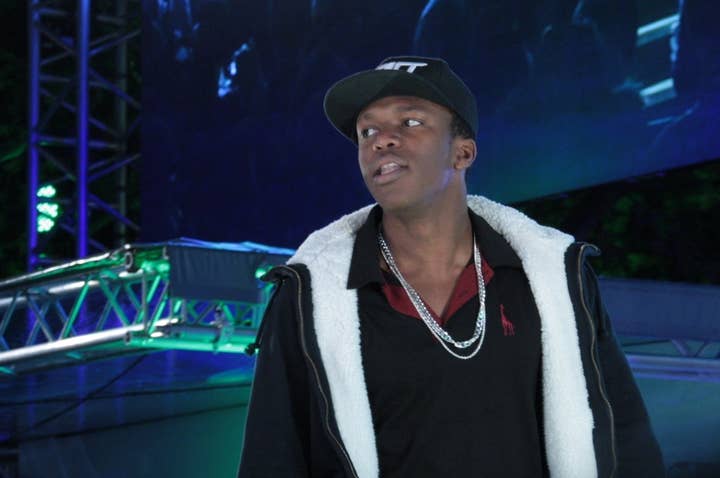 In an exclusive statement to GamesIndustry International, Microsoft has clarified its position on the involvement of YouTube personality KSI in the promotion for last night's launch of the Xbox One in London. The corporation has vowed not engage him again at any point.
"At the Xbox One launch in London last night, KSI performed a song with three other artists, which was one part of a ten-hour event featuring a main stage show, Xbox One gameplay, and a midnight launch for hundreds of our fans," said a Microsoft spokesperson. "This does not represent Microsoft's endorsement of KSI's personal views, and we are not planning on working with KSI in the future."
The statement comes in response to widespread anger and concern at the announcement of KSI's involvement and subsequent appearance last night, which upset many Xbox fans. Phil Harrison himself was only made aware of his reputation by a question during a GamesIndustry International interview immediately prior to the event, as shown below.
I noticed you added KSI to the bill tonight, he's part of the marketing push. There's been a fair amount of pushback against his personal brand after some of his behaviour in public, some of his misogynistic attitudes. For example, he's been banned from all Eurogamer events. I can understand why he might be engaged as he's so popular among gamers, but I think there is an inherent message that that sends to gamers, particularly female gamers. Is that not going to push them away from the brand? Is this simply a matter of not being aware of his reputation?
Phil Harrison
I'm not familiar with the concerns you've raised so I'd love to understand that better, I'm happy to take that offline.
The question and response was omitted from the original interview to allow time for Microsoft to respond, as the people in the room, Harrison and two members of Microsoft's PR team, clearly had no idea of KSI's previous behaviour. Later, and off-tape, Harrison expressed concern over what clearly came as a personal revelation.
Whilst he was on best behaviour during last night's event, KSI has a history of very public and overtly derogatory behaviour towards women. Nonetheless, he is a tremendously successful YouTube personality and a brand associate of companies as wide-ranging as BT, EA and IGN. Two years ago KSI published a video of himself harassing women at the Eurogamer Expo, which swiftly led to him being blanket banned from all of the company's events in perpetuity. He later apologised and withdrew the footage, but other videos he's posted have shown it to be far from an isolated incident.
Further responses to KSI's involvement have reflected bewilderment, disappointment and anger at Microsoft's decision to include the YouTube presenter in last night's Leicester Square gig, where he appeared onstage with rappers Sway and Tigger the Author. Perhaps the best and most popular summary came from Videogamer's Matt Lees. His video has since been pulled due to a copyright infringement claim from KSI but has been reposted without any of the footage from his channel. As the clock has ticked by, various outlets and industry figures in the US have also weighed in, expressing their disdain for KSI's prior behaviour.
Update: In an email to GamesIndustry International, KSI's manager has now come to his defense, blaming his youth for his transgressions, apologizing and noting that sexism isn't something KSI condones. Here's the manager's statement in full:
Shortly after the 2012 Eurogamer video, KSI pro actively removed it from YouTube and made an apology directly to Eurogamer. He wasn't asked to remove the video in question, but on reviewing the content, he felt it contained potential to offend and thus removed it from his YouTube channel.
The situation was addressed and moved on from with Eurogamer. Between us, we decided KSI shouldn't attend this years show so as to not reopen unwanted attention for the organisers or himself. It was a thing of the past and we remain on good terms with the owners Eurogamer. We will continue to liaise on the best way to involve KSI or not at future expos.
As an 18 year old at the beginning of his YouTube career at the time, with no real guidance, he realised soon after the Eurogamer reaction, of the influence and popularity he was developing through the platform. Also the responsibility that was beginning to come with that.
KSI is a character of JJ or Olajide, a young man with great humility and politeness and far from the character portrayed in the Eurogamer video.
Sexism is not something he condones or wants to be associated with. He wishes to apologise for any offence the video of 15 months ago may have caused in the short time it was on his YouTube channel, references to it since and subsequently used by other people. In recent months, he has also been actively avoiding certain content seen in the distant past and wants to be judged on the great content and value he gives to brands and partners, without controversy.
In the past 12 months, JJ has worked with many brands, channels, partners and charities using his huge popularity to positive effect. Campaigns and content with said partners is carefully considered by JJ and always suitable to the brands image and requirements.
There is no denying his rapidly growing influence and how important it is to use that in a positive way. This is what he will continue to strive towards and continue to move away from any unfortunate content from the very early days in his career, when just a young lad out to entertain mates and early viewers. That is not the more aware and responsible JJ/KSI which is now developing into a true star.
JJ is a huge talent and as one of the most influential and popular UK entities in the UK and globally. Content of the past will not be repeated and he does not want to be misjudged on that. He is well aware of expectations from brands and partners and does not fail to embrace what is best for them in terms of his content for them.
He is actively working to address any negative impression he has given people with previous content in the past and hopes the industry will see this.
It's a shame this past indiscretion his been brought up as we had addressed it and KSI wants to move on from it. I don't feel it's right to judge someone based on an indiscretion which was pro actively removed and apologised for shortly after. Especially at such a young age.
That's not saying it was right, as JJ acknowledged it was wrong at the time and does again now.