Microsoft introduces the Xbox Live Creators program
Now anyone can publish Xbox Live-enabled games on Xbox One and Windows 10 PCs, no dev kit needed
At Microsoft's GDC presentation this morning, while the company announced exciting mixed reality news, the more important announcement for the immediate future for developers is the brand-new Xbox Live Creators program. As ID@Xbox director Chris Charla explained, unlike the ID@Xbox program, the Creators Program is completely open, with fast certification, no approvals to ship, and no NDAs. Literally anyone who owns a retail Xbox One is now able to develop games for Windows 10 and Xbox One with integrated Xbox Live sign-in, presence, and social features.
"This means their title can see exposure to every Xbox One owner across the Xbox One family of devices, including Project Scorpio this holiday, as well as hundreds of millions of Windows 10 PCs, and millions of folks using the Xbox app on mobile platforms," Microsoft said in a statement to the media.
Anyone interested in making games through the Creators Program can download the SDK here. It's important to note that developers who want additional promotional and marketing support or wish to include gamerscore/achievement functionality should apply to the actual ID@Xbox program.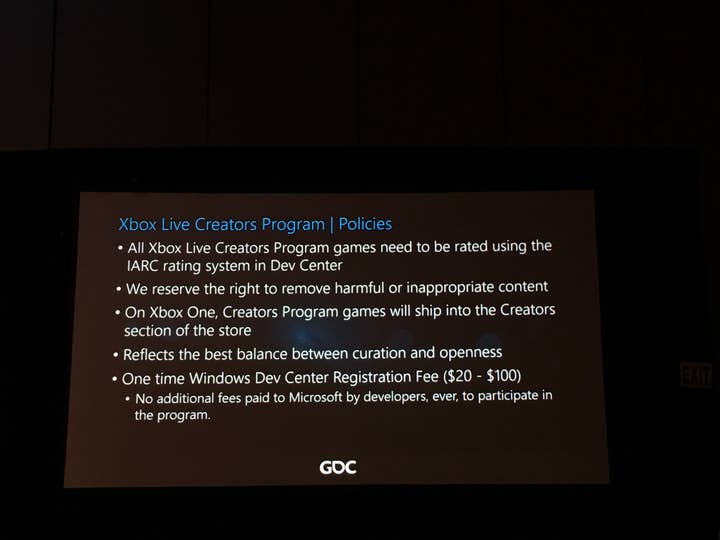 Looking back at the progress ID@Xbox has made since its inception, Charla revealed that hundreds of millions of dollars in royalties have been paid out to developers, there are over 1000 active games in development, 450+ games have been shipped, 2200+ studios have dev kits, and there have been 1 billion+ hours of ID@Xbox games played in 2016.
The Universal Windows Platform (UWP) now has more than 200 games coming from ID@Xbox devs, and Charla said to expect more convergence between the Xbox and Windows platforms.
"We wanted to make sure that when players turned on their Xbox One, they got access to the most awesome, diverse lineup of fantastic games possible. And to do that with one simple guiding principle: make life easy for developers. The more we can enable developers to focus on their game versus working on platform support issues or technology or business negotiations, the more games would come to Xbox One and the better those games would be," Charla said, reflecting on the growth of ID@Xbox.
Charla enthused that the program is bringing back the feeling that developers had back in the Commodore 64 days. The fresh blood from indies entering the games space has been inspiring. "I honestly believe that in the next few years we're going to see developers at GDC who got their start with the ID@Xbox program," he said.