Media Molecule: Avoiding the "soul tax" of making games
At the Nordic Game Conference, Siobhan Reddy offered advice on protecting people and culture against the pressures of development
Between the effort of creative expression and the pressure of actually shipping a satisfactory product, game development can exert a "soul tax" on those involved.
In a talk at the Nordic Game Conference yesterday, Media Molecule co-founder Siobhan Reddy said that, without the proper attention from management, people can all too often get caught in the middle.
Reddy called her talk "Glitter and Doom", two words that summarise the polarising experience of making games.
"Some days feel absolutely amazing, and you know that everything's gonna be just fantastic," she said. "And then the next day it feels like it's all falling apart. You go through this rollercoaster, and in some weird way that's what keeps me making games... It's never locked and certain. I summarise that as 'Glitter and Doom'."
"It's important that we are aware of what our people are giving, so that we don't burn out our best and brightest"
Media Molecule was founded in 2006 by five people, each of whom is a director at the company. Reddy is the studio director, and she described her role as ensuring that the team is able to deliver on its vision, that the game is actually finished and reaches its audience, and that the team and Media Molecule's culture doesn't suffer as a result.
But there is one thing that "keeps me awake at night," she told the audience, and it lies at the intersection of making games as a creative endeavour, and making games as a commercial enterprise. As with music, film or any other form of entertainment, the people who make games, "give a little bit of themselves in their work." But regardless of how personal the process can feel, the ability to continue doing it requires a product to be finished and to be sold.
"Games are the medium of our time," she said. "It's one of the best times ever for any of us to be making games. But there is something that I want us to have our eyes wide open about, and that is that, as creators, we know that this career often begins as a form of self-expression... and while we all want to reach that critical success, we all know that it's commercial success we actually need in order to keep the lights on; to pay our teams, to buy new tools, to retain our people, and make another great game.
Reddy added: "Making work that comes from somewhere personal is that 'special sauce', and we know hits need that, especially as our audience grows. But it has a cost... We all know that it has a cost."
"20 years ago, the idea of a work-life balance, the idea of weekends - they were just a myth"
Days of "Doom" - when everything feels wrong and seems to go wrong - are an inevitable part of that personal investment, Reddy said, and getting through them takes "a ton of your courage and a ton of your bravery". After a career of experiencing that, and seeing others experience it, Reddy now describes this as "a soul tax" that making games levies on developers.
"Somebody who's managing a studio or managing people, we really have to pay attention to this. It's really, really important that we are aware of what's going on, of what our people are giving, so that we don't burn out our best and brightest, or people who are still on their way up.
"What I really want to focus on is what we can do in order to give our games and our people the best shot."
One of the most important steps Media Molecule took in achieving this was at the very beginning, within two months of starting up. It was a statement about what the five founders wanted the company's culture to be, and the values that they would protect amid the many challenges and changes ahead. Every studio should have this, Reddy said, no matter what size.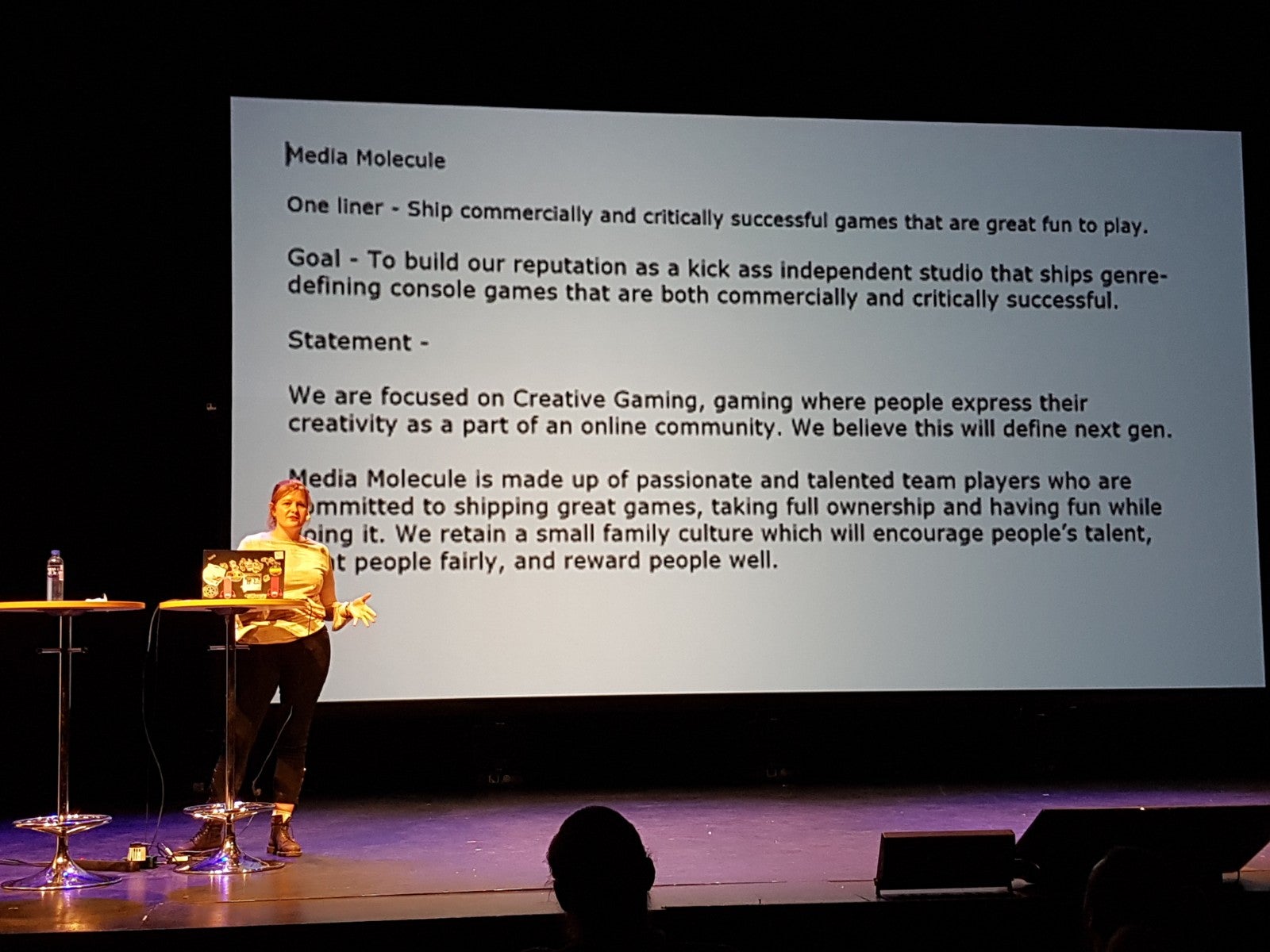 "We didn't do anything with this piece of paper. It didn't go on the wall, we didn't all memorise it as a mantra. What was important was us all getting together in that beginning phase and deciding on what was going to be important for us. And it became really important for me, in my role, to be able to help ensure that this is what we built up to be. And when I read this now, it's still very much the goal we have.
"If you have a studio and haven't set one yet, that doesn't mean it's a problem, but it's important to understand what your goal is. You can do this at any point in your lifetime. It's important for culture to know what it is you're working towards."
Crucially, the goal Media Molecule's founders set was "legit." It didn't just sound good; it closely matched the people they were, the people they worked with, and the kind of people they wanted to hire. Media Molecule's founding team were "makers" by nature - a fact Reddy illustrated with a slide of various objects people in the company had created - and this has showed through in every game its team has produced.
"Aside from games, people make all sorts of things within Media Molecule," she said. "We wanted to have a smaller studio that was really creative, that had all of this in the core, and this was our DNA. We didn't have to become these people. We already were these people. We built our culture around that."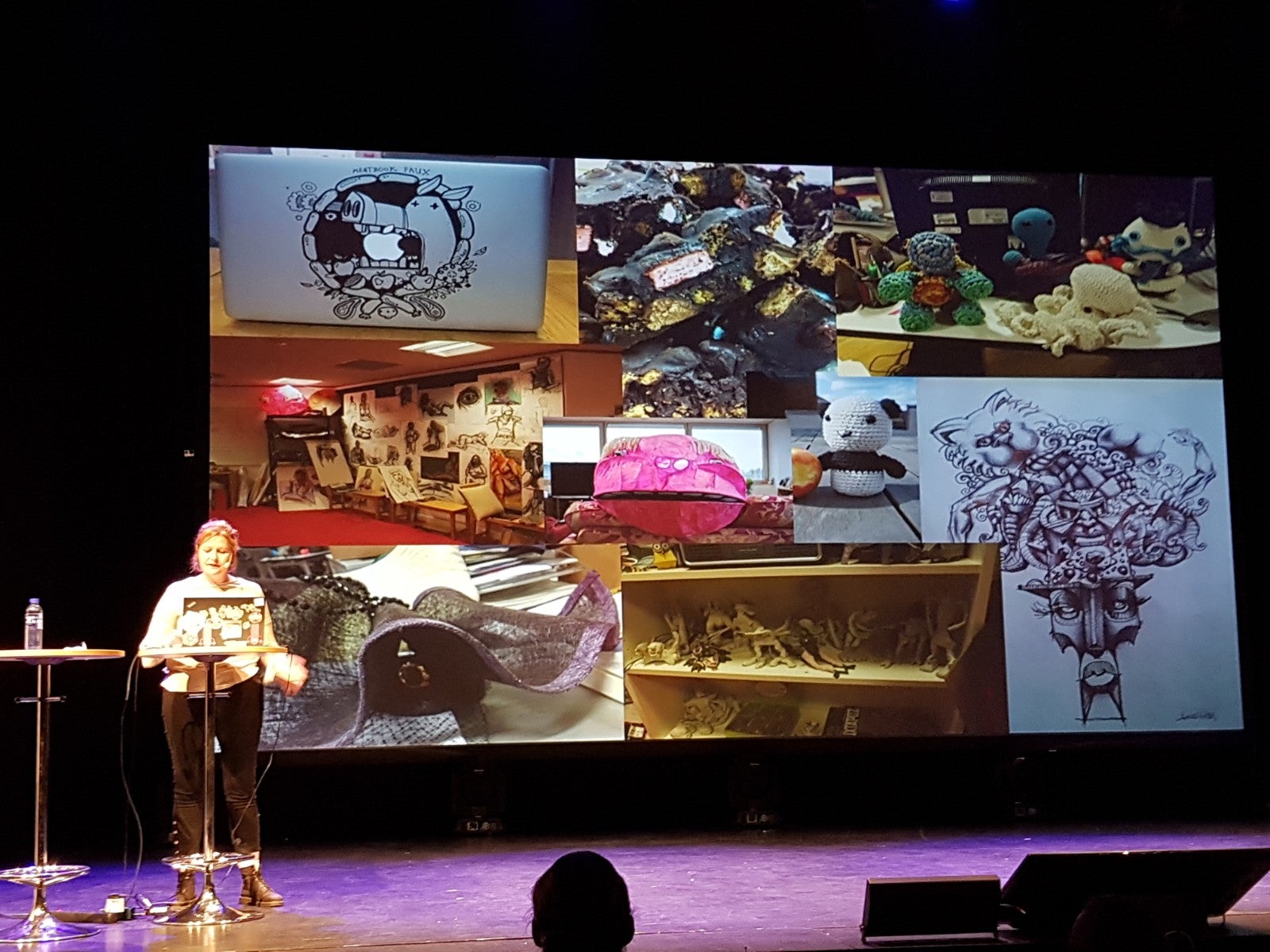 The success of Media Molecule's Little Big Planet led to its acquisition by Sony, which in turn allowed the company to grow much larger and much faster than it would otherwise. The team is now multi-generational, Reddy said, with employees spanning all ages from 19 years old to almost 60. It is also more diverse in terms of gender, with 35 per cent of its employees identifying as female.
"That has taken a lot of effort from us, making sure that we're trying new things," she said. "Trying out internships, trying out placements, trying out different places to look for people."
It has also required a necessary shift in the perception of work-life balance. The broader range of ages and higher proportion of female employees has resulted in more people with families, and more people who need time to start families. When Reddy first started, the games industry was much less receptive to those needs.
"We don't have only one way of dealing with people... That's super important if you want to achieve diversity, and it's really important if you already have diversity"
"20 years ago, the idea of a work-life balance, the idea of weekends - they were just a myth," she said. "But [work-life balance] is really important, and at Media Molecule it has been driven by having more developers with families... We have more flexible working scenarios now. And while that has an overhead for me, it's much better than losing people and having to re-hire. In fact, I don't really mind how anybody works as long as they get their work done."
An essential aspect that underpins and protects culture is the ability to speak up and be heard, whether on personal matters or on the game itself. At Media Molecule, Reddy conducts regular, anonymous surveys on what the team is working on, and how the team is working. The feedback that comes from this process is "amazing", she said, because it grants people the freedom to be completely open.
"This is important because when we're working on something that we don't like, we're unhappy - and that is a true fact," she said. "No matter what benefits you give people, what positive things you say, what spin you have, the game is the ultimate, important thing. If people are unhappy with the game, they will be unhappy, and that will lead to problems.
"Hear it, own it, listen to it, come up with solutions and move on. Don't hide from any of the problems. You've got to fix it."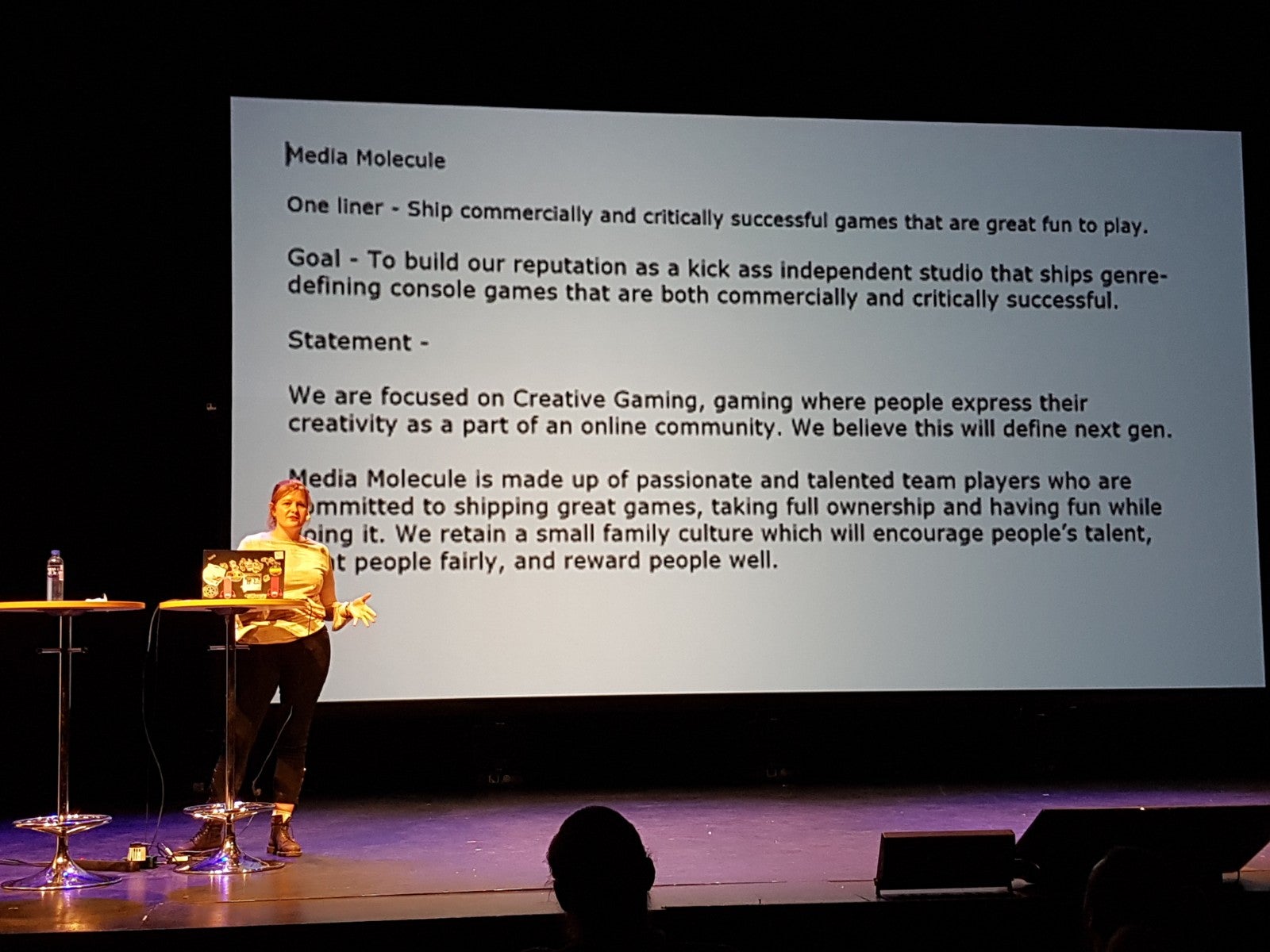 At the start of her talk, Reddy compared the task of protecting Media Molecule's team from the "soul tax" of game development to a tightrope walk - between the necessary "chaos of experimentation" and the equally vital "structure of shipping." On both sides, though, the key to understanding the way forward is that, "at the core of everything we're making is all of us."
"And we're all under a little bit of pressure," she said in conclusion. "We're human, we're fallible, we feel things. This idea of 'settling down' - it's just so pretend. There's always something going on. We're all living our own mini-epic every single day, and as managers and people running studios, what's most important is understanding that... When a feature is being reviewed or when various different things are happening, it's really important to remember that it's a person you're talking to.
"At Media Molecule, we don't have only one way of dealing with people. It is tailored to the individual, and that's super important if you want to achieve diversity, and it's really important if you already have diversity. One size definitely doesn't fit all... As the industry continues to grow - more and more of us making games, more and more of us feeling that pressure - we really need to take care of our people, and make sure they have the support they need.
"And I mostly wish that you have those moments where your efforts and self-expression are eclipsed by watching people enjoy what you make. Because that's the Glitter. That's where all the stuff I've talked about becomes really worth it."
GamesIndustry.biz is a media partner of the Nordic Game Conference. We attended the show with assistance from the organiser.