Medal of Honor: Warfighter "likely to be a major disappointment"
Analyst Doug Creutz sees game struggling to hit 2m sales worldwide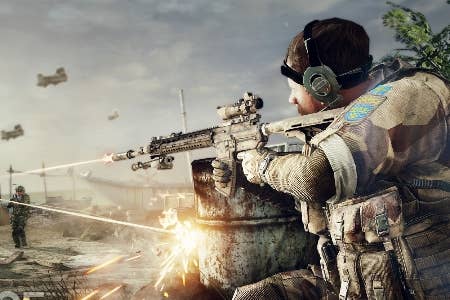 Electronic Arts is set to ship Medal of Honor: Warfighter this week in the US, Europe and Australia (with a Japanese release slated for mid-November), but there's no denying that it'll be a tough shooter market to launch into with Call of Duty: Black Ops II and Halo 4 both looking for big sales. In fact, Cowen and Company analyst Doug Creutz said that the new Medal of Honor is "likely to be a major disappointment" and will "struggle" to reach 2 million sales across the globe.
"Since late July we have been cautious about EA's ability to reach management's FY13 guidance due to our view that Medal of Honor: Warfighter appears likely to be a major disappointment. On July 30 we cut our FY13 EPS estimate to $0.86, well below guidance of $1.05-$1.20, and we currently carry a $0.87 FY13 estimate, close to the Street low. While we believe Street expectations for MoH:W sales have moderated significantly, likely down to the 3-4MM unit range, we are concerned that those expectations may still be too high. Based on our read of pre-release tracking data, we think the game might struggle to sell through 2MM units worldwide," Creutz stated.
Interestingly, Creutz also noted that EA apparently declined to send review copies of Medal of Honor to critics ahead of the game's release, meaning that we probably won't see any reviews to coincide with the actual release.
Creutz added, "With only a week before a murderer's row of AAA titles begins to come out (Assassin's Creed III on October 30; Halo 4 on November 6; Call of Duty: Black Ops 2 on November 13), we think MoH:W has a very short window to capture sales, and a dearth of reviews is unlikely to help. The decision to make early review copies unavailable does not suggest to us that the company has a high degree of confidence in the quality of the game."
Ultimately, looking at the lineup for EA, Creutz believes that the company will be forced to lower its guidance.
"On the whole, we do not think outperformance from EA's sports lineup will be enough to offset a probable disappointment from MoH:W (particularly since we believe Star Wars: The Old Republic has also performed well below the expectations EA embedded in their initial guidance). We also think it is unlikely that EA's Q4:F13 lineup can bail the company out, given what we expect to be a modestly successful AAA lineup (planned releases include the sequels Crysis 3, Dead Space 3, Army of Two: The Devil's Cartel, and a new IP, Fuse). As a result, we continue to believe that EA management will have to lower guidance meaningfully for FY13 at some point," he noted.
EA will report its earnings on October 30.