McLaren's drive to turn gamers into Formula 1 racers
Director of esports Ben Payne discusses the firm's five-year plan for Shadow Project and sourcing new champions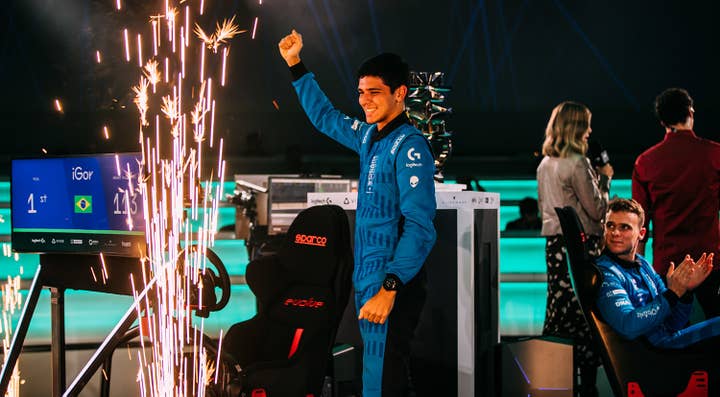 Playing Call of Duty will not train you to become a hardened soldier. Playing FIFA will not make you into a pro footballer. But demonstrate prowess in simulation racing and you could become a real-world driver.
That's the ultimate promise of the McLaren Shadow Project championship, and the opening spiel from director of esports Ben Payne at last month's grand finals.
The event was held at the racing team's research and technology centre just outside London. Having competed in everything from Forza Motorsport to Real Racing 3 for a place, the finalises raced for the big prize -- a spot on the official esports team.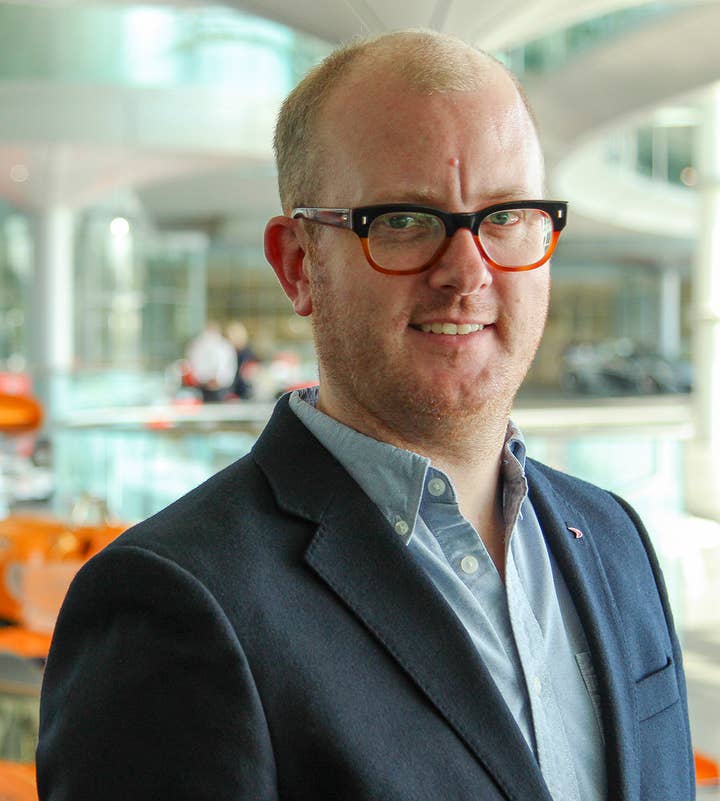 It's the latest manifestation of McLaren's efforts to reach as wide a demographic as possible, skewing towards a younger audience to find fans of motorsports, video games or (ideally) both. Shadow Project follows the team's foray into Formula 1 esports in 2017 -- centred around the licensed Codemasters games -- and its victory in the World's Fastest Gamer competition with star player Rudy van Buren.
Van Buren's experience is one McLaren is keen to replicate; having shown off his skills on the virtual track, he spent "dozens of days" in the company's simulator before thundering around real-world circuits in various McLaren vehicles. Payne says it's indicative of the natural route from esports to racing, that Van Buren has "proven the doubters wrong."
"It's not the first rodeo for gamer to racing driver," he tells GamesIndustry.biz. "GT Academy has done that in the past, so it's happened, but it's the first time it's happened under an F1 brand. When we launched Shadow Project in July 2018, it was an iteration of that program from our perspective. We wanted to try and find athletes for our esports team."
Payne goes on to add that McLaren has an advantage over other Formula 1 teams, in that its business is much broader than just that particular vein of motorsport. Thus we find gamers already engaging with McLaren vehicles in the likes of Forza Horizon 4, Real Racing 3 and even Rocket League. This gives the firm an advantage in getting players to hone their skills in those virtual vehicles in order to drive them towards the more serious simulation racing at the heart of Shadow Project.
"A number of brands are coming into this space, trying to use it as a marketing exercise, trying to make a bit of money out of it, getting their fingers burnt and it doesn't last"
It's important to emphasise the 'simulation' part. While the competition starts on standard gaming devices, the finals uses custom made racing "sleds" built to simulate the cockpit of a Formula 1 car. Partnerships with peripherals manufacturers put players behind an authentic recreation of those vehicles' steering wheels and other controls -- they even complete a rolling lap before each racing begins.
The simulated stress of racing in such conditions inevitably means competitors don't quite fit the stereotypical physique some still expect of professional gamers. Payne cites the case of Brendan Lee, a two-time F1 esports champion. In his first year, he did come close to that stereotypical image, but a year later, he'd lost nearly 30 kilos -- "a third of the man he was originally."
"All of our finalists are in really decent nick," Payne continues. "You go to a FIFA tournament, and they don't look like athletes -- ours do. They are on these sleds racing aggressively, and if they're doing a six-hour day, the force feedback on some of these wheels is hard and keeping them on the track is hard. It's not like they'll break their fingers if they crash, but it is an endurance test.
"If you and I played FIFA for a few hours, we could stop, have a beer and then pick it up again. But our guys are more athletes than in a number of esports spaces. I know the big esports teams have nutritionists and all that, but I think simulation racing is different."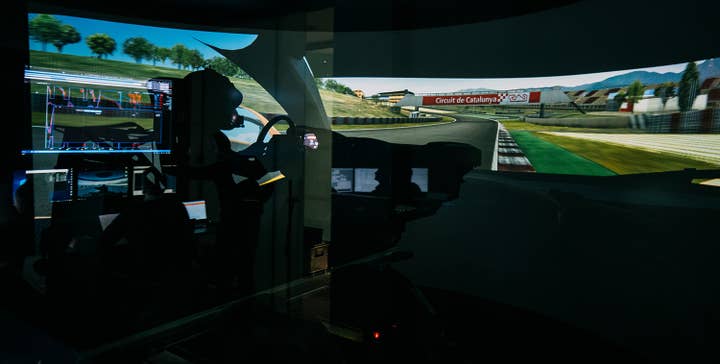 While the goal is to train finalists up for these simulators, it's crucial that the entry point for McLaren's esports remains accessible. After all, not everyone can afford a force-feedback wheel or a racing chair. And while Payne acknowledges that mobile, console and PC games may not mimic the real-world skills at a grassroots level, "if there talent's there, you can go all the way up."
He points to how three champions in the semi-finals began their journey with smartphone title Real Racing 3: "They'd never sim-raced in any capacity, but they made it to our semi-finals. The guy who won as our mobile champion is now here for two years' running -- he qualified for us via Gear.Club and he's now here via Real Racing, and he's driven a GT4 car this week."
"We were all on that Wii bandwagon back in 2007, but that wasn't turning us all into tennis players or ten-pin bowling superstars"
Even so, the complexity of racing peripherals mean it is possible for gamers to train themselves up for a real-world sport -- as Payne said in his welcome speech, the same cannot be said for Call of Duty or FIFA. Does this make racing unique in the world of esports, in that it can source talent for the real-world counterpart?
"I can't think of another," says Payne. "Did Duck Hunt make more people go outside? You look at the peripherals that allow you to repeat the action you're doing... we were all on that Wii bandwagon back in 2007, but that wasn't turning us all into tennis players or ten-pin bowling superstars. Even as you get into more evolved peripherals, like in the VR space, again, there's not a real-world application.
"We think motorsports is unique because the storytelling is better as well. When you go to an esports tournament -- say, something like Counter-Strike -- and you see a player with a mouse and keyboard, your brain almost has to go 'Did he do that? How did he do that?'. But if you cut to F1 esports and a guy's going really wide into an apex, you can see them fighting into that apex in the sleds, so you're keeping with that story arc.
"When we're on YouTube or making content with our partners, that's really great, engaging content; it's showcasing product, and so it's a bit of a win-win for everyone."
In no small part thanks to the experience accrued by Payne himself -- formerly a marketing exec at 2K Games, Sega and Xbox -- McLaren has established close ties with the games industry to drive Shadow Project forwards. Partners range from peripherals and hardware firms such as Alienware, Logitech and HTC Vive, to the publishers and developers behind the games it sources competitors from.
The esports boss describes this as "an authenticity play", keen to avoid the stigma of non-gaming firms investing in esports to make a quick buck.
"You go to a FIFA tournament, and they don't look like athletes - ours do"
"A number of brands are coming into this space, trying to use it as a marketing exercise, trying to make a bit of money out of it, getting their fingers burnt and it doesn't last," he explains. "Esports is expensive to begin with and you need to build something first. We wanted to be authentic to that core audience and then grow out from there.
"We focused a lot on sim racing titles for World's Fastest Gamer. We've broadened that and focused a lot on console and mobile titles last year, and we're having conversations with even more titles to make it even better later this year, because what you play in Singapore if you're a motorsports fan is different to what you play in Seattle. Whether it's GT Sport or Forza 7, we want to give them their route to play."
Shadow Project is part of a larger esports plan for McLaren. Like the rest of the motorsport firm's business, the team is subject to five-year review plans. Naturally, esports is harder to predict than other sectors that McLaren is involved in -- Payne, for example, believes 5G will have a massive impact on esports, but there's no telling how quickly that will be rolled out. Similarly, his team needs to keep on top of which racing games and hardware are coming out, increasing the number of outcomes that need to be planned for.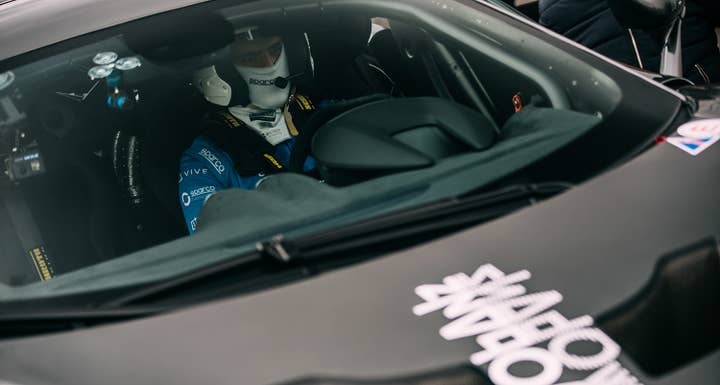 "We have a calendar and a bunch of processes we have to fill in -- I think we're up to 2023," says Payne. "I'll be honest, a lot of 2023 is in pencil, but it's written down, right?
There's the added challenge that simply being associated with esports pits you, to an extent, against the likes of League of Legends, Dota 2, Fortnite and others that dominate the space. Even if you're serving a specific niche, you're still in the same market as titles that throw an augmented reality dragon into a stadium full of 65,000 people.
"100 million concurrents -- that's what we're all going to go up against," Payne says, addressing online viewership. "We're not going to do 100 million concurrents any time soon, but we are telling unique stories that allow our partners and our brands to engage with their fans in a nice way."
He also acknowledges there's a gender challenge to overcome. His first day at McLaren was during the World's Fastest Gamer finals, and the first question he was asked was '"You have 11 white men on stage, what are you going to do about it?" Payne says he and his team have some ideas, but notes that gender balance is "an esports-wide issue".
And again, while not competing directly with them, McLaren is conscious that investing in esports has been a long and costly struggle for even the biggest and most experienced games publishers, with Electronic Arts and Activision Blizzard still finding their feet.
"We've got some challenges, but if we grow at a rate we're comfortable with and we budget accordingly, the growth of Shadow Project is not up for discussion -- it's a given," Payne concludes. "We are not up there with the big boys, nor are we trying to be at that top table just yet. We're happy to be where we are.
"We are not FIFA, but FIFA's esports program has taken time. They have grand plans -- it's all about patience and managing your growth plan. Are we a niche of a niche? No. We're niche and we're proud of that, and we'll happily play to that niche audience as long as our fans are happy about it. We'll just put that pipe out there for people who want to engage with it, who want to come and get involved."