Maxis and GLAAD collaborate to remove gender restrictions from The Sims
After a year in development, a free update will place The Sims 4 among the most gender positive games in the industry's history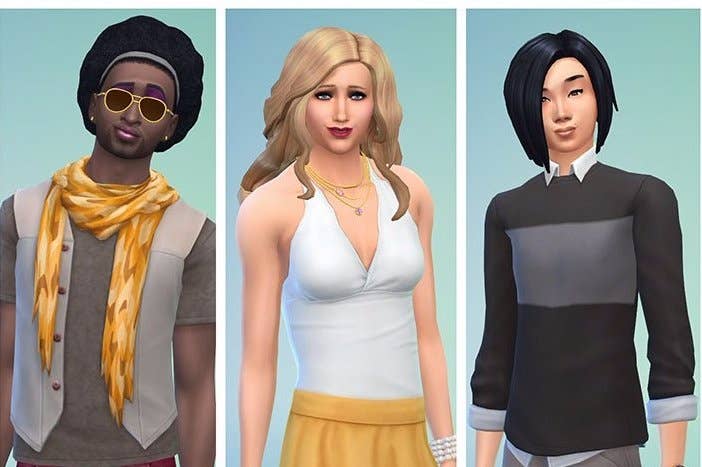 EA is bringing The Sims in line with its own progressive LGBTQ policies, introducing an update to The Sims 4's "Create A Sim" tool that removes gender boundaries altogether.
Until now, every iteration of the long-running franchise tied aesthetic choices within its character creation system to specific genders: from hairstyles and clothing to body-type, walking style and vocal tone. In a free update released today, however, those arbitrary distinctions have been removed.
"The Sims is made by a diverse team for a diverse audience, and it's really important to us that players are able to be creative and express themselves through our games," EA Maxis said in a post on The Sims website. "We want to make sure players can create characters they can identify with or relate to through powerful tools that give them influence over a Sims gender, age, ethnicity, body type and more."
The update will cover more than 700 pieces of content that were previously tied to either male or female Sims in The Sims 4 and its various expansion packs. According to a report from the Associated Press, the change was inspired by The Sims' community of modders, who have been removing those restrictions from the PC version of the franchise for many years.
Rachel Franklin, executive producer on The Sims 4, said that EA Maxis has been working on the update for over a year, bringing in the LGBT advocacy group GLAAD to advise on the details. As a result of GLAAD's involvement, the update will also allow players to change the gender of their Sims at any time, specify their ability to reproduce, and remove male and female gender symbols from the game's character gallery.
Speaking to AP, the director of GLAAD's transgender media program, Nick Adams, said the goal of the update was to create, "a Sims world that more accurately reflects the world in which we live today."
The Sims has long been one of the games industry's most progressive games on these matters, including same-sex relationships in its debut in 2000. However, same-sex marriage wasn't introduced until The Sims 3 in 2009, and it could be argued that the changes made today are already overdue given that The Sims 4 launched back in 2014.
This is reinforced by EA's own progressive stance on LGBTQ issues in the years since The Sims 3 launched. EA has scored 100 per cent on the Human Rights Campaign Foundation's Corporate Equality Index every year since 2012, putting it on a shortlist of companies considered the "Best Places to Work for LGBTQ Equality."
The only other games company to be included on the "Computer Software" shortlist with that level of consistency is Microsoft.
"We are very honored to be recognised again as a 'Best Place to Work'," said Andre Chambers, head of Diversity & Inclusion, when EA was included on the 2014 shortlist. "We believe that fostering an inclusive environment helps us to create great games, and represent our diverse set of players."
For the HRC's Best Places to Work 2016 shortlist, follow the link.