Mario Kart 8 tops 1.2 million in first weekend
Nintendo's mascot racing title becomes fastest-selling Wii U title to date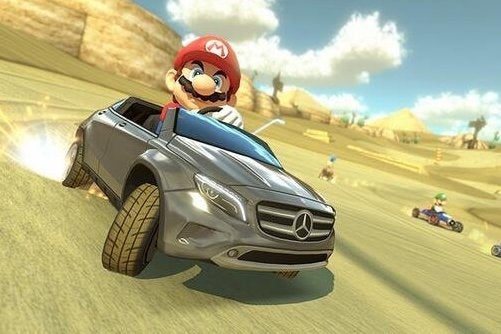 Mario Kart 8 is off to a turbo start, as Nintendo today announced the Wii U-exclusive racing game has sold 1.2 million copies worldwide in its first weekend, making it the fastest-selling Wii U game to date. The game launched in Japan on May 29, and across Europe and the Americas May 30.
Despite the strong start, Mario Kart 8 has a long way to go to catch up with its predecessors, as previous entries in the series combined to sell more than 100 million copies. The last console installment, Mario Kart Wii, was also the most successful in franchise history, selling 35.53 million copies to date. Even the least successful, Mario Kart: Super Circuit on the Game Boy Advance, sold 5.91 million copies over its lifespan.
Nintendo is banking on Mario Kart 8 in a big way. The Wii U has struggled to gain sales traction, and the company has said it expects the racing game, along with the upcoming Super Smash Bros. Wii U title, to drive system sales this year. Nintendo has also tried sweetening the deal in North America and Europe, offering a free Wii U game to those who register a copy of Mario Kart 8 in the launch window.