Nintendo offers free game with purchase of Mario Kart 8
Customers who register racing game can choose from an assortment of free downloadable Wii U titles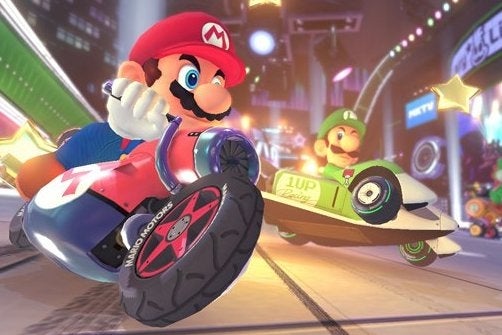 Nintendo has a lot riding on the success of Mario Kart 8 for the Wii U, and it's not about to let the game hit stores next month without making a stir. Today the company announced a new promotion that will give customers who buy Mario Kart 8 a free Wii U game of their choice from a handful of options.
In the US and Canada, those who register a copy of Mario Kart 8 with the Club Nintendo program before July 31 can choose to download one of four first-party Wii U games: New Super Mario Bros. U, Pikmin 3, The Legend of Zelda: The Wind Waker HD, or Wii Party U. Gamers in Europe will have their choice from a total of 10 titles: the four aforementioned games, as well as Nintedo Land, Game & Wario, Sonic: Lost World, Mario & Sonic at the Sochi 2014 Olympic Winter Games, The Wonderful 101, and Monster Hunter 3 Ultimate.
The free game promotion will also work with new Mario Kart 8 Wii U hardware bundles Nintendo is preparing. In North America, the $330 package includes the Deluxe Wii U, a copy of Mario Kart 8, a Wii Wheel peripheral, and a Mario-branded Wii Remote Plus. The European version of the bundle only includes the system and the game.
Mario Kart 8 is set to launch May 30 in both regions.