Mario Kart 8 returns to No.1 as Nintendo Switch rules Black Friday | UK Boxed Charts
Farming Simulator 2022 debuts at No.13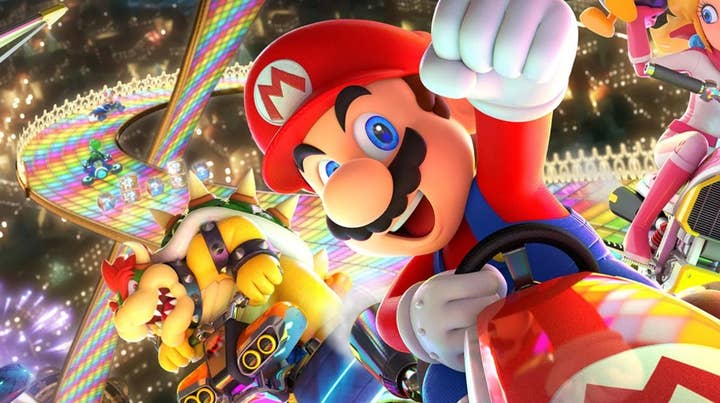 Mario Kart 8: Deluxe was the No.1 boxed game in the UK last week, driven by deals around the Nintendo Switch console over Black Friday.
The Switch title, which has sold over two million copies in the UK, jumped six places following a 567% jump in sales week-on-week. There was a special Switch Black Friday console bundle featuring Mario Kart 8.
That means last week's No.1, Pokémon Brilliant Diamond, drops five places to No.6 after a 57% drop in sales week-on-week. Its counterpart, Pokémon Shining Pearl, drops from No.2 to No.11 after a 58% tumble in sales. If both games were combined, they would together be at No.3 in the charts.
This chart only factors in physical sales, it does not count digital download figures.
As Black Friday weeks go, it was a relatively weak one by physical game sales standards. Black Friday boxed game sales in the UK are down 10% compared with the same period in 2020, which means 100,000 fewer boxed games were sold this year than last year.
The second biggest game of Black Friday was FIFA 22, which saw a 145% jump in sales, followed by Minecraft on Switch, which had a 258% sales increase.
Call of Duty: Vanguard holds No.4, and sold almost exactly the same number of games this week as it did last week.
The whole chart is full of games benefitting from Black Friday deals. Guardians of the Galaxy rose 12 places to No.5 after a 419% sales jump, Just Dance 2022 is at No.7 after a 133% increase, Animal Crossing: New Horizons is at No.8 thanks to a 94% sales surge and Far Cry 6 (No.9) increased 49%.
Last week's other big new release (that wasn't Pokémon) was Battlefield 2042, which falls to No.12 following a 58% sales slip. And the big new release of the week was Farming Simulator 22, which debuts at No.13. The game sold best on PS4, which accounted for 37% of sales, followed by Xbox (34%), PS5 (14%) and then PC also 14%).
Metroid Dread, after threatening to fall out of the Top 40 last week, bounced back to No.23 (sales up 190%). Meanwhile, other recent releases saw decent weeks. Forza Horizon 5 falls to No.19, but sales actually rose 5% week-on-week, Jurassic World: Evolution 2 slides down to No.34, but sales are up 10%, and Mario Party Superstars rose 105% in sales and returns to the Top Ten at No.10.
Here is the GfK UK Boxed Top Ten for the week ending November 27
| Last Week | This Week | Title |
| --- | --- | --- |
| 7 | 1 | Mario Kart 8: Deluxe |
| 5 | 2 | FIFA 22 |
| 12 | 3 | Minecraft (Switch) |
| 4 | 4 | Call of Duty: Vanguard |
| 17 | 5 | Marvel's Guardians of the Galaxy |
| 1 | 6 | Pokémon Brilliant Diamond |
| 10 | 7 | Just Dance 2022 |
| 11 | 8 | Animal Crossing: New Horizons |
| 8 | 9 | Far Cry 6 Pack |
| 13 | 10 | Mario Party Superstars |