Mario Kart 8: Deluxe retains No.1 | UK Boxed Charts
Big Brain Academy jumps to No.11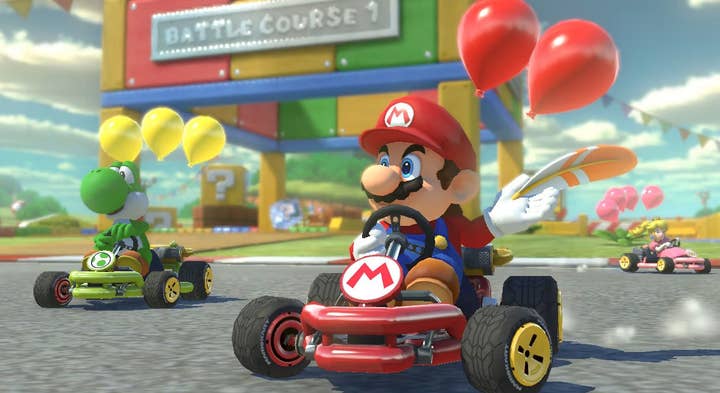 As Mario Kart 9 trended on Twitter over the weekend, Mario Kart 8: Deluxe continues to do the business for Nintendo, and is the first UK No.1 of 2022.
Mario Kart 8: Deluxe was released in 2017, but has scored three UK No.1s in recent months thanks to a new Nintendo Switch bundle.
It's actually a completely unchanged Top Three, with FIFA 22 at No.2 and Animal Crossing: New Horizons at No.3. This only takes into account physical game sales, with digital sales not available until later in the week.
A game that jumped up the charts this week is Big Brain Academy: Brain vs Brain for Nintendo SWitch. The game actually droppped in sales by 19% week-on-week, but has been performing well on the back of a recent advertising campaign.
It's January, the month where fitness starts becoming a topic of conversation for those who maybe indulged over Christmas, and so it's little surprise to see Ring Fit Adventure from Nintendo rise up the charts to No.6.
Another Switch game that has benefited from recent promotional activity is 51 Worldwide Games, which has re-entered the charts at No.13. The game rose 81% in sales week-on-week.
Here is the GfK UK Boxed Top Ten for the week ending January 8
| Last Week | This Week | Title |
| --- | --- | --- |
| 1 | 1 | Mario Kart 8 Deluxe |
| 2 | 2 | FIFA 22 |
| 3 | 3 | Animal Crossing: New Horizons |
| 7 | 4 | Minecraft (Switch) |
| 5 | 5 | Call of Duty: Vanguard |
| 11 | 6 | Ring Fit Adventure |
| 4 | 7 | Spider-Man: Miles Morales |
| 6 | 8 | Pokémon Brilliant Diamond |
| 8 | 9 | Just Dance 2022 |
| 15 | 10 | Grand Theft Auto 5 |