Madden NFL franchise reaches 130m lifetime sales
EA reports "strong opening weekend" for Madden 19
The Madden NFL franchise has sold 130 million units over the years since the series first arrived on MS-DOS in 1988.
EA Sports made the announcement this week following a "strong opening weekend" for the latest entry into the series, Madden 19.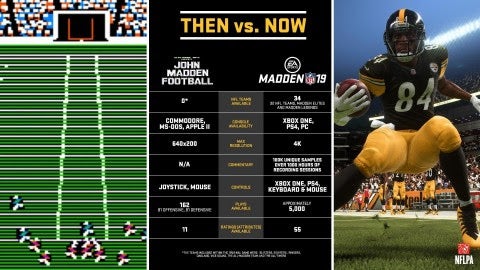 On mobile, the franchise has also amassed over 73 million installs, a number which is set to spike with release of Madden Overdrive tomorrow.
"It's incredible how many people have enjoyed Madden NFL over the years, and the impact it's had on not only teaching the sport of football, but growing the love of it as well," said Cam Weber, executive vice president and group general manager of EA Sports.
Madden 19 has pulled in generally favourable reviews, sitting at 82 per cent on Metacritic. User reviews are less forgiving however, scoring only 5.7.
Former Madden lead Rex Dickson stood down from his position as director of the series in May this year; he was replaced by Carlos Guerrero who was dismissed after just two months in the role.