Lego, Switch and PS5 top April Charts | European Monthly Report
But quiet month means market falls both year-on-year and compared to March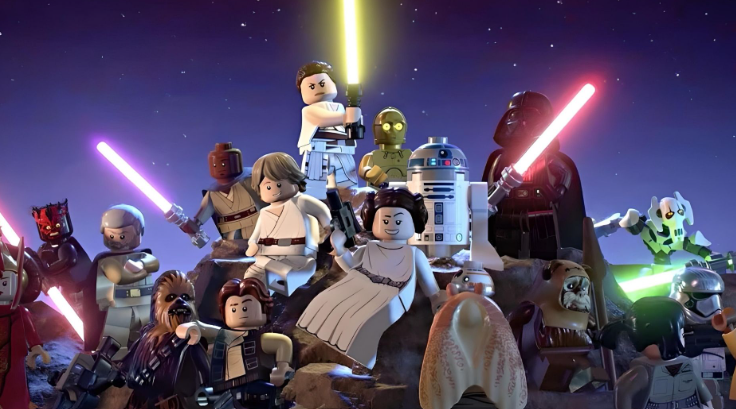 Nearly 290,000 games consoles, over one million accessories and 10.8 million games were sold across European markets last month, according to the latest GSD data.
But it was a marked decline over the sales recorded in March and during April 2021.
289,000 games consoles were sold across Europe in April, a drop of 15% over March.
The data covers selected European markets. The biggest territories not covered are Germany and UK. You can check out the UK data here.
Nintendo Switch was the leading platform for a seventh consecutive month. PS5 is in second position, followed by Xbox Series S and X.
All three platforms are suffering from stock challenges, although the situation is particularly challenging for Microsoft and Sony.
It was the best month of the year so far for PS5.
Over 1.08 million accessories and add-on products were sold across Europe last month. That's 19% down over March.
The PS5 DualSense was comfortably No.1, reflecting a sharp rise in PS5 console sales. Meawhile, the PS4 DualShock controller holds second place.
In terms of wallets and points cards, 1.48 million of these were sold across Europe last month, a drop of 24% month-on-month.
10.8 million tracked digital and physical games were sold across Europe during April 2022. It's a drop of 24% over March, which saw a number of big releases, plus continued strong sales of Elden Ring.
Digital unit sales declined 29% among the 30 tracked countries and retail units declined by 18% among the 16 tracked countries.
It is also down 16% compared with the same period last year. However, April 2021 was a five-week sales month (this year, it covers just four weeks), and if we compare like-for-like weeks, game sales were flat.
The best-selling game was easily Lego Star Wars: The Skywalker Saga. It is the fastest-selling Lego game released so far, and it's already the fifth best-selling game of 2022, just behind Grand Theft Auto 5.
Nintendo Switch Sports makes No.4 in the charts, and just misses out on the Top Three by a few thousand units. Nintendo doesn't share digital data with GSD, so it's likely the game would have made the Top Three if it did.
Otherwise, it's a quiet month for games sales. Elden Ring drops one place to No.2, while FIFA 22 holds onto No.3 spot.
Kirby and the Forgotten Lands falls one place to No.6. It has already outsold the previous best-selling Kirby game (Kirby Star Allies released in 2018) in a little over a month.
European GSD April 2022 Top 20 Games (Digital + Physical)
Position
Title
1
Lego Star Wars: The Skywalker Saga (Warner Bros)
2
Elden Ring (Bandai Namco)
3
FIFA 22 (EA)
4
Nintendo Switch Sports (Nintendo)*
5
Grand Theft Auto 5 (Rockstar)
6
Kirby and the Forgotten Land (Nintendo)*
7
Gran Turismo 7 (Sony)
8
Mario Kart 8: Deluxe (Nintendo)*
9
Horizon Forbidden West (Sony)
10
Pokémon Legends: Arceus (Nintendo)*
11
WWE 2K22 (2K Games)
12
Red Dead Redemption 2 (Rockstar)
13
F1 2021 (EA)
14
Minecraft: Switch Edition (Mojang)*
15
NBA 2K22 (2K Games)
16
Mario Party Superstars (Nintendo)*
17
Football Manager 2022 (Sega)
18
Big Brain Academy: Brain vs Brain (Nintendo)*
19
Call of Duty: Vanguard (Activision Blizzard)
20
The Last of Us: Part 2 (Sony)
* Digital data unavailable
GSD digital data includes games from participating companies sold via Steam, Xbox Live, PlayStation Network, Nintendo Eshop. Participating companies are Activision Blizzard, Bandai Namco, Big Ben Interactive, Capcom, Electronic Arts, Focus Home Interactive, Just For Games, Koch Media, Konami, Microids, Microsoft, Milestone, Paradox Interactive, Quantic Dream, Sega, Sony, Square Enix, Strelka, Take-Two, Tinybull, Ubisoft, UsTwo, Walt Disney, Warner Bros and Wizards of the Coast. Nintendo and Bethesda are the notable absentees, alongside smaller studios.
Digital data includes games sold in Austria, Bahrain, Belgium, Bulgaria, Croatia, Cyprus, Czech Republic, Denmark, Finland, France, Germany, Greece, Hungary, Iceland, Ireland, Italy, Luxembourg, Malta, Netherlands, Norway, Poland, Portugal, Romania, Russia, Slovakia, Slovenia, Spain, Sweden, Switzerland, Turkey, Ukraine, UAE and United Kingdom.
Physical data includes all games, but only those sold in Austria, Belgium, Denmark, Finland, France, Germany, Italy, Netherlands, Norway, Poland, Portugal, Spain, Sweden, Switzerland and United Kingdom.
Console hardware sales cover Belgium, Denmark, Finland, France, Italy, Portugal, Russia, Spain, Sweden and Switzerland. Accessories sales cover the same markets, but doesn't include Switzerland.