PS5 stock improves and Lego Star Wars breaks records in April | UK Monthly Charts
Nintendo Switch Sports makes No.5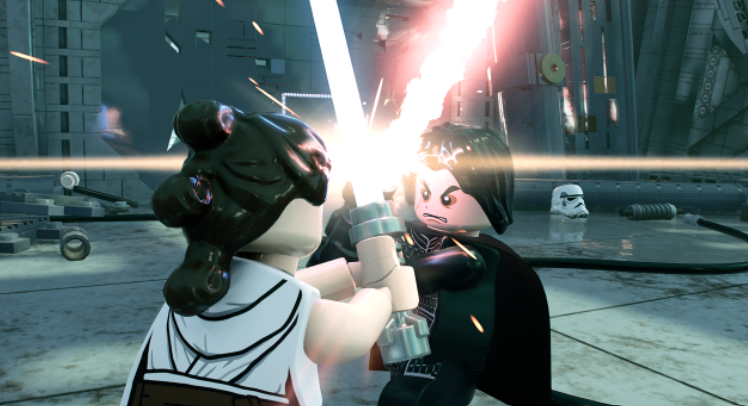 PlayStation 5 and Lego Star Wars: The Skywalker Saga were the big winners in a quiet April for new game launches.
Over 92,000 consoles were sold in the UK last month according to charts company GfK, a drop of 18% over March.
PS5 was the best performing machine, thanks to a significant improvement in stock levels. It is the best month of the year for PS5 so far, with sales up 59% over March. However, year-to-date sales are still down by 51%.
It was the opposite story for Xbox Series S and X, which was No.1 last month but is down into third position in April as stock levels fell 59% month-on-month.
The second best-selling console was Nintendo Switch, although sales are down slightly over March.
Overall, console sales are down 38% year-to-date, primarily due to stock shortages for PS5 and Xbox Series S and X.
Over in the accessories space, 517,000 add-on products were sold in April, down 19.2% over March and 13.7% over the same period in 2021.
The rise in PS5 sales has caused an uptick in sales for the White DualSense controller, which rises three places to reclaim No.1. That means last week's best-seller, the Xbox Wireless Controller (Carbon Black) slips to second position.
The Black DualSense controller also shoots up the charts, from No.19 to No.6. Finally, also up the charts this week is the PS4 DualShock 4 controller, which leaps ten places to No.3.
Finally, in terms of games (digital and physical), data firm GSD says that 2.3m titles were sold in the UK during April. That's a drop of 18% over March, but up 12.5% compared with the same month in 2022.
847,000 of those games were sold in boxed form, with the remainder (1.46m) coming via digital download stores.
Lego Star Wars: The Skywalker Saga was comfortably the No.1 game and is the fastest-selling Lego game in history, according to publisher Warner Bros.
The second best-selling new release was Nintendo Switch Sports at No.5. Nintendo currently doesn't share digital sales with the charts companies, so it's possible the title may have charted higher if it was included. In the retail-only charts, the game was No.2 behind Lego Star Wars.
GSD April 2022 Top 20 Games (Digital + Physical)
Position
Title
1
Lego Star Wars: The Skywalker Saga (Warner Bros)
2
Elden Ring (Bandai Namco)
3
Grand Theft Auto 5 (Rockstar)
4
FIFA 22 (EA)
5
Nintendo Switch Sports (Nintendo)*
6
WWE 2K22 (2K Games)
7
Red Dead Redemption 2 (Rockstar)
8
Kirby and the Forgotten Land (Nintendo)*
9
Call of Duty: Vanguard (Activision Blizzard)
10
Gran Turismo 7 (Sony)
11
Pokémon Legends: Arceus (Nintendo)
12
NBA 2K22 (2K Games)
13
Tiny Tina's Wonderlands (2K Games)
14
Lego Harry Potter Collection (Warner Bros)
15
F1 2021 (EA/Codemasters)
16
Batman Arkham Collection (Warner Bros)
17
Monopoly Plus (Ubisoft)
18
Call of Duty: Black Ops 4 (Activision Blizzard)
19
Grand Theft Auto Online (Rockstar)
20
Horizon Forbidden West (Sony)
* Digital data unavailable
GSD digital data includes games from participating companies sold via Steam, Xbox Live, PlayStation Network, Nintendo Eshop. Participating companies are Activision Blizzard, Bandai Namco, Big Ben Interactive, Capcom, Codemasters, Electronic Arts, Focus Home Interactive, Koch Media, Konami, Microids, Microsoft, Milestone, Paradox Interactive, Quantic Dream, Sega, Sony, Square Enix, Strelka, Take-Two, Ubisoft and Warner Bros. Nintendo and Bethesda are the notable absentees, alongside smaller studios.