LEGO Star Wars: The Skywalker Saga is the UK's biggest LEGO launch ever | UK Boxed Charts
Second biggest boxed launch of the year so far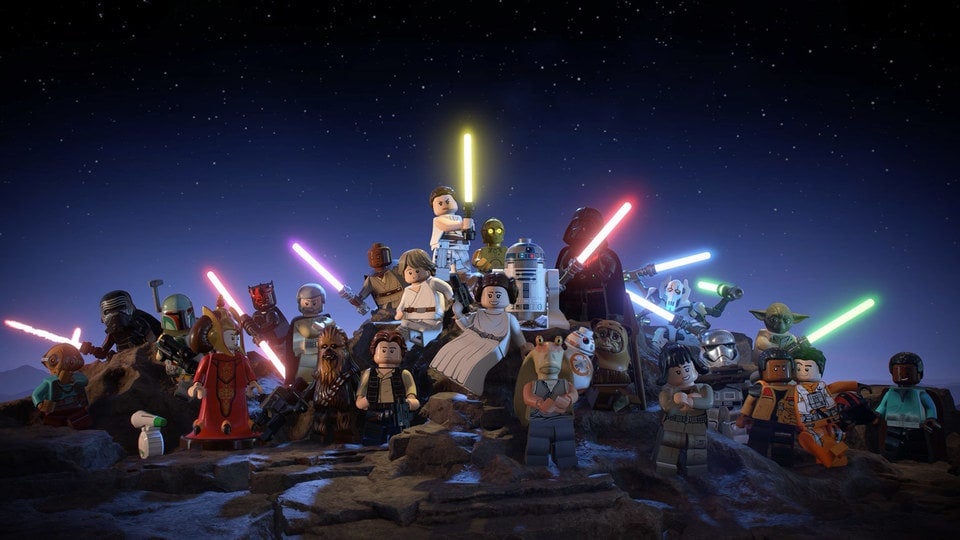 LEGO Star Wars: The Skywalker Saga has got off to a strong start at UK physical retail.
Even without digital, it is the biggest LEGO game launch of all time, beating the previous best -- 2008's LEGO Indiana Jones -- by 8.4%.
In terms of boxed sales, The Skywalker Saga is the second fastest selling game of the year behind Pokémon Legends: Arceus, but ahead of Horizon Forbidden West and Elden Ring.
31% of boxed sales were on PS5, 26% on Nintendo Switch, 23% on Xbox and 20% on PS4.
All data is courtesy of GfK.
The LEGO franchise is huge in the UK. It is the fifth biggest games brand by boxed sales, ahead of Assassin's Creed, Need for Speed, Sonic The Hedgehog and even Star Wars itself.
"The current all-time unit sales No.1 is LEGO Marvel Super Heroes, followed at No.2 by LEGO Batman and at No3 by LEGO Indiana Jones," says GfK games boss Dorian Bloch. "Then it's two Star Wars titles: LEGO Star Wars 2: Original Trilogy at No.4 and No.5 is LEGO Star Wars: The Complete Saga. All of which have grossed over 1m units in the UK and between £27m to £34m in box revenue."
He continues: "LEGO as a brand dates back to October 1997 with the launch of Mindscape's LEGO Island on PC and then in 1998 LEGO Chess, LEGO Creator and LEGO Loco, all on PC. However, it was Eidos and TT Games' LEGO Star Wars in 2005 that propelled LEGO in to the big time league of 1m unit sales in the UK."
LEGO's success this week means that Kirby and the Forgotten Land drops to No.2 after two weeks at No.1. Sales are down 24% week-on-week, but the Nintendo game continues to do well and is on course to be the biggest Kirby game of all time.
Elden Ring drops out of the Top Five to No.6 after a 13% drop in sales, and Tiny Tina's Wonderlands tumbles out of the Top Ten altogether. The 2K Games title is at No.11 after a 51% sales drop. Both of these games have been very popular via download stores and this chart only tracks physical sales.
One of the biggest risers in the charts this week are other LEGO games. LEGO Harry Potter Collection jumped 21 places to No.15 after a 161% rise in sales week-on-week, LEGO Marvel Super Heroes re-enters the charts at No.32 after a 130% sales spike, and LEGO Jurassic World returns at No.35 after a 75% sales increase.
Here is the GfK UK Boxed Top Ten for the week ending April 9:
| Last Week | This Week | Title |
| --- | --- | --- |
| New Entry | 1 | LEGO Star Wars: The Skywalker Saga |
| 1 | 2 | Kirby and The Forgotten Land |
| 5 | 3 | FIFA 22 |
| 3 | 4 | Pokémon Legends: Arceus |
| 6 | 5 | Mario Kart 8: Deluxe |
| 2 | 6 | Elden Ring |
| 7 | 7 | Gran Turismo 7 |
| 9 | 8 | Animal Crossing: New Horizons |
| 8 | 9 | WWE 2K22 |
| 11 | 10 | Minecraft (Switch) |