League of Legends generates $150m a month - SuperData
PC online multiplayer space to approach $20bn this year thanks in part to MOBAs like LoL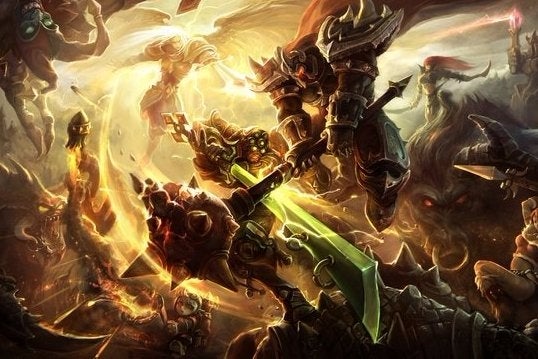 SuperData has released a new report indicating that the PC online multiplayer sector is poised to climb 13% in 2016 to $19.8 billion in revenues. Free-to-play titles will account for an overwhelming (89%) portion of that total, and the rise of the MOBA category driven by titles like Riot's League of Legends is contributing as they earn around $3 billion annually. SuperData said the collectible card gaming genre is picking up steam as well.
The biggest MOBA of them all, League of Legends, is generating $150 million per month ($1.8 billion annually), while in the pay-to-play space World of WarCraft is still in the lead, earning $198 million this year so far, more than double its closest paid competitor.
Retention, of course, is key for any online game, whether F2P or paid. "Generally, more than a third of MMO gamers play a title for more than one and a half years before quitting, so maximizing revenue from experienced players is critical," noted Joost van Dreunen, CEO, SuperData. "Keeping the player engaged with new content, daily challenges and the ability to manipulate the in-game environment will decrease their likelihood to abandon the game for another title."
Online game operators should be aware that new players are much more likely to purchase new in-game items too. SuperData found that 84% of gamers make a purchase within the first month of playing a new title. "These new players want to progress more quickly and are more likely to purchase boosts, in-game currency and one-time use items than gamers with more experience in the game. Expansion packs appeal more to the experienced players who are more likely to have explored all of the games content," SuperData noted.
If you find suddenly that some players are abandoning your game, watch out; it may be tough to stop the domino effect. "Gamers tend to abandon games in groups, with 34% indicating that they left a title because 'friends stopped playing.' With a large majority of MMO gamers (61%) listing 'playing with friends' as an aspect of game playing they enjoy, plugging into a gamers network is key to keeping them in the game. This social aspect of MMO gaming leads to significant reliance on friends and family for discovering new titles (58%), more than twice as impactful as the other channels for game discovery," SuperData said.