Leading names from YouTube, TV, film, books and games set for Changing Channels
The new event in our GamesIndustry.biz Live series takes place on August 13th for free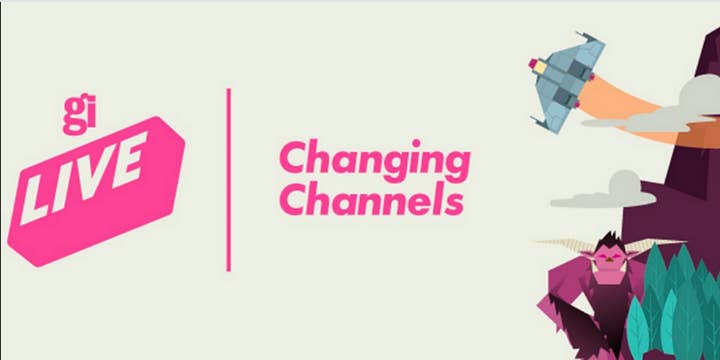 The author of the Metro series, the Outside Xbox team, EA, BBC Studios and Gary Whitta are all speaking at next week's Changing Channels show.
The free conference and networking event will discuss what television can learn from YouTube, going from a novel to a video game, the TV industry's hunt for the next Witcher, and how subscriptions are transforming entertainment.
We will also have Gary Whitta talking about his chat show within Animal Crossing, EA will discuss turning The Sims into a reality TV show, and we'll ask the age old question... what ever happened to James Bond video games?
You can register for a free ticket right here. The event runs all day, with videos available to re-watch once the show is over.
Changing Channels Schedule:
Thursday, August 13th
10am (UK) / 5am (ET) / 2am (PT): From page to 'pad: Interview with the Metro 2033 author
Dmitry Glukhovsky, Metro 2033 Author
We interview the author about how the Metro books and games influence each other, and the difference between writing for a passive reader and an active gamer
11am (UK) / 6am (ET) / 3am (PT): Bringing The Sims to reality
Sheila Judkins, Electronic Arts
EA discuss the creation, inspiration and ambitions behind its new reality show: The Sims Spark'd
12pm (UK)/ 7am (ET) / 4am (PT): What TV can learn from YouTube
The Outside Xbox team, hosted by Elle Osili-Wood
Outside Xbox share their secrets to successful video coverage of the games industry and the most popular titles, and how this approach might apply to television.
1pm (UK)/ 8am (ET) / 5am (PT): Panel: How subscriptions are changing entertainment
Jenny Priestley, TVBEurope
Karol Severin, Midia Research
Robert Price, 20th Century Fox
Discussions on how subscription services have changed consumer behaviour and company strategies in TV and film, and how this might apply to video games
3pm (UK) / 10am (ET) / 7am (PT): Making games with TV and film techniques
Aislinn De'Ath, actor
Jane Perry, actor
Kris Cho, Interior Night
Matt Spall, Branching Narrative
Sam Barlow, director of Telling Lies and Her Story
Tim Cowles, D'Avekki Studios
Reflecting on how TV and film techniques are used to make live-action video games, as well as the views from actors on how the production process differs between the mediums
4pm (UK)/ 11am (ET) / 8am (PT): Panel: Empowering gamers in licensed worlds
Kathy Bucklin, Outright Games
Maggy Larouche, Ludia
Mike Domaguing, Survios
Developers and publishers identify which elements of popular franchises like Jurassic Park, Ice Age and The Walking Dead translate to video games
5pm (UK)/ 12pm (ET) / 9am (PT): Panel: Why are there no James Bond games?
Adam Foshko, Former HBO
Guha Bala, Velan Studios
Jason VanDeWalle, Mega Cat Studios
Keely Brenner, MWM Interactive
Developers and publishers discuss the challenges and hurdles they face when licensing IP for interactive entertainment, the risks involved, and why some of the biggest entertainment properties are no-longer being translated to video games.
6pm (UK)/ 1pm (ET) / 10am (PT): Turning Animal Crossing into a TV chat show
Gary Whitta, Animal Talking
Rogue One writer Gary Whitta shares the origins, ambitions and successes of his show Animal Talking, a TV-style chat show conducted entirely within the hit Nintendo game, Animal Crossing
7pm (UK)/ 2pm (ET) / 11am (PT): Making TV and film with games technology
Ben Lumsden, Epic Games
Unreal Engine provider Epic Games shares how its technology is being used to create the special effects for high-budget TV and film productions, including Disney's Star Wars series, The Mandalorian
8pm (UK)/ 3pm (ET) / 12pm (PT): Hello Neighbour: From indie game to cross-media hit
Alex Nichiporchik, TinyBuild
TinyBuild CEO Alex Nichiporchik on transforming an indie horror game into a cross-media hit that's selling millions of books
9pm (UK)/ 4pm (ET) / 1pm (PT):The hunt for the next Witcher
Dmitri Johnson, DJ2 Entertainment
Matthew Bouch, BBC Studios
Su-Yina Farmer, Bits & Pixels
Broadcasters, production firms and licensing experts on which games IP translate well to live-action productions, and why games brands are coveted more and more for big and small screen projects
10pm(UK) / 5pm (ET) / 2pm (PT): Networking
Changing Channels is one of four events we are hosting during our GamesIndustry.biz Live initiative: seven weeks of digital conferences and extensive coverage of major shows such as GDC and Gamescom.
GamesIndustry.biz Live started last week with State of Games, which was an in-depth, data-focused overview of the health of the games business in 2020. You can rewatch those sessions here.
Other upcoming GamesIndustry.biz Live events include Investment Summit Online Autumn, which takes place from September 9 to 10, and UK Best Places To Work Awards 2020, which will be held on Friday, September 18.