Latest Ouya ad meets with widespread derision
"Experimental" animated short mocked by development community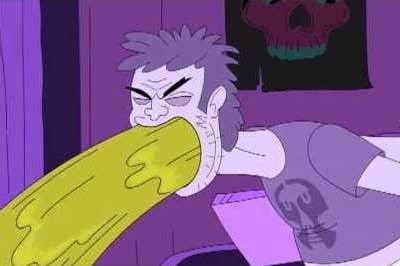 An experimental advert for the Ouya console that depicts a character vomiting and pulling out their insides after paying $60 for a video game has met with widespread derision from the games development community.
Ouya released the short video on YouTube but quickly made it private when bad feedback rolled in.
"Ouya's marketing team made a horrible commercial, killing all my respect for the Ouya. Why would I make games for it?" asked Hayden Scott-Baron, 10-year developer of games such as LostWinds and Kinectimals, now making games for iPhone and PC.
"OK, no doubt; that OUYA ad was a massive mistake. jesus who approved that and what on earth were they thinking?," wrote Sophie Houlden, who recently released a version of her game, Rose and Time, for the console.
Ouya has said the advert was not official, but was designed to get feedback from developers and players.
"This is not our official ad. We are experimenting with animated content and posted this video briefly to get feedback from our community. Stay tuned for our official video," said the company on its official forum.
Despite the adage that there's no such thing as bad publicity, Ouya looks to have alienated the very talent it hopes to attract to the micro-console.
"PR should not make you feel ashamed for wanting to like a thing. It's like a junior high pep rally," wrote Alec Holowka, coder and composer.
The advert can be seen below: