Kamcord raises $10m from Time Warner at $100m valuation
Mobile streaming platform is now looking beyond games with its new "app casting" feature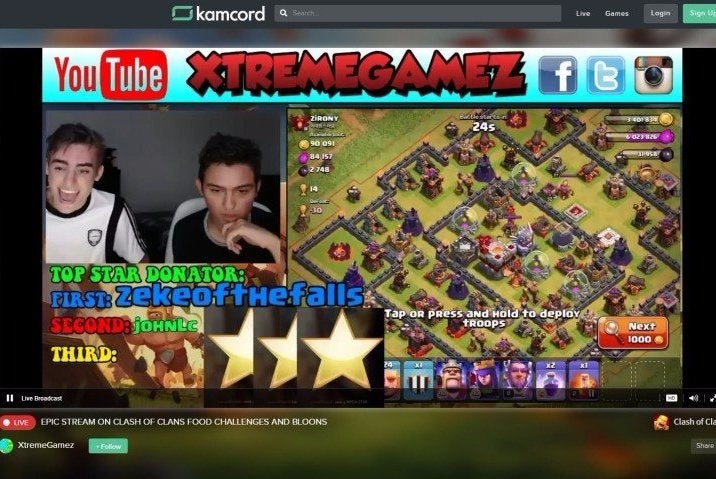 Kamcord has raised $10 million in a series C round led by Time Warner, and it will use the money to expand out from its initial focus on games.
The mobile streaming startup raised more than $22 million across two previous rounds, the latter led by GungHo Online Entertainment. On this occasion, Time Warner took the lead, with new money from existing investors Tencent, TransLink Capital, XG Ventures, Plug & Play Ventures and Wargaming.
According to a report on Techcrunch, Kamcord hadn't spent any of the $15 million raised with GungHo, but Time Warner enquired about investment just as it was considering raising more finance.
This $10 million round values the company at $100 million. Time Warner group MD Rachel Lam has joined the board. Lam was key to the deal, according to Kamcord founder Adi Rathnam, due to her prominent role in scaling the now Disney-owned Maker Studios. Time Warner also has a specific interest in Kamcord, due to the recent launch of a dedicated eSports league on its Turner Broadcasting network.
However, Kamcord's ambitions now transcend gaming alone. The platform's latest feature, "app casting," allows its 1 million users to broadcast live from any smartphone app, coupled with a stream recorded by the front-facing camera. It also offers an integrated revenue stream, in the form of virtual items that viewers can pay for and send to the content creators. According to Re/code, Kamcord is almost at $2 million a year in revenue from IAP, which is growing by 40 per cent every month.