Join Creative Assembly for a live Q&A about game audio today
The studio's audio team will be discussing their approaches and answer questions live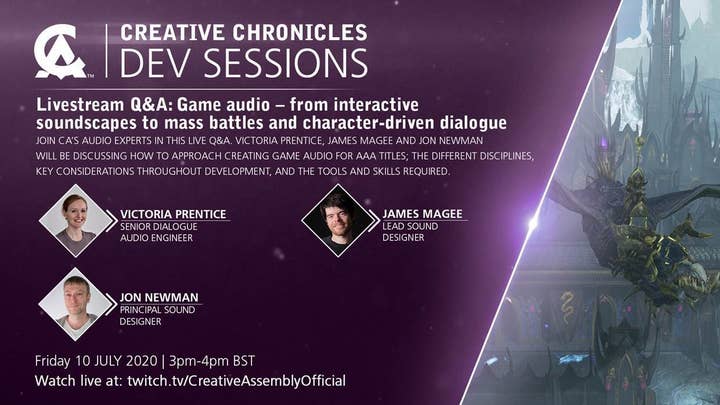 Creative Assembly is back for another Twitch livestream, this time discussing game audio, today at 3pm BST (10am EDT / 7am PDT).
In this live session, Creative Assembly's senior dialogue engineer Victoria Prentice, principal sound designer Jon Newman, and lead sound designer James Magee, will be discussing their approaches to creating immersive soundscapes for mass battles and character-driven dialogue.
With the possibility of multiple activities happening on screen, game sound must convey action clearly and in different ways. The interactive nature of gameplay stands it apart from the music and film industries where audio is linear. With games, it is not possible to know exactly what the player will do and where they will go, the audio must account for these complexities, creating sound for different locations, interactions, characters and events.
Join CA live as their experts break down their process, the different disciplines within an AAA audio department, key considerations throughout development and the tools and skills required.
This is part of the company's Creative Chronicles video series, which draws on the studio's talent pool to provide in-depth tutorials, insights into game development, and key information that aims to educate and inspire future talent interested in building games. You can watch the whole series on this page.
Don't forget you can also read the several in-depth GamesIndustry.biz Academy guides to working in games, which cover design, programming, art, PR, marketing, QA and journalism.
The livestream discussion is today and it starts at 3pm BST / 10am EDT / 7am PDT. You can watch it below: