Join Creative Assembly for a live Q&A about cinematics today
The Total War studio will be discussing how to create appealing cinematics, as well as the pipeline from directing to VFX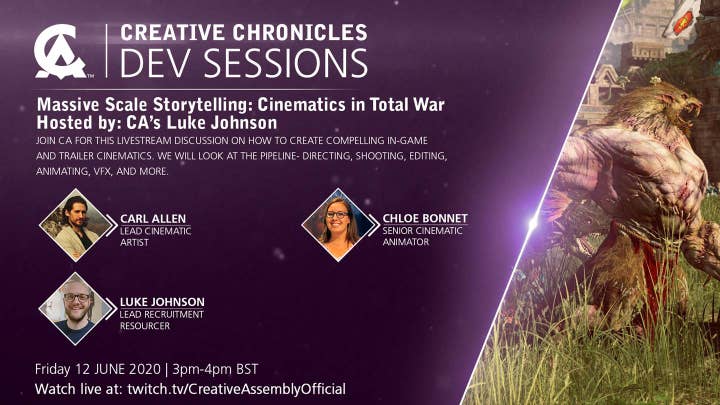 Join Creative Assembly for a discussion on how to create compelling in-game and trailer cinematics.
What's the pipeline for a cinematic trailer? What are the skills a cinematics student should focus on? Carl Allen, lead cinematic artist, and Chloe Bonnet, senior cinematic animator, will be answering these questions and more.
Chloe Bonnet has been working on cinematic animations for five years. She's created cinematic and marketing assets for Total War: Rome II, Total War: Attila, Total War: Warhammer and Warhammer II and Total War: Three Kingdoms. Prior to her debut at CA, she was an animation student in France and has a background in both traditional and 3D animation.
Carl Allen is the lead cinematic artist at Creative Assembly. Both storyteller and swordsman, he has found a home at Creative Assembly with a career going back to Total War: Empire. In his spare time he is an active member in the studio's Modern Sword Fighting club, who participated in the official Team UK Eliminations for the 2020 World Championships.
Sword fighting aside, this is your chance to ask them both questions about the cinematic pipeline in games. They'll be looking at the process and creative approach to directing, shooting, layout, writing, editing, animating, lighting, VFX and more. They'll also breakdown the tools they use every day and the skills required for starting out in this discipline.
This is part of the company's Creative Chronicles video series, which draws on the studio's talent pool to provide in-depth tutorials, insights into game development, and key information that aims to educate and inspire future talent interested in building games. You can watch the whole series on this page.
Don't forget you can also read the several in-depth GamesIndustry.biz Academy guides to working in games, which cover design, programming, art, PR, marketing, QA and journalism.
The livestream discussion is today and it starts at 3pm BST / 10am EDT / 7am PDT. You can watch it below: