J. Allen Brack apologizes for Blizzard's "tough Hearthstone esports moment"
At BlizzCon, company president alludes to ban of Hearthstone player Blitzchung for pro-Hong Kong support, welcomes protests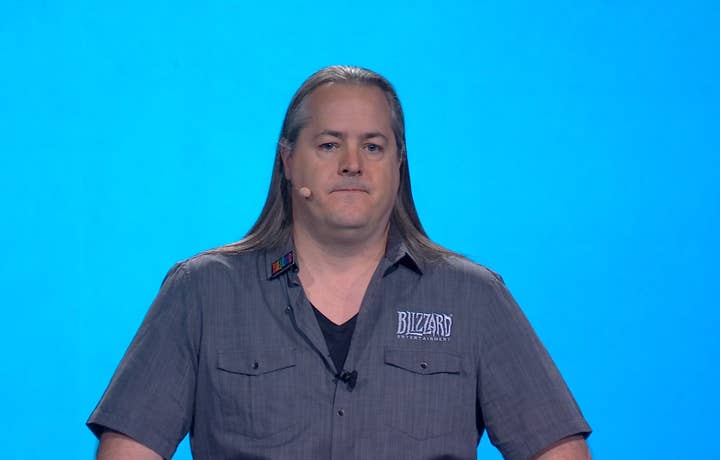 Today at the start of the BlizzCon opening ceremonies, Blizzard president J. Allen Brack stepped onstage to apologize on behalf of the company for its recent handling of a "tough Hearthstone esports moment," clearly referring to its controversial temporary ban of Hearthstone pro Chung 'blitzchung' Ng Wai last month.
"We moved too quickly in our decision-making and then, to make matters worse, we were too slow to talk with all of you," he said. "When I think about what I'm most unhappy about, there's really two things. The first one is, we didn't live up to the high standards that we set for ourselves, and the second is, we failed in our purpose. And for that, I am sorry, and I accept accountability."
Brack went on to illustrate how BlizzCon is an example of the ideals the company aspires to, with a diverse group of people from around the world getting together to celebrate video games. He then concluded by stating that Blizzard would welcome freedom of expression throughout the event, which IGN reports has already seen protests.
"We will do better going forward. But our actions are going to matter more than any words," Brack said. "As you walk around this weekend, I hope it's clear how committed we are to everyone's right to express themselves in all kinds of ways, in all kinds of places. We've actually seen and heard many of you expressing yourself this morning."
Blizzard initially banned Ng Wai for twelve months and revoked his Hearthstone Grandmasters winnings after he expressed support for protests in Hong Kong by shouting, "Liberate Hong Kong, revolution of our age!" during a post-match interview. Following widespread criticism and protests from community members, players, employees, and public figures, the company reduced his ban to six months and restored his prize money, while asserting that the company's Chinese interests "had no influence" on its decision.
GamesIndustry.biz has reached out to Blizzard for comment as to whether or not Ng Wai's six-month ban is still in effect following Brack's statement.