Italian games market hits $1.8 billion in 2017
The latest wave of GSD data is released for Europe
The Italian trade body AESVI has revealed the market statistics for the Italian games market for 2017.
The firm reveals that €1.05 billion was made from video game software, with a further €428 million from hardware and accessories.
The report utilises data from the new GSD charts project - which includes digital and retail data - plus figures from mobile data company AppAnnie.
The accessories sector was worth €94 million (driven primarily by controller sales), while console hardware generated €333 million (portable sales made up €16 million of that number). In total, 1.115 million home consoles were sold in Italy last year, and 135,747 portable machines. Retro games devices (such as Nintendo's SNES Mini) accounted for 86,946 machines.
In terms of software, physical still takes up a sizeable chunk of the business, making up 1/3 of the market and generating €370 million during the course of the year. The digital smartphone segment is the biggest individual part of the software market - accounting for 37% of all game revenue and generating €385 million. Digital - console and PC - is the smallest area of the Italian games software business, but it still boasts a 28% market share, and made €294 million.
Utilising the GameTrack consumer survey, 52% of respondents said they played on smartphones, with the Android devices taking a substantial lead over iPhone and iPad. 46% play on PC, while a further 48% utilise consoles. The most used console is PS4, with 31% of console gamers using that platform. Wii and Wii U are the next biggest areas, with 21% of users, while PS3 sits on 18%, Xbox One and Xbox 360 have 14% each, with Switch is already on 12%.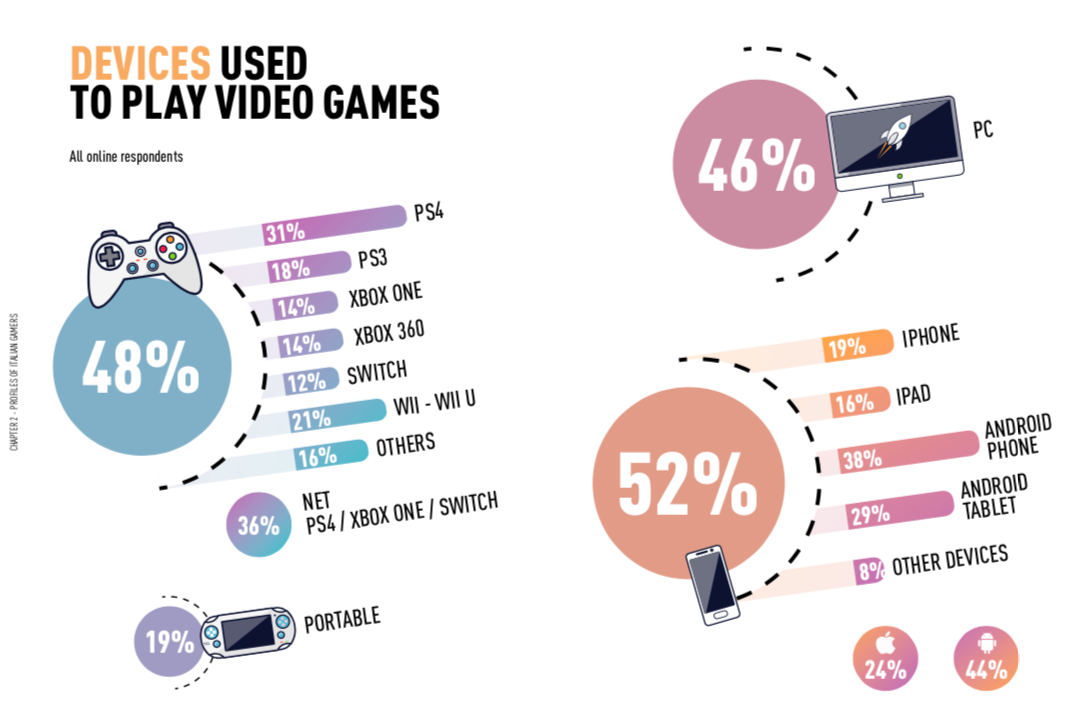 "In Italy 17 million people have had a gaming experience in the last 12 months, of which 59% are men and 41% women," reveals AESVI chairman Paolo Chisari.
"Gaming is a practice that is widespread across all age groups, with a particular concentration on the 25-34 years old group.
"The arrival of new systems on the market such as Nintendo Switch and Xbox One X, along with the performance of PlayStation 4 and PlayStation 4 Pro, was the engine that drove the market in 2017. The new launches on the hardware front were accompanied by the development of accessories able to enrich the gaming experience making it more immersive and more technologically advanced and by the new software outputs."
In terms of the best-selling games, FIFA 18 topped the console charts (Crash Bandicoot proving the biggest surprise at No.3), The Sims 4 was the best-seller on PC, Rainbow Six: Siege was the most downloaded games, while Clash Royal ruled the App market. the full chart is listed below.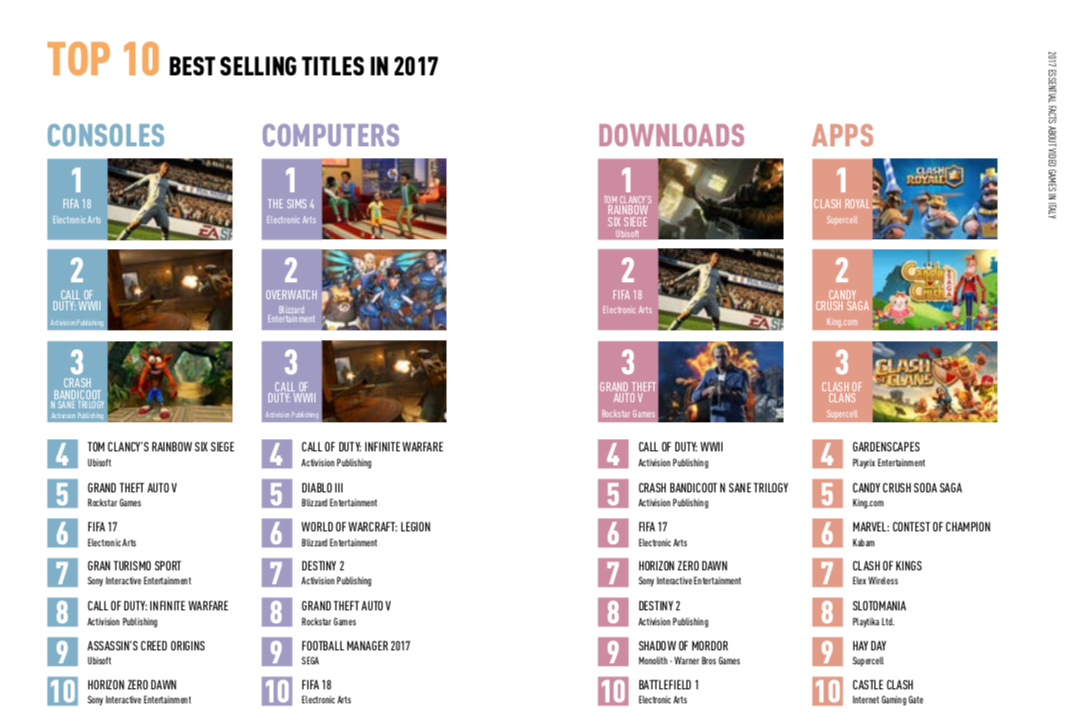 The Italian games market report is the latest to feature the new GSD chart system, operated by European trade body ISFE. Germany follows with a UK edition set to launch in January next year.