Insomniac's new IP Overstrike overhauled as Fuse
Resistance studio's first multiplatform project gets rebranded, evolves the humor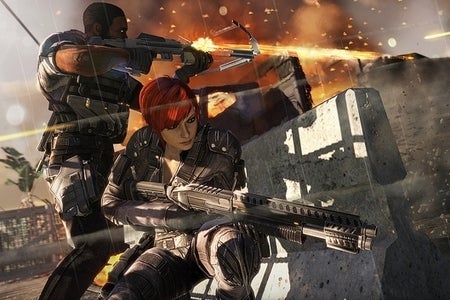 Insomniac Games today took a second crack at introducing its first multiplatform console game. The studio confirmed on in a post to the PlayStation Blog that Overstrike, originally announced in 2010 as a collaboration with EA Partners, has been reborn as Fuse.
While the game remains a squad-based shooter about a team of four elite agents with an arsenal of over-the-top weapons, the focus on humor from the original Overstrike reveal has been toned down. In the PlayStation Blog comments, Insomniac representative James Stevenson explained, "The humor is definitely still there. We have evolved it a bit, i.e., the campy/slapstick stuff is now more of a dry wit."
In a keynote address at the Penny Arcade Expo last month, Insomniac president and CEO Ted Price announced that the studio was working on a new IP by the name of Fuse, but didn't reveal it to be the same project as Overstrike.
Prior to the original Overstrike announcement, Insomniac had been a Sony-specific development studio. While technically independent, the company created some of the PlayStation maker's biggest wholly owned franchises, including Resistance and Ratchet & Clank.
Recent years have seen it branch out not just to other consoles, but to new business models. The company established a mobile-focused division in 2011 and launched the Facebook game Outernauts in collaboration with Electronic Arts earlier this year.