Industrial Toys "hell bent" on filling mobile gap for core gamers
Developer tells us Morning Star has a budget "bigger than some console games" and talks about a unique transmedia approach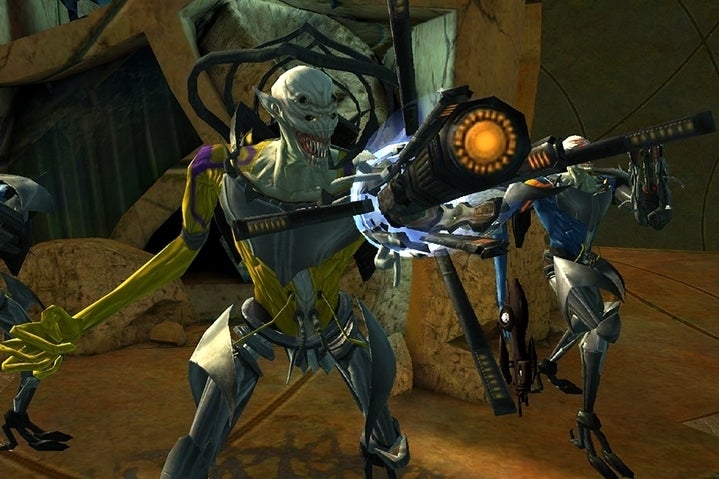 Mobile games are now a huge market. There's no disputing that. It's gotten to the point where Apple (not Microsoft, Sony or Nintendo) was Electronic Arts' biggest partner in the publisher's recent quarter. Some standout mobile titles can produce millions of dollars in sales per day. The sector's growing everyday, but there's something still missing: complex experiences for the core gaming crowd.
Sure, plenty of core gamers enjoy dabbling in the casual and midcore markets to pass some time, but most of these mobile titles can't offer an experience to satisfy a deeper gaming itch. Industrial Toys is one of a few developers looking to change that. GamesIndustry International recently chatted with Tim Harris, founder and president at Industrial Toys, to get his take on the evolving mobile opportunity and how Morning Star is being created to foster an ecosystem, not just a one-off title.
For Industrial Toys, making games for the core crowd is not the same as making a core game. That's an important distinction that Harris feels has been misinterpreted. That is, the developer isn't trying to make a AAA console game on mobile, but it is looking to appeal to that same audience.
"Despite what's been written about us, our mission is not to make core games on mobile. There's a very important nuance to our mission: we're making mobile games for core gamers. The emphasis for us is on the core gamer, us, and making mobile games we are into. Mobile has both constraints and advantages as a platform, so we're trying to operate creatively within the constraints and exploit the advantages to create new experiences that appeal to core gamers," Harris explained.
"Every mobile gamer wants better games. There's a gap there, and we're hell-bent on filling it"
"Our games will have some of the things that you would expect from a core game-great graphics, a cool storyline and depth. But we're designing levels not for the 15 minute loop that many console games provide, but for 120 second bite-size game chunks and stringing them together so that a mobile user can progress a little bit at a time or sit down and immerse themselves for hours. Every core gamer has a smartphone. Every mobile gamer wants better games. There's a gap there, and we're hell-bent on filling it."
What makes Industrial Toys' new free-to-play IP Morning Star unique is the approach it's taking to the mobile market. The developer is employing a transmedia strategy of sorts by creating a separate graphic novel app that can stand on its own but can also unlock things in the main Morning Star game.
"Our intention to launch multiple apps at the same time-one for the game and one for our graphic novel experience, Morning Star Alpha. And while we think it's going to pay sales dividends, it was more of a creative decision. Given we're doing everything on mobile, we wanted to provide a robust game story experience in the game, but also give a very different story experience to those who want to explore beyond the game," Harris said.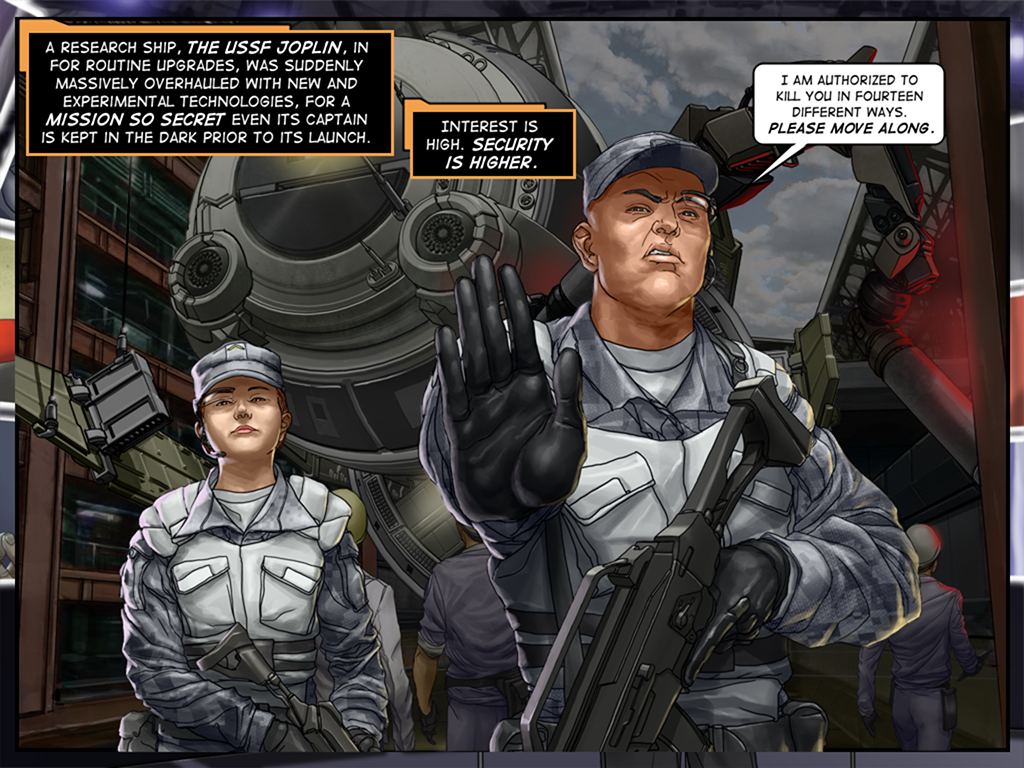 "It's a universe approach and the two apps are intrinsically linked. In the graphic novel app, readers will make choices and find things throughout the story which will affect the game itself, and conversely, doing certain things in the game will unlock content in the graphic novel. Because they were both created to stand alone and work together, we anticipate a boost for the overall IP and a subset of players that really fall down the Morning Star rabbit hole. It's a community of those enthusiasts that we want to cultivate over time, have a relationship with and entertain."
Creating a new IP can be a nerve-wracking experience for a developer. Sure, it's exciting to have the opportunity to create something new, but there's no guarantee that it will actually sell, unlike sequels to big hits. Harris believes that mindset is more a symptom of the console space. If anything, launching on mobile is less scary, he said: "Launching new IP is always fraught with peril, but it's also tremendously exciting. And mobile is a great platform for launching original IP. If you look at the charts, mobile players reward original IP way more than licensed wares. Plus, we can spend a fraction of what console folks spend to reach way more players."
The expenditure on Morning Star may be small in comparison to a high-end, next-gen console title, but mobile projects have been getting more complex as the smartphones and tablets have gotten more advanced. And core gamers have high expectations to begin with, so there's no getting around the fact that mobile costs are rising.
"The investment is very significant. We recognized from the start that production value and budgets would increase as the market grew. And as the revenue potential and audience reach of mobile has dramatically increased, we too have increased our investment. The budget's bigger than some console games, but we are also building out our infrastructure, online systems, brand and company. We are in it for the long haul with many more games to come," Harris noted.
Part of that investment involves leveraging top talent on the project. Industrial Toys has around 20 people currently, but Harris said that his company has deliberately "taken a partnership approach to expand our ability to deliver on visuals and services." So, for example, Ying Pei Games (creator of Infinity Blade and Gears of War assets) is handling the finishing 3D modeling for environments and characters, SoCal-based Sleepy Giant is helping to build backend services and Industrial Toys is tapping VFX specialists at Zoic Studios (Battlestar Galactica, Firefly) in LA to create cutscenes, trailers and additional in-game animations.
"Controllers on touchscreen mobile devices will be, I think, roughly as popular as joysticks on a PC... Maybe less"
"On top of that, we've partnered with science fiction author John Scalzi to help us build the Morning Star universe and the great Serj Tankian to create the epic score that will give the game much of its mood. So we're small, but we've gathered great friends that are helping us take the game to another level," Harris enthused. "We're laser focused on Morning Star right now, though we certainly have evil plots for future games, both within and beyond the Morning Star universe."
One issue for core gamers is that touchscreen controls are just never good enough. If developers want to cater to the core, creating accurate, responsive controls is critically important, and Harris is all too aware of that.
"Games that port console controls (like dual sticks) over to touch are a disaster. The reality is you get much more precision with a touchscreen (you can touch any pixel) than you can with a joystick which can only push things around. Once you start designing natively many more options open up," he said.
"We started the company with the issue of control in mind. We're all core gamers-and we game a ton on mobile devices-but we realized there wasn't enough great content for us. And I think part of it is approaching mobile gaming with a focus on playing to its strengths, not trying to make up for perceived weaknesses. We've spent a ton of time on the control system for our game, constantly challenging ourselves on what is and is not needed, what feels right and what gives players the feeling that there is a skill curve that they can constantly progress against."
But what if gamers could use a controller rather than a touchscreen - wouldn't that be preferable? "As far as the controller API, I think this is natural evolution. It doesn't change our strategy for providing a satisfying shooter experience for touch-it's more of a nice-to-have, depending on the type of game. The key will be adoption and how many people are using a controller in conjunction with their mobile device... and how you position your mobile device when your hands are busy with a controller," Harris added. "Controllers on touchscreen mobile devices will be, I think, roughly as popular as joysticks on a PC. Maybe less - who wants to lug around extra gear? If you want to play a dual stick game, there are consoles and dedicated handhelds."
Morning Star and graphic novel Morning Star Alpha should both be available this fall in Apple's App Store.