Indie comics platform Tapas Media embarks on major games push
Digital publisher keen to share its IP and fictional universes with developers across all platforms.
Tapas Media, an independent comics publisher, has detailed plans to bring its properties into the video games market, starting with mobile titles but eventually expanding onto PC and console.
The company's first release will be Dungeon Construction Co, developed in partnership with Red Kraken Apps and based on a popular comic of the same name. The game will be a side-scrolling puzzle-solving affair and will launch on mobile this summer.
The new strategy follows a recent $5 million Series A-2 round of funding, bringing the company's total investment up to $10.8 million.
For those who have not heard of Tapas, the San Francisco company was founded back in 2012 with a primary focus on distributing and co-developing digital comics and novels. In the last six years, the platform has attracted more than 32,000 creators, with 2.1 million monthly active readers enjoying their 48,000-plus titles.
As the Tapas library began to grow, the team noticed a lot of the stories being uploaded shared a lot in common with gaming culture and decided to explore this further.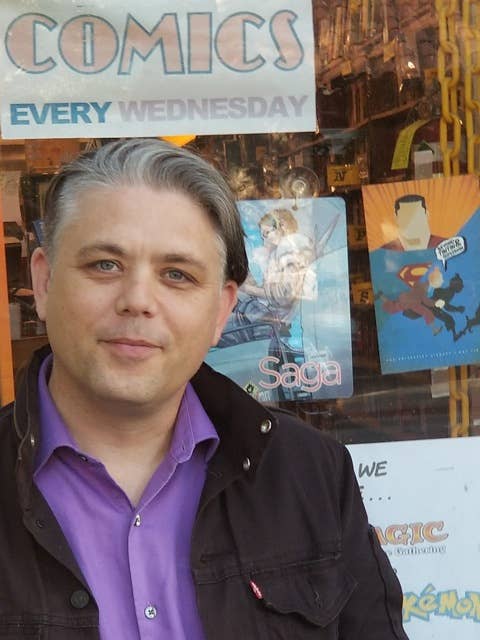 "Originally, the idea was to partner exclusively with mobile game developers and introduce a range of Tapas' IPs that we thought would work best on mobile devices," head of innovation Joshua Bakken tells GamesIndustry.biz.
"What's actually happening, however, is that developers are seeking out stories on the platform and saying things like 'Hey, this could make a great Steam game' or, 'This could make a great Telltale-type series'. So, although mobile was our initial venture, we're certainly open to and actively considering developing other types of games as well.
"Since we are still early in our game development endeavors, our strategy is to initially target more casual players, especially the fans who want to interact with their favourite Tapas digital series."
While there are far bigger licences out there - particularly from comics giants such as Marvel and DC - Bakken believes the decades of canon actually represents less opportunity for developers to be creative with their adaptations. Naturally, as a younger platform, this is not an issue with Tapas properties.
"What excites us most about entering the game space is that it is only the beginning for us and our community," he says. "Imagine being a part of the foundation of new content, being a part of the very first wave of a new massive fandom where you can quite easily interact with a story's creators. That's kind of the experience we're working to create for our fans."
Bakken is also positioning the Tapas Media library as an opportunity for developers who have created compelling mechanics but feel less confident in building their own fiction around it.
"When you consider all of the games created with generic characters that have no extensively developed universes, backstory, or fanbases... Tapas' breakout series have done very well in engaging an audience ahead of its game development," he explains.
"That's actually one of my major pitches to developers. If you're making a game, especially when you're a small team, you should focus on the gameplay first. The mechanics, the balance, the fun. One of the worst things you can do for your game is to half-heartedly throw in characters that you've hastily developed on the fly without any care or consideration. With Tapas, you avoid that from the get go."
This is not the advice of an outsider - Bakken has plenty of experience with the games industry. Not only has Tapas previously arranged marketing partnerships with the likes of NCSoft and Machine Zone, the exec himself was previously a producer on a handful of licensed MMOs.
"I saw firsthand how many game companies place an immense pressure on teams to monetize at all costs, even to the detriment of the game and/or property"
"I saw first-hand how many game companies place an immense pressure on teams to monetize at all costs, even to the detriment of the game and/or property," he says.
"Personally, I always thought that business strategy was incredibly short-sighted. Instead of trying to build and support IP, by focusing on monetization first; you're actively working to destroy your own efforts. With Tapas, at least as long as I'm in charge of games, our motto has been 'IP and fans first'."
Digital comics and novels will remain Tapas Media's priority as it establishes itself as a games publisher, but the firm is keen to become a known entity within the medium, as well as other forms of entertainment. Bakken speculates that some properties Tapas creators have developed could even reach the heady heights of blockbuster movie trilogy.
The release of such entertainment products would be in part to grow each property as a larger brand, but also to draw more attention to the source material and, by extension, Tapas itself.
"When a game from Tapas hits the market, hopefully that will increase awareness of the property which will in turn drive more people to read and interact with original content here on Tapas," says Bakken.
He goes on to say that the real winners will be the independent creators behind the comics and novels uploaded to Tapas' website, confident that the talent emerging from the community will be able to generate the attention and revenue they deserve.
"It's really all about exposure," Bakken concludes. "There are so many great stories and amazing artists on Tapas that the only thing holding most of them back is breaking into the wider attention of the consumer market. With games, we hope to introduce both creators and their creations to broader audiences.
"And it's not just about exposure, there's also greater revenue opportunities for them as well. One thing Tapas prides itself on is our commitment to making creators money for their suite of amazing talents and creativity. The Tapas platform has an ad revenue share program, a tipping program, a premium program, and a multitude of other means for our users to earn, and spend, our Tapas coins on great content they love to directly support indie creators. For us, gaming is a further extension of that commitment. It's part of our promise to content creators to do everything we can to help their work on our platform succeed at all levels."