Igniting a Chinese fighting game revolution
China isn't known for its fighting game scene, but Next Studios wants to change that with Metal Revolution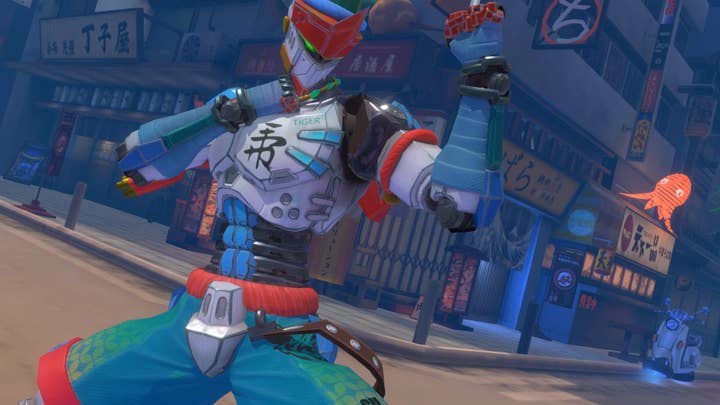 Next Studios is facing an interesting challenge with Metal Revolution. The Tencent-owned studio and a number of the key developers working on the game are Chinese, but China's fighting game scene has historically been under-developed thanks in part to a lengthy ban on gaming consoles, which were also the most popular platforms for fighters during that stretch.
"We don't have the console gaming culture in China," Next Studios project manager Gigi Chyi explains to GamesIndustry.biz at E3. "Mostly gamers in China play mobile games, and then PC games, but mostly online games. They barely play consoles."
That's not to say Chinese gamers are entirely unfamiliar with the fighting genre. Chyi says they just had their experiences with fighting games limited to arcades. Many of the stand-out fighting game successes were the same in China as in other markets -- Tekken, King of Fighters, Street Fighter -- but fighters are still "really niche" in the country, partly because fans didn't have the option to practice on home versions of the games, and partly because they historically haven't translated to the platforms Chinese gamers care about.
Metal Revolution's developers took both of those hurdles into account, and focused on accessibility. First, they designed the game with simple inputs that anyone could pull off, even if they didn't grow up practicing shoryuken joystick movements until they became second nature. (Chyi likens the technical difficulty of pulling off special moves to Nintendo's Smash Bros.) Then, they decided to meet their audience where they were, which was on mobile devices.
"Most of the players playing mobile games probably don't have the skill to play complicated fighting games, so that's why the [developers] wanted to make a more accessible fighting game," Chyi says.
"This is also the Chinese fighting community's wish. We want to make a home-brewed fighting game, and then make it [appeal] even to the Western audience"

Gigi Chyi
Next Studios senior community manager Moliba Yan adds that there's a lack of quality fighting games on mobile devices at the moment. And even for some of the familiar fighting brands that launch mobile titles, they tend to be less faithful translations of the source games and more like spin-offs that put the characters on top of a more familiar mobile formula, like card games.
Interestingly, the mobile part of the plan came together long after the accessible controls. Metal Revolution was initially intended to arrive this fall as a PC release that would debut on Steam Early Access. That plan changed, as the developers are running a series of betas instead of Early Access because they found it preferable to see how people play for a couple weeks, shut everything down and make fixes, then open it up again as a new beta.
That wasn't the biggest change in plans, as Next Studios is also now planning for a simultaneous release of PC and mobile early next year, complete with real-time cross-platform matches. There appear to have been a number of factors behind that decision. Beyond identifying an underserved audience for traditional fighting games in mobile, the game's developers had more experience working on mobile platforms.
Yan notes that the choice of Unity as the development engine also opened up the opportunity to more seriously consider adding platforms partway through development. Similarly, Yan believes the game's quick matches (five minutes or less) are well-suited for mobile playstyles.
Feedback on both the accessible focus of the game and the mobile version has been positive so far. Pro fighting game player Justin Wong took part in a beta test earlier this year and praised the game for combining easy execution of moves with strategic depth and support for a wide variety of playstyles. And in later playtests with the mobile version, Yan says some pro fighters told the studio they preferred the mobile version.
"We're not that experienced compared to Western console developers," Yan concedes. "But we're hard-working people. So we'll learn, update our technology and try to catch up... [We] want to make a really Chinese but globally accepted fighting game."
"This is also the Chinese fighting community's wish," Chyi says. "We want to make a home-brewed fighting game, and then make it [appeal] even to the Western audience."