"If you use the same tools as everyone else it's way harder to stand out"
3rd Eye Studios' Kari Koivistoinen on the value of building bespoke tools for its VR anthology series Downward Spiral
This article was first published in our VR & AR newsletter. For exclusive content and all of the news from these exciting and fast-growing markets, sign up here.
We may only be one year into the consumer VR market, but there are developers who have been working behind the scenes for much longer. Whether a Kickstarter backer of the Oculus DK1, a buyer of the improved DK2, or an early partner of HTC and Valve on the Vive, many studios are now in a third or even fourth year of exploring - and attempting to monetise - virtual reality. The future remains unknown, perhaps, but the current landscape and its myriad challenges are quite well understood.
"When you're starting a studio the most important thing is definitely to get the right people"
Finding solutions to those challenges is another matter, though, and the Finnish startup 3rd Eye Studios is building its business on doing just that. The company's founding team includes two veterans of Remedy Entertainment, Kari Koivistoinen and Kari Huttunen, whose CVs include console blockbusters like Alan Wake and Quantum Break. According to Koivistoinen, the CEO of 3rd Eye, VR had sparked their interest from the moment the Oculus Rift first emerged, but starting a company is about more than just the right time.
"It's more important to find the right people than to get caught up in thinking about when is the right time," he says. "When you're starting a studio the most important thing is definitely to get the right people."
In 15 years of producing games, Koivistoinen believes that the speed with which the VR market is changing has no precedent. In that sense, the fact that 3rd Eye Studios is in the third or fourth wave of VR developers rather than the first isn't necessarily a competitive disadvantage. "The potential is still huge," he says, and the market is still short of enough quality content. "The kind of games that we want to play, and the kind of games that will bring VR to mainstream gamers."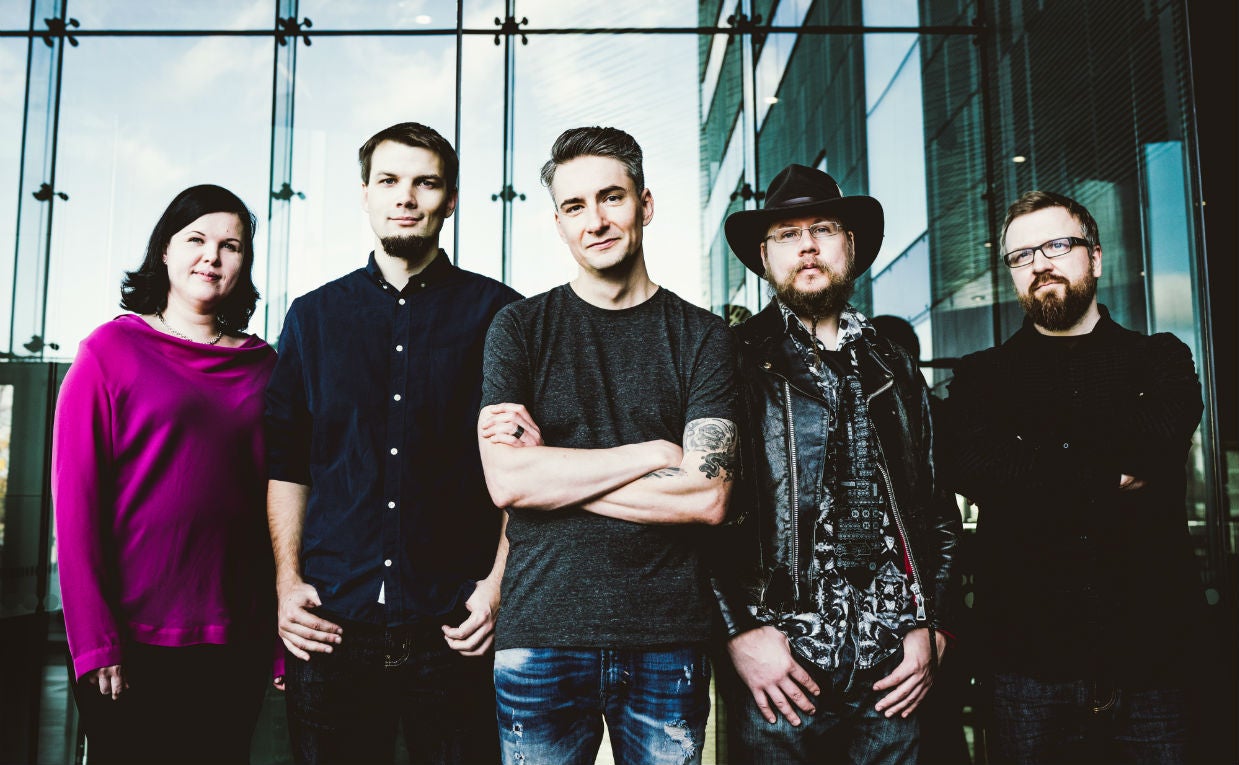 Indeed, Remedy's reputation is built on competencies that are particularly well suited to VR, where 'immersion' is the ultimate goal: world building, storytelling, the creation of atmosphere, all supported by and sold on immaculate production values. 3rd Eye Studios first project, Downward Spiral, seems a perfect fit for these values; an anthology series inspired by TV shows like Black Mirror and The Twilight Zone, where each episode is a unique and (mostly) self-contained experience, but related to the others in tone and theme.
"The idea for an anthology came from not wanting to limit ourselves creatively," Koivistoinen says, and he emphasises the point with an example. Downward Spiral's "Prologue" episode launched for Vive and Rift on March 31, and it is entirely set on a space station. "Most of our audience doesn't understand yet that Episode 2 could be about a detective, set in the Fifties, or maybe it has a Western theme - anything like that. Certain elements will always be there, but we're very open to new ideas."
"You either get exclusives, and those can be free, or you can have titles that reach the whole audience but the indie needs something to make the next episode"
Downward Spiral is an enticing prospect, but the smart thinking behind it goes beyond the freewheeling approach to its content. An anthology series, while normally the preserve of television, is an ideal fit for this precise moment in VR, each new episode affording 3rd Eye an opportunity to tackle one of the medium's many technical and design challenges. The Prologue, for example, allows the player to move freely through the space station's zero-G environment without any creeping sense of nausea. Future episodes, with their entirely new stories and characters, could be the solution to a different set of problems.
As it works on these episodes, 3rd Eye is also building and refining a suite of VR development tools, which will be available to other developers early next year. In addition to being a bold ambitious concept for VR gamers, Koivistoinen says, Downward Spiral will also serve as a demonstration of what can be achieved by going beyond the most widely used game engines.
"That's part of our thinking," he says. "We really want to show people what you can do in VR, really showcase the medium.... We want to inspire other developers, but if they want a shortcut they can get our tools and have access to the same features. You'll be able to build better VR with us.
"If you think about all of the good game companies out there, you need a very strong technology side in order to achieve something great. If you use the same tools as everyone else it's way harder to stand out."
Of course, 3rd Eye isn't alone in creating an episodic game for VR. The dispersed approach to production and launch is a seductive prospect for developers building an audience small but growing marketplace, and Downward Spiral's anthology structure offers an even bigger advantage in that respect. If all goes according to plan, Koivistoinen points out, Episode 4 will be as valid an entry point to the series as the Prologue.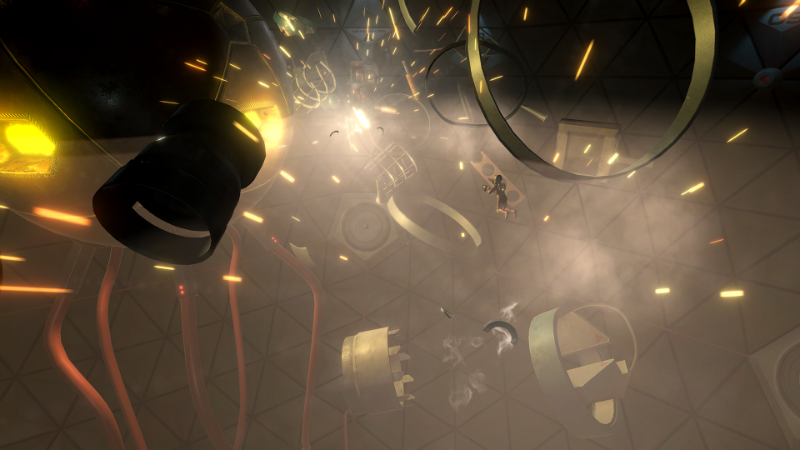 However, 3rd Eye has already run into what is arguably the most common complaint among VR players: price, and how much a player can expect for each dollar spent. Downward Spiral's Prologue is on sale for $9.99, and though user reviews are very complimetary of the exact areas that 3rd Eye counts as its specialties, the overall tone is lowered by discussions of cost vs. length.
"We've been reading the reviews and there's a lot of positive comments: the immersion, the production values, nobody is getting motion sickness. The only complaint is that the experience is too short, and that's the easiest thing to fix. I can happily announce that Episode 1 is going to be way longer than the Prologue."
"I can happily announce that Episode 1 is going to be way longer than the Prologue"
Price is the other half of the debate, though, and it's no less important. If Episode 1 is far longer than the Prologue, does that mean it will also be more expensive? Is it possible to be as ambitious as Downward Spiral and charge much less, given the size of the addressable market? VR is unprecedented in so many ways, and yet studios like 3rd Eye are selling their products through storefronts where $10 can often buy two or three non-VR games. The perception of value is so disjointed that the Prologue has received reviews on Steam chiding 3rd Eye for not giving the content away.
"This is not the mobile market, for sure," Koivistoinen says. "Most developers, like us, are indie, and especially if you choose to not be exclusive to a hardware manufacturer... You either get exclusives, and those can be free, or you can have titles that reach the whole audience but the indie needs something to be able to make the next episode."
Koivistoinen teases a "very big surprise" about Downward Spiral: Episode 1 that will "make the pricing even harder," but he sees a few stumbles as inevitable in any market as young as the one for VR games. "Pricing in VR is super hard, to know what people are expecting," he adds. "It's also changing: What were people willing to pay six months ago compared to now? What will the situation be at the end of this year? We really have to listen to the community to find the price that feels like value for money.
"What's super important to us is that every episode of Downward Spiral that someone plays, they should be thinking 'this is VR.'
"VR is all about immersion and, honestly, I feel that Downward Spiral: Prologue is already one of the most immersive VR games. We're going to top that with Episode 1."