"I believe I am preserving digital art in a physical form"
Special Reserve Games CEO Jeff Smith talks about the business of selling physical copies of indie hits, from speculators to repeat customers buying games "almost blindly"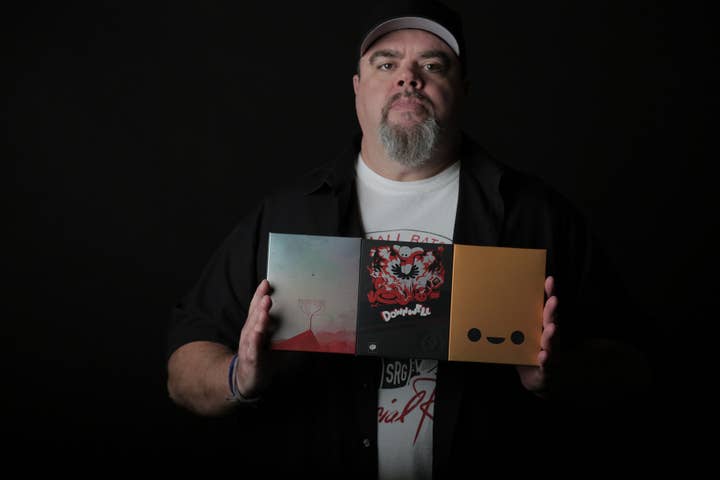 As the CEO and creative director of Special Reserve Games, Jeff Smith has built his business creating limited edition physical copies of indie games that have already proven themselves successful as digital offerings.
"I believe I am preserving digital art in a physical form," Smith tells GamesIndustry.biz. "That's really all I'm trying to do, is bring back what I enjoyed as a kid with video games and the tangible, tactile connection I used to have and all of us used to have with some of our games that has just been lost a little in this age of digital downloadable everything."
Special Reserve was founded in 2016 after Smith had noticed a collectors' market spring up for physical versions of PlayStation 4 games. So he pitched the idea of a PC physical run of Devolver Digital's Shadow Warrior 2 to Devolver co-founder Mike Wilson.
Smith's pitch was no doubt aided by his personal history with Wilson. The two have deep roots in the Dallas-area gaming scene, and their working ties were formalized when Wilson co-founded the Gathering of Developers in the late '90s and Smith made the jump from Gathering member company Terminal Reality to be the upstart publisher's director of global PR.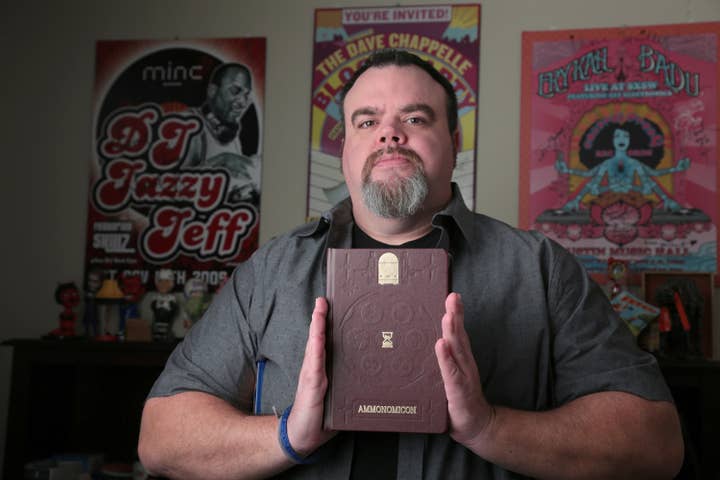 "We just tested the waters to see if I could produce something that was cool enough to call a physical collectible, and if there was a market there," Smith says.
That test showed that Smith was capable of delivering on some collectible prerequisites with the game's packaging, soundtrack, art book and stickers, but it didn't exactly prove the market they wanted was there. The Special Reserve edition of Shadow Warrior 2 on PC was limited to 1,000 units, and remains available on the company's website.
"I know these guys are going to make money, and then I do my damnedest to not risk much of the money at all on the physical [version] and make sure it's a pure profit deal for the developers"
Smith says the game eventually turned a profit, but comparing the sales for the PC version of Shadow Warrior 2 with Special Reserve's later PS4 physical version of the game made it clear they should focus on the console market.
"You'd have to beg to sell 500 units of a physical PC collectible," Smith says. "It's real difficult for PC. It's not the same. [Customers] aren't trying to buy the game on disc from you in the PC collectible world; they want the tchotchkes and premiums on the PC. Well, it's hard to justify to anybody the cost of manufacturing these premiums because we know the unit numbers on PC collectible will be very low, like literally sub-1,000. What the PC collector might want or gravitate to is just going to be hard or inefficient to make, unless you want to sell them for $150 a piece."
Smith adds that Special Reserve hasn't ruled out PC physical editions entirely, and would happily jump back in if demand for it developers.
Despite that slow start, Special Reserve and Devolver kept at it, and have since been mining the company's catalog of indie hits for new offerings, expanding to produce Switch cartridges of games along the way. The pair have now produced physical offerings for an assortment of titles, including Enter the Gungeon, Gris, Downwell, Minit, and The Messenger. My Friend Pedro preorders are open now, and Hotline Miami Collection for Switch is planned for February. Sometimes a game gets two print runs with distinct cover art, and in a twist of cooperation between competitors, the second editions have often been sold exclusively through the online store of fellow physical game purveyor Limited Run Games.
"It's a real pleasure and an honor to be able to develop these physical versions for these small independent developers that Devolver curates, because I know they're taken care of," Smith says. "They give them really fair publishing deals so I know these guys are going to make money, and then I do my damnedest to not risk much of the money at all on the physical [version] and make sure it's a pure profit deal for the developers. So they get the benefit of the cool physical without the stress of having to worry about the crazy inventory they're going to have to produce."
These days, Smith says the expectations for a typical run are about 5,000 or 6,000 units. The more popular titles can top 10,000 handily, with The Messenger being a particularly successful effort with around 20,000 units sold in total.
"A comfortable size for me is putting out like ten games a year, because the audience only has so much money"
Special Reserve's production strategies have also changed over time, with speed becoming a focal point for the company. In the bigger picture, Smith says the company has tried to stay current, minimizing the lag between a game's digital debut and its physical release. On a shorter timeline, it's also more mindful of how moving to physical can affect load times, ensuring games are ported and optimized to pass console testing standards.
To date, every one of Special Reserve's projects has been a Devolver title, which Smith describes as a requirement for working so closely with the company, at least "until I had put out everything the fans were screaming for. And we're still not through that list!" Special Reserve's offerings will remain devoted to Devolver through the end of this year, but Smith says he's talking with other outfits for releases that could land in 2020. Even then, Smith is mindful not to expand Special Reserve too much.
"We're trying to stay small," he says. "A comfortable size for me is putting out like ten games a year, because the audience only has so much money."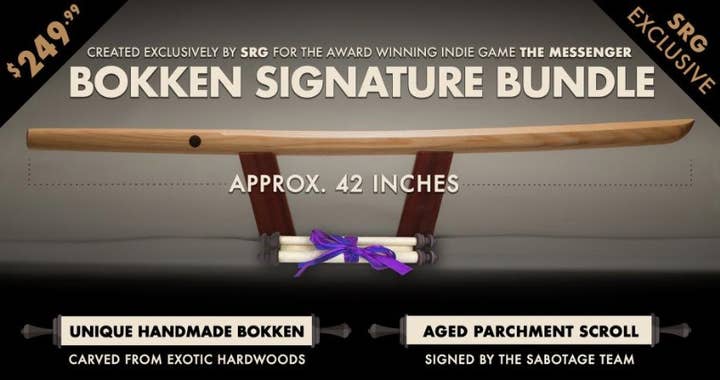 The customer base's limited funds may be a more pressing concern for Special Reserve than most publishers simply because so much of its business comes from repeat customers. Even though one might imagine the audience for a platformer about trauma like Gris to be far different from the one for a frenetically violent action game like Hotline Miami, Smith says there's plenty of overlap between his customers from game to game.
Even with The Messenger -- sort of a breakthrough success for Special Reserve -- 62% of the day-one preorders came from returning customers. When the company opened its next preorder campaign, one for Minit, 87% of the day-one preorders came from returning customers. And when Special Reserve had a second-chance sale for The Messenger, 92% of the first day's sales came from existing customers.
"It's a new kind of support -- new to me as an old man -- a new way of customers supporting titles almost blindly, just because they believe in independent gaming so deeply. It's amazing. It's really overwhelming, the response we've gotten from our customers."
As for what drives that customer base, Smith has some ideas. Some don't trust the permanence of the various digital distribution platforms, and worry about losing access to their games somehow. He says some just don't want all these games taking up storage space on their consoles. Some just want something to put on the shelf. He believes his customers typically already own these games digitally, that half of his customers won't ever open the shrinkwrap on the games, and about half of those are collecting with an aim to make a profit.
A cursory glance at Special Reserve Games on eBay gives some idea as to where he would get that notion, as many of the company's releases are available with striking mark-ups. For example, Special Reserve made a Bokken Signature bundle of The Messenger that came with a handmade wooden training sword and a scroll signed by members of the development team. It was limited to 50 bundles and originally sold for $250. As of this writing, there are six complete sets on eBay with asking prices up to $1,000.
Even if some of Smith's customers are in it for the money, he insists that's not his driving motivation.
"It's more of a 'Thank you' to anybody who's supported the games and these developers because this is more about preserving art and honoring these games than it is about just being out here trying to get rich," Smith says. "Our intentions are honorable, and we're doing the right thing for these games. That's all I want people to know."