How to get your game released on Google Stadia
Google's Ray Bautista says Stadia is "moving away from the Wild West that exists in some storefronts today"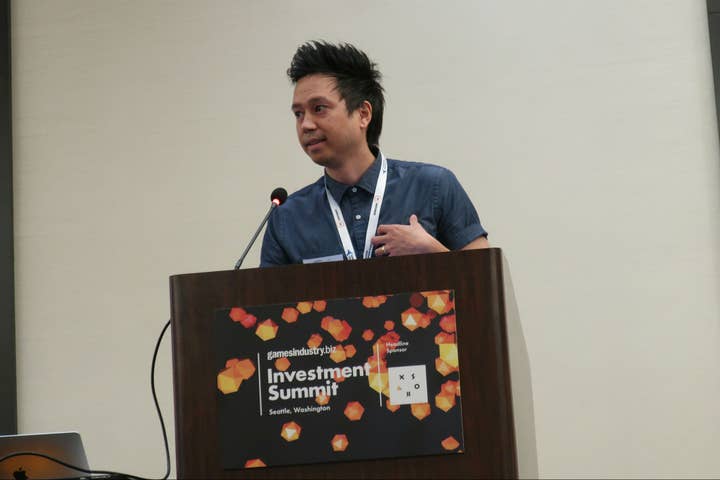 Want to release your game on Stadia? You're in good company, with over 4000 other developers.
But Stadia business development manager Ray Bautista insists that Google is being picky with who it allows in. The team wants its cloud streaming platform to be a curated storefront experience.
"It was important for us with Stadia that we moved away from the Wild West that exists in some storefronts today," Bautista said, speaking at the GamesIndustry.biz Investment Summit at PAX Dev. "Just because a studio has a game idea doesn't mean we're going to allow them to publish that game on our platform. Just because a developer or publisher releases a game that was a success, we certainly aren't going to allow ten, 20, 50 fast follows to come after that.
"It's important to us that we are looking at every single piece of content that comes to our platform to really help spotlight developers, showcase the talented developers and content that's coming out, and more importantly make sure we're proud of the content that's being released on the platform."
"We are looking at every single piece of content that comes to our platform"
The first step to getting a game on Google Stadia is simple enough: a two-page application process that over 4000 hopefuls completed following the reveal of the platform at GDC earlier this year. Every one of those applications is being looked at by a human team at Google, and those that are accepted must go on to submit even more information about their companies, pitches, and needs. Which is why Bautista made the focus of his Investment Summit talk not just how to develop for Stadia itself, but also what the company is looking for in games it brings to the platform.
Development on Stadia, Bautista explained, is centred around custom-built machines running the games in Google data centers around the world, called "instances." If you're making a game on Stadia, it's running on one of these instances. And customers who play those games are streaming them from those instances, with controller input sent back to them. And it all works the same, regardless of device: PC, mobile, tablet, or Chromecast.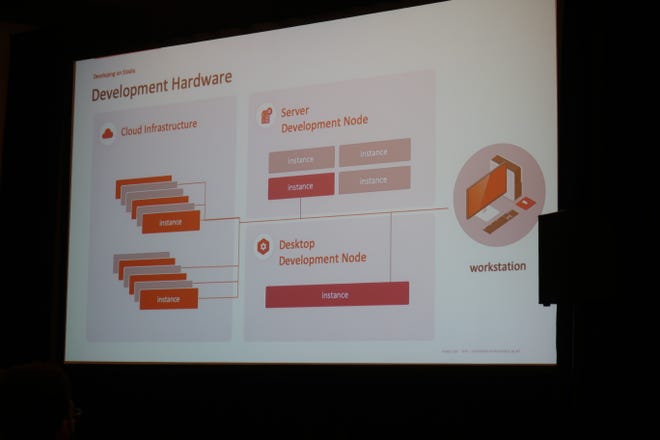 Which can be a relief, Bautista said, for those who have ever tried to ship a game across multiple platforms: "The good news of Stadia is that it's a single source-code-based platform. Which means it's built to handle game output to any supporting devices, and the power of those supported devices is irrelevant to you as a developer. All you need to worry about is building your game on the hardware at the data center, and the platform will take care of everything else as you go through our submission and certification process."
As you create your game, there are a number of different ways of uploading to Stadia, Bautista said. You can develop directly onto the cloud itself, or you can use one of Google's "nodes." There are two kinds of nodes: server development nodes, which Bautista described as "very large physical devkits that go into a server room at your studio," which have four different Stadia instances on them; or desktop development nodes, which have a single instance.
"Stadia is built to handle game output to any supporting devices, and the power of those supported devices is irrelevant to you as a developer"
But if you want to get to that point, you have to apply and be accepted first. That starts at Stadia.dev, where you begin by filling out the aforementioned application form. And Bautista emphasized the "fill it out" part, cautioning developers not to take it lightly.
There are a lot of applications to work through, but if you're accepted you'll receive an email with a link to submit even more material about your company and pitch, after which you'll be sent to the company review stage of the process, where Google Stadia reviewers determine which projects to prioritize. If your idea is accepted, Bautista said, you'll then move onto discussions of tailored sponsorship packages, depending on what it is your game needs: initial financial support, a development budget, PR or marketing support, user research, exclusivity deals, or something else.
Aside from being diligent about giving as much information as possible during the application process and having a great game, Bautista said one important factor Google takes into consideration is the specific viability of a project for the Stadia platform. Projects that have specific functionality that is either unique to or shines on Google Stadia will probably be prioritized for partnerships.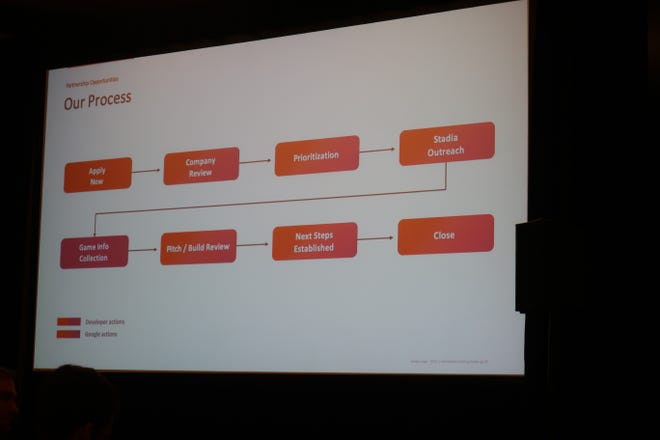 For example, he offered Stadia timed exclusive Orcs Must Die 3, which has a mode that, put simply, includes a lot of orcs -- more than most PCs can reasonably handle. Normally, this would make the game inaccessible to most people on most platforms, but on Google Stadia it works regardless of device.
As another example, Bautista outlined some of the features planned for Google Stadia that developers could take advantage of in unique ways. One that's been shown before is Stream Connect, which shows multiple viewpoints on a player's screen at once and is ideal for strategic play.
Another is State Share, a function that allows someone to compile game metadata into a shareable link, that can then be shared to others. For example, you can take a snapshot of a character wearing specific armor, with a specific weapon, at a certain level, and then send that state out via a YouTube stream, text, or email. Anyone who clicks on it can then experience the game in that state, which can be used to share a game with a friend or as a promotional tool.
Finally, there's Crowdplay, a feature that was teased in the initial Stadia reveal at GDC. Enabling Crowdplay on Google Stadia only has two requirements: supporting Stadia's invite system (which every multiplayer game is required to do), and integrating an additional API. This allows a set-up where a livestreamer could be playing a game, and viewers can queue up to play with or against them, jump in, and join the game instantly. Other options include sharing prototypes or playable demos from a YouTube channel, which is available both during development and post-development.
Looking at these features, Bautista urged applicants to "consider what being on a cloud-based platform means to your overall game design" and ask what kinds of projects they can make that aren't possible on other platforms -- that's what Google will be most interested in.