How Dread Hunger found and retained an audience
GameDiscoverCo talks with James Tan of Digital Confectioners to find what made the social deduction game click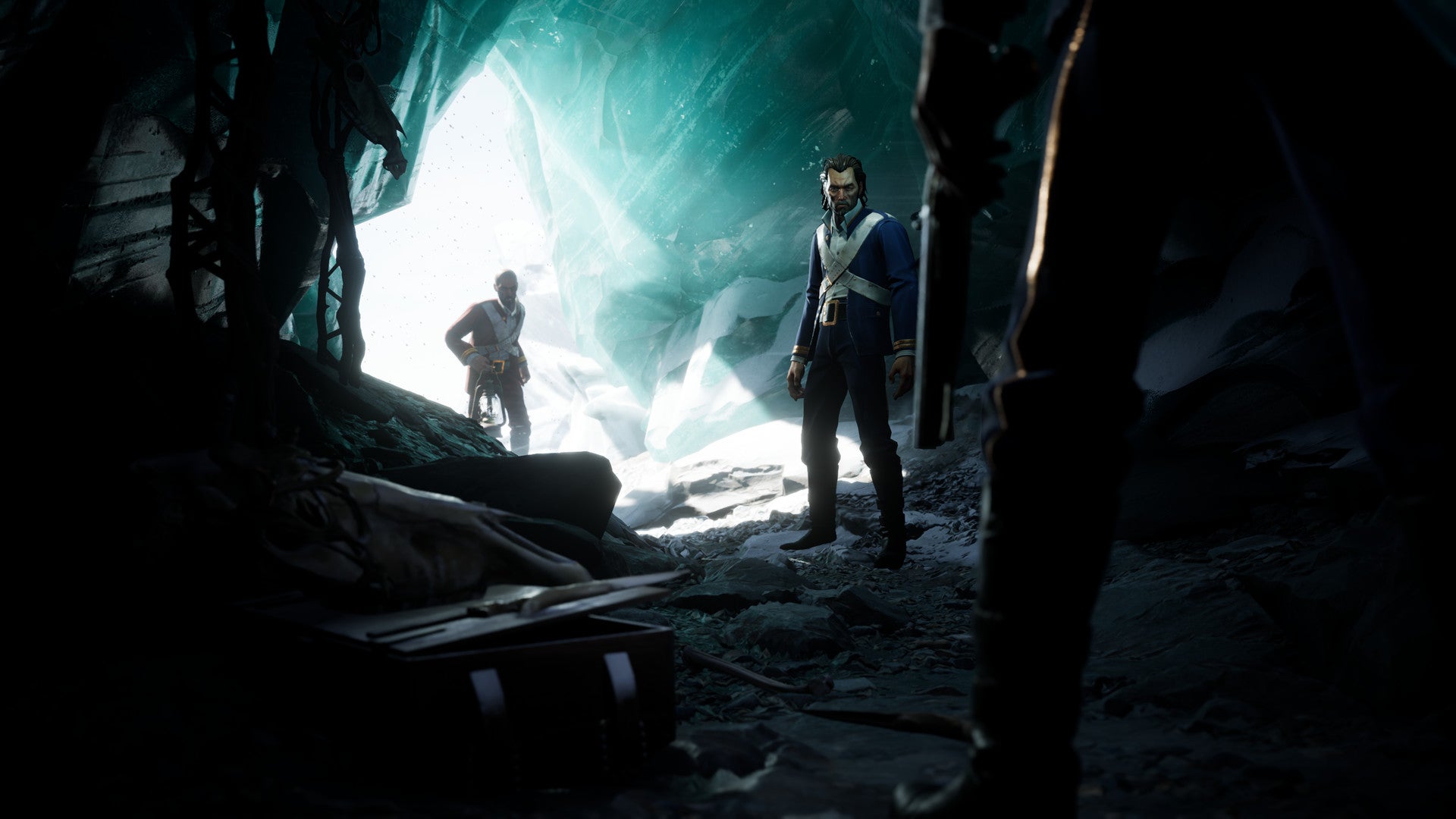 The GameDiscoverCo game discovery newsletter is written by 'how people find your game' expert and GameDiscoverCo founder Simon Carless, and is a regular look at how people discover and buy video games in the 2020s.
Some of you may have been surprised to see social deduction game Dread Hunger consistently in the top-grossing Steam games over the past few weeks. But the survival/social deception combination has been a delicious win for the studio behind it, Digital Confectioners, with CCUs as high as 100,000 on the service.
As part of a recent GameDiscoverCo podcast, we chatted to James Tan of Digital Confectioners, one of the key creators of the smash hit multiplayer title. He talked to us about the project's 'hook,' its surprise Chinese success, and post-1.0 path to 1 million units sold (!)
Hook? Use adjusted messaging, but don't trend-chase…
When initially creating the game - which has you playing an explorer, trapped on a ship in the Arctic tundra with your crewmates, some of whom are 'thralls' (the bad guys!), James notes: "When we first started looking at these genres - social deduction and survival - we started by picking out the stronger genre, which was actually survival at the time."
But "sprinkles of misinformation" were always a key part of the game. And James adds: "We really liked those kinds of betrayal moments. They gave players more room for player-generated stories about funny things that would happen. I think it's fair to say that when Among Us really started gaining a lot of traction… [we] pivoted a little bit in the marketing message."
So this means the game's hook is somewhat more layered/complex than just 'find the impostor!': "Maybe in order to survive, there are things that I'm going to need to do that I otherwise normally wouldn't. [We're] trying to put players in that kind of situation… in Among Us: when you are the impostor, it's very clear that you know what you're supposed to do... In Dread Hunger, it's a lot more about subtlety."
Complex social gameplay leads to… great retention?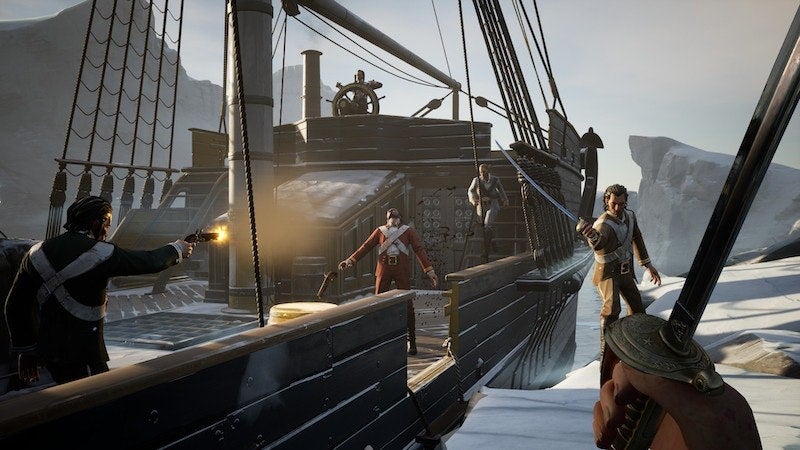 The dev team -- which worked on previous hit 'shark vs. diver' multiplayer title Depth, and included Killing Floor creator Alex Quick -- were inspired, visuals and setting-wise, by the TV series The Terror, and from a 'social interplay' point of view by card games like The Resistance.
And it turns out that this survival/social deception mash-up spawned a game with amazing retention. James notes: "For Depth, we had an average play time, I think, about four or five hours. And then the median playtime for Depth was one and a half hours… but for Dread Hunger, we're seeing average playtimes of 30 hours, and we're seeing median play times of seven or eight hours - which is in our opinion really, really long. We didn't anticipate people would be 'maining' the game this much."
But why? Perhaps it's a simple explanation, but a very happy one for Dread Hunger: "You've got streamers playing the game, and good retention. And so when people do go in there and buy it and they're really enjoying themselves, you're going to get this constant growth pattern, basically just going up and up and up and up."
A middling start, then a major CCU ramp-up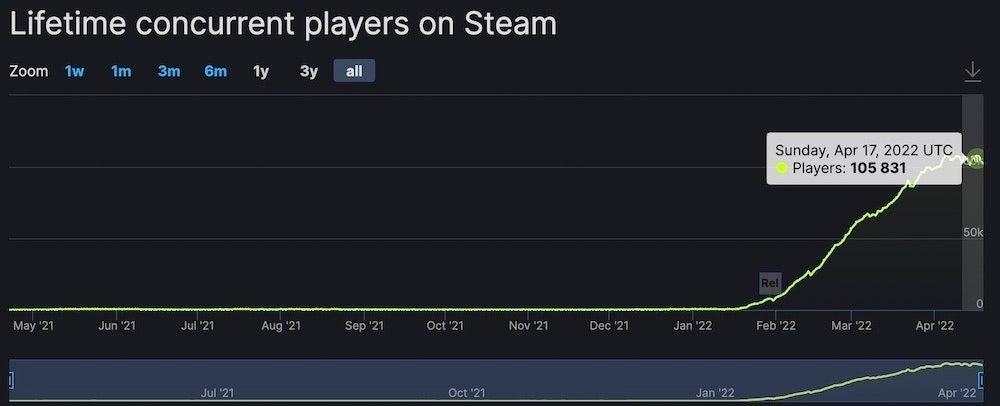 Yet the game wasn't an overnight success. If you look at the CCU graphs for Dread Hunger, you'll see a slower Early Access period, with CCUs in the low thousands, but then a crazy ramp-up starting just before the game's 1.0 release in January 2022. So what happened?
The game was slower to grow in the West than anticipated, and James suggests: "We think what happened in the West is that there definitely was some level of burnout… from the social deception category of games. In the sense that everybody had played Among Us… and almost became burnt out on that genre."
But you can see from the review languages of the game -- and the timing of the CCU peaks -- that the majority of the excitement around the game is from Chinese players. (About 10% of the reviews are English language, which presumably maps largely to sales.) So the massive take-off was almost entirely China-based.
But the fascinating thing is, as James says: "We didn't have any sort of external publishing help with it at all. And more interestingly, we did not actually have any partners in China to help us with that at all. [Besides localizing the game into Chinese], we focused all of our PR and marketing efforts purely in the West. And so seeing the sudden rise in China was a complete surprise to us."
So what happened here?
Social deduction's 'hidden gold mine' in China, unlocked…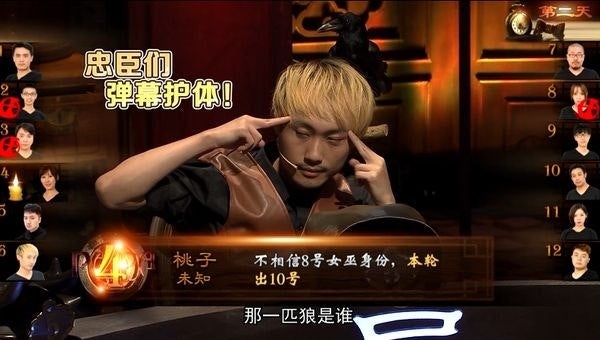 More recently, James and the Dread Hunger team have found out more about the cultural background here: "There's a lot of history with social deduction [in China], and I had no idea. A number of years ago they used to play a game just called Werewolf and this was the real-life version of this -- very similar to Mafia, right?
"And what happened was they had some very popular streamers just play this game in real life. And it became pretty popular. But that popularity transitioned into a TV show. So they had celebrities playing this game as a TV show, and that gained a ton of popularity as well."
So it turns out that most young people in China are very familiar with the social deception genre. And yet, there haven't been major game hits in this genre. James notes: "There were games that [tried to take advantage of the trend] in China, as well. The problem was that they tried to take the real-life Werewolf game and just transition that into a mobile game. So it became a bit like a Zoom meeting…"
And thus, Dread Hunger stepped into the breach. It created a smash hit that's often among the top 10 most-played games on Steam right now, if you look at daily peak CCU. (Though it's one of the most China-centric in terms of lopsidedness, with Naraka: Bladepoint being another outlier.)
So basically: Dread Hunger was a very well-executed, complex to pull off idea in an under-served multiplayer genre. It has ended up doing decently in the West and spectacularly in China. the full podcast and transcript has lots more, including:
The challenges of successfully community moderating a game which has role-playing, and already requires players to deceive each other!
Why Depth's mixed experiences with extrinsic rewards (item/bonus drops) made the Dread Hunger devs move towards intrinsic ways of rewarding players.
How the concept of 'displacement genres' -- markets that are hard to enter without disrupting the biggest games in them -- made the team's previous title, aquatic battle royale Last Tide a tough sell, timing-wise.
And thanks again to James for talking to us for this newsletter and podcast, despite being so busy wrangling his 100,000 CCUs into shape! Much good luck for the future…
GameDiscoverCo is an agency based around one simple issue: how do players find, buy and enjoy your premium PC or console game? You can subscribe to GameDiscoverCo Plus to get access to weekly game analysis and detailed charts, plus the newsletter, an info-filled Discord, a data-exportable Steam Hype back-end, two high-quality eBooks, and lots more.