How Dambuster finally brought Dead Island 2 over the finish line
Game director David Stenton on celebrating zombies, putting the studio's creative stamp on the franchise, and living up to years of anticipation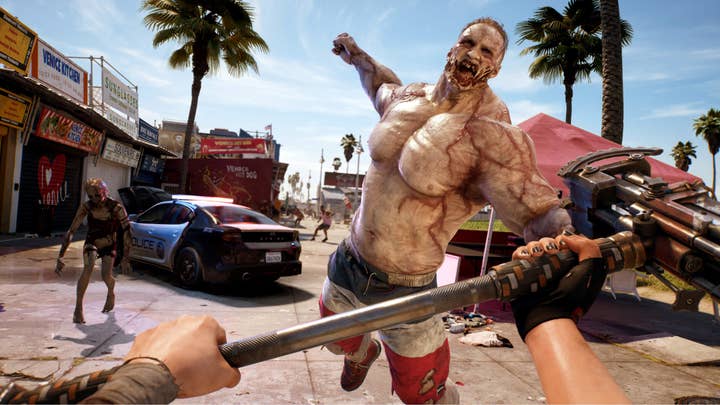 Dead Island 2 is out today. Yes, you're reading that right.
Up there with Skull & Bones, Beyond Good & Evil 2 and probably some other non-Ubisoft titles, Dead Island 2 has been one of the most prominent modern examples of a game stuck in Development Hell.
Announced in 2014 with a planned release date of Spring 2015, it was originally being created by Spec Ops: The Line developer Yager. However, after at least one delay and three years of development, a difference in vision between Yager and publisher Deep Silver led the German studio to be dropped from the project in 2015.
The reins were then handed to UK developer Sumo Digital, and later passed to Deep Silver-owned Dambuster Studios – famously formed from the ashes of Crytek UK, the developer previously known as TimeSplitters creator Free Radical Design.
Dambuster took over development in 2018, but game director David Stenton tells us he and the team weren't worried about the pressure of taking over a project that had been in development for six years. Instead, he was more concerned about how respected and established the franchise was, given the popularity of the original.
"We wanted to push the boundaries and there's pressure associated with that that we were conscious of"
"There's a lot of people that fondly remember the Dead Island games – the first game and [2013 follow-up] Riptide – and have got a lot of good memories of them," he tells GamesIndustry.biz. "So obviously you want to honour that, and you want to sort of push it already. It was a few years in by that point, so we wanted to push the boundaries and there's pressure associated with that that we were conscious of.
"Obviously as time ticks by, now we're in 2023, and fans have been waiting ages, right? It's massively exciting and a privilege to be able to finally deliver the game that everybody's been waiting for all these years. We've had a smaller slice, just a few years, in the development overall wait for that. I think it will be worth it."
One thing that should be made clear: the Dead Island 2 now on shelves is not the game that began development at Yager. While Dambuster had access to previous builds, it started essentially from scratch in 2018, with the only element fully carried over from the original Dead Island 2 being the Los Angeles location.
"We had a particular sort of vision and a passion for what Dead Island 2 should be," Stenton explains. "We really wanted to focus on pushing the boundaries of the sort of melee combat. There aren't that many first-person melee combat games out there to be honest, and we felt like we could really push the boundaries and put a laser focus on that. We just chose to wipe the slate clean and go in our own direction with it."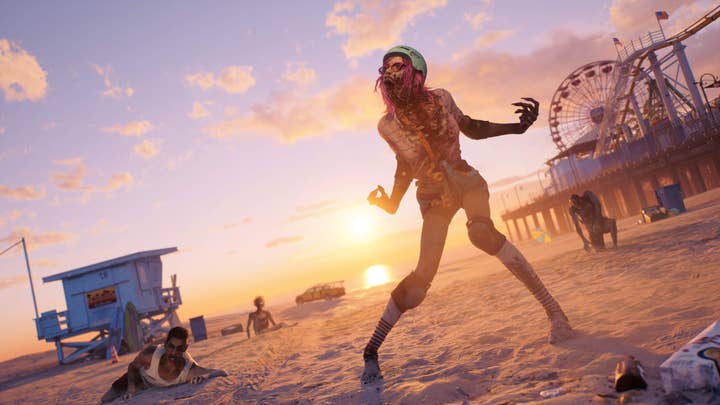 He continues: "Obviously, from a franchise point of view, there's [parts of the] IP we wanted to respect and adhere to. One of the pillars of the Dead Island franchise is what we call 'paradise gone to hell'. So that's why we thought the LA location still worked really well – depending on your point of view, you might think LA is paradise or already hell without the zombie outbreak. But you've got all these fantastic postcard locations like mansions in Beverly Hills and Venice Beach and the pier, Santa Monica and Hollywood Boulevard. All of that sort of stuff still appealled to us."
"The gore is extreme, but in a slightly over the top way as well"
Stenton adds that the Dambuster team was keen to "put our own stamp" on Dead Island 2, leaning heavily into a pulp tone that revels in some of the things that make the zombie genre so popular. "It's over the top, slightly larger than life," he says. "The gore is extreme, but in a slightly over the top way as well.
"Looking back at the early days, we were having those discussions about how bleak should it be? How serious should it be? Should it take itself very seriously? We just thought that there's loads of stories already out there about that kind of naval gazing where actually zombies are just the backdrop and it's all about humans in-fighting, humans are the real enemies, and so on. There's lots of good stories about that already. We just thought let's do something different. We'll celebrate zombies."
Dambuster also didn't feel beholden to that E3 2014 trailer that first unveiled Dead Island 2 to the world. As with the first Dead Island, the teaser trailer was a computer-generated concept – although in this case, it does appear more in keeping with the final product than the teaser for the 2011 game. However, Stenton emphasises that Dambuster was determined to deliver its own vision of the game; in fact, this is why little to nothing of the game was seen until the gameplay reveal at Gamescom 2022.
"We wanted to wait until we had something awesome to show it was real, that you could actually play it, and it would just cut down on all of the sort of speculation and debate around that kind of thing," Stenton explains. "Back at Gamescom, we revealed our own CG trailer and our own gameplay to back it up.
"It's interesting to look back on that Yager trailer that everybody enjoys. And, frankly, there are some similarities between the tone of that trailer and our own version of Dead Island 2. But we never used that as inspiration. We didn't sit down and say: 'Oh, we really like this trailer, so we're going to carry along the spirit of that'. There are significant differences between what we're doing and what Yager were doing back then."
"We didn't sit down and say: 'Oh, we really like this trailer, so we're going to carry along the spirit of that'"
As Stenton says, there is an abundance of zombie games out there. Since Dead Island 2 was first unveiled, we've seen The Last of Us: Part 2, Part 1 and the HBO series based on the original, the revitalisation of Resident Evil (in both newer titles 7 and Village, and remakes of 2, 3 and 4), PlayStation's Days Gone, additions to Rebellion's Zombie Army series, a fourth Dead Rising, various Call of Duty zombies multiplayer modes – and not one but two Dying Light titles from original Dead Island developer Techland.
With so many comparable titles released over the last few years, how can Dead Island 2 hope to stand out in the way the original did?
"I'll answer that question with another question, which is have you ever wanted to punch clean through the face of a zombie?" Stenton replies. (For the record, the answer is no). "If the answer is yes, then Dead Island 2 is your game.
"Dead Island 2 is just all about those 'what if' conversations in the pub. Like, what weapon would you use in the zombie apocalypse? I'd use a garden rake or Wolverine claws or sledgehammers. It's about revelling in the obliteration and slaying of zombies in the most bloody and spectacular ways. It's like that homage to '80s horror movies – it's so disgusting that you almost burst out laughing at the end of it."
He adds that while grittier zombie apocalypse titles like The Last of Us and The Walking Dead have garnered critical and commercial acclaim, there is still a need for a franchise that doesn't take itself so seriously.
"I'm a massive fan of those other franchises. There's room for that type of narrative and that kind of heavy hitting take on things. But likewise, sometimes you want to sit down and watch a Saturday night blockbuster and go on a roller coaster ride through amazing locations in Los Angeles, meet really fun, interesting people, and kill zombies with awesome weapons"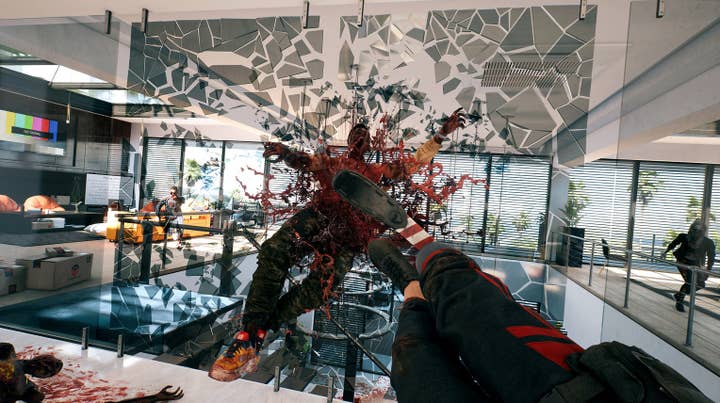 Stenton's promise of fun and interesting people brings us to the cast. Players can choose from six characters, up from the original's four, and there's a surprising amount of diversity there – and they all lean into this over-the-top atmosphere. London stockbroker turned Hollywood stuntman Jacob is the cover star, an uncommon Black face on the box of a high-production video game. Amy is a Paralympian, a rare chance for players to control a character with a prosthetic leg. The game director tells us this was borne somewhat from the location.
"LA is a melting pot, both of cultures and immigrant groups. To try and do that location justice, you want to make sure that you're capturing that diversity"
"LA is a melting pot, both of cultures and immigrant groups," he says. "To try and do that location justice, you want to make sure that you're capturing that diversity. It's important for us to have a grounding in authenticity.
"All of our characters share this 'reluctant hero' antihero mentality. We absolutely wanted to make sure that they were all iconic in their own way, all stylish. With Dead Island 2, we wanted to really push that sort of pulp tone and that stylish take on modern pulp. I think we've done a good job in sort of capturing that with our six playable characters."
He continues: "Likewise, though, for the non-playable characters that you meet through the game, there's all kinds of quirky individuals that inhabit these luxurious mansions and amazing locations in LA. It's just a lot of fun really to be able to encounter those and get to know them. There's quite a a big cast of sort of characters that you'll meet along the journey. It's been a lot of fun, but hard work, to write all of those six character perspectives."
Finally, Stenton adds that Dambuster has tried to capture this diversity in the enemies you face, the undead denizens of 'Hell-A' (as the marketing insists on calling it). "You've got all kinds of peculiar Los Angeles personality types that inhabit these locations," he says. "You've got zombies that are over the top as well that really reflect all the different sort of locations within LA. There are lots of rollerblades and beachwear and that sort of stuff. It's about having fun with it."