HMV saved from collapse by Sunrise Records
Canadian retailer will buy 100 stores, but 27 branches and 455 jobs will be lost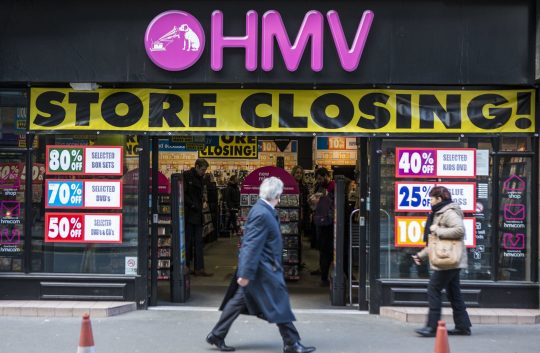 UK entertainment retail chain HMV has been rescued from administration by Canada's Sunrise Records.
The BBC reports the latter firm will buy 100 stores for an undisclosed sum and secure just shy of 1,500 jobs.
Unfortunately, 27 stores will still have to close and 455 employees will be let go. KPMG, the administrator that has been running HMV while seeking a buyer, is expected to tell staff today whether their store is to close.
HMV entered administration just days after Christmas, with chairperson Paul McGowan attributing this to a number of factors: the "unsustainable" deterioration of the DVD market, rising business rates and the rise of government-centric policies, plus the "general malaise of the UK High Street."
It was the second time the chain had entered administration, following similar troubles in January 2013. It was soon rescued by Hilco.
Sunrise Records, the retailer's saviour this time around, is run by Canadian entrepreneur Doug Putman, who previously bought HMV's business in his home market back in 2017. This transformed Sunrise Records from a small chain into a nationwide retailer.
Speaking to BBC Radio 4's Today programme, Putman said: "I feel really lucky to be able to say we [will] continue to call it HMV.
"There is no doubt that online is a big part of overall retail sales. But people like to come into a store, have an experience, talk with someone who understands music, loves music, loves video and entertainment. If you think online is the only future, I don't think that is the case.
"There is so much you get from coming into a store than you can't get online."
During its administration woes, several others parties were interested in buying HMV, including Sports Direct owner Mike Ashley, who took a large stake in GAME back in 2017.