HMV faces administration in the UK
UPDATE: Troubled retailer still accepting gift cards, stores remain open for now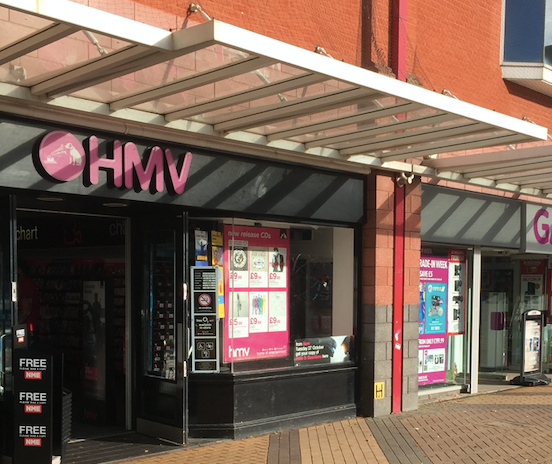 ORIGINAL STORY 28/12/2018: Entertainment retailer HMV faces administration for a second time.
The music, DVD and games specialist filed a notice last week that it intends to appoint administrators, amid failed talks with suppliers.
2,200 jobs are at risk.
HMV chairperson Paul McGowan said that the DVD sector had declined 30 per cent over the Christmas trading period, and that although HMV "performed considerably better than that, such a deterioration in a key sector of the market is unsustainable."
He added: "HMV has clearly not been insulated from the general malaise of the UK High Street and has suffered the same challenges with Business Rates and other government-centric policies which have led to increased fixed costs in the business.
"Business rates alone represent an annual cost to HMV in excess of £15m. Even an exceptionally well-run and much-loved business such as HMV cannot withstand the tsunami of challenges facing UK retailers over the last 12 months on top of such a dramatic change in consumer behaviour in the entertainment market.
HMV first entered into administration in January 2013 but was rescued by Hilco. The firm renegotiated deals with its suppliers to make it a more profitable business. It was the movie and music industries that proved the most accommodating to new terms, which saw HMV reduce its focus on video games.
However, HMV does still stock an array of video game goods and merchandise. If it does cease trading, it will be the third sizeable games retailer to close in the UK this year, after Toys R Us and Grainger Games. Other games stores to close in the UK this year included Scottish chain Games Centre and online retailer GameSeek.
Before entering administration in 2013, HMV was looking to change its business so that it focused on entertainment experiences over retailing. It invested in the Gamerbase concept (similar to GAME's Belong arenas), where people could play games. The retailer even had its own cinema and operated a number of music venues.
Unfortunately, these new business areas were not growing fast enough to counter the declines suffered in physical CDs and DVDs, and HMV ended up selling and closing these new ventures in an effort to free up capital.
HMV first opened 97 years ago.
UPDATE: The Entertainment Retailers Association has issued a statement on HMV's situation.
"After what has been widely reported as a tough fourth quarter for retailers, HMV is not the only High Street name facing tough decisions right now," said CEO Kim Bayley. It is a fast-moving situation and it is too early to say how it will end. What is clear is that following its first move into administration in 2013, HMV has enjoyed a remarkable turnaround and it is conceivable that this will happen again. The fact is the physical entertainment market is still worth up to £2bn a year so there is plenty of business there. For the sake of HMV's staff, customers and suppliers, we are very much hoping HMV can turn things around again."
UPDATE 2/1/2019: Our sister site Eurogamer reports HMV is still accepting gift cards. Last time the retailer faced administration, it refused to do so.
It's also reported that all stores will remain open for now. More as it happens.