Hex: Cryptozoic's cards of fate
How Cory Jones wants to create a whole new genre: MMOTCG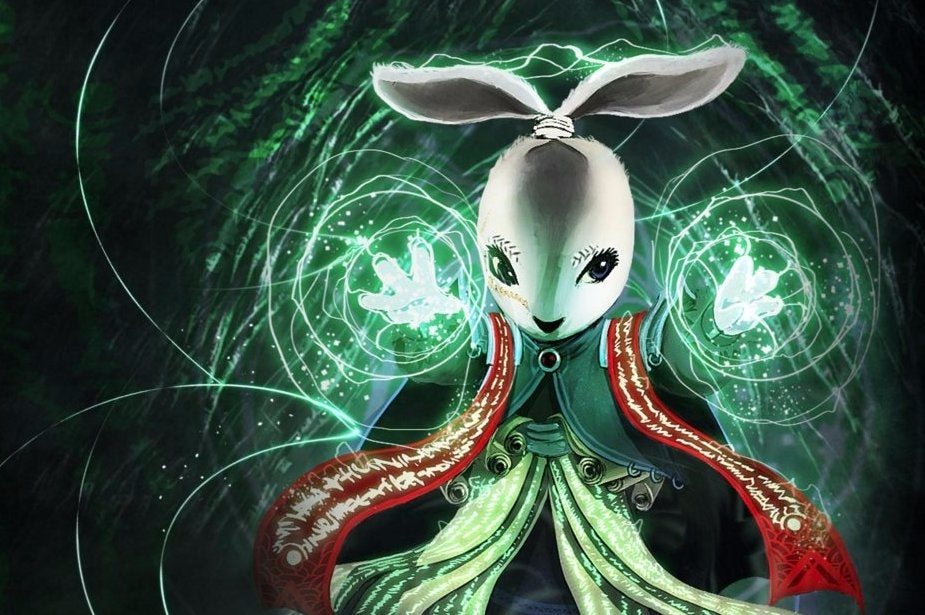 Cory Jones is ready to change the online card battling scene. He co-founded Cryptozoic Entertainment in 2010 - a company known as a developer and publisher of original and licensed board games, card games, comics and trading cards - and prior to that was spent some time at Blizzard Entertainment, home of mega MMO World Of Warcraft and more recently Hearthstone.
Now Jones and his team are combining the two worlds, trading cards and MMOs, to create a whole new genre in the MMOTCG. Free-to-play game Hex: Shards Of Fate is building a following online and just received a massive update which added major PvE content. The game is also proving its eSports chops with a $100k HEXTCG Invitational scheduled for next month. We spoke to Jones about Hex, the competition and the world of creating games for the competitive scene.
Eurogamer What were your major concerns or considerations about bringing out a trading card game?
Cory Jones
Hex is something completely new. Trading card games (TCGs) have been around forever but there is no game that better combines RPG elements with the depth and freedom of gameplay. The considerations were quite simple. We successfully published physical TCGs for years and knew there was demand for a real TCG experience digitally in a video game. We started creating the game that we as TCG players always wanted to have. The Kickstarter itself really put Hex, our team, and me out there. No matter how sure you are of your project, there's always this fear of rejection or that people won't love "your baby."Our concerns were annihilated after the great success of the Kickstarter campaign.
The support and trust that we got from our new community - and still get today- is overwhelming and humbling. Today, our concerns are more on technical sides, but with Gameforge as a partner with a lot of experience in the market, we felt very confident to start this journey. The successful launch of our first PvE campaign chapter again convinced us that we're making something that players have wanted for a long time.
Eurogamer You're creating a new genre in MMOTCG, what are the pros and cons that come with that?
Cory Jones
Combining two gameplay elements that are loved by players all around the world is very exciting but also brings a large amount of responsibility. We won't be a third person MMO, but people expect us to transport a similar feeling of RPG gaming. The challenge in it is also the beauty of it because TCGs offer so much depth and possibilities in their core mechanics; to combine them with a skill tree, it's amazing. Physical card games are limited to the words on the cards. We, in the digital space, have the chance to give the players back more creativity. Our game designers have a much larger canvas to paint on because of that digital space. If a player wants to change the effect of a card, they can go find the equipment piece that enhances the card, or a player may choose to socket a card with an ability on cards that have this option. You always wanted to have your lethal card being able to fly? Use a gem to adjust the skills.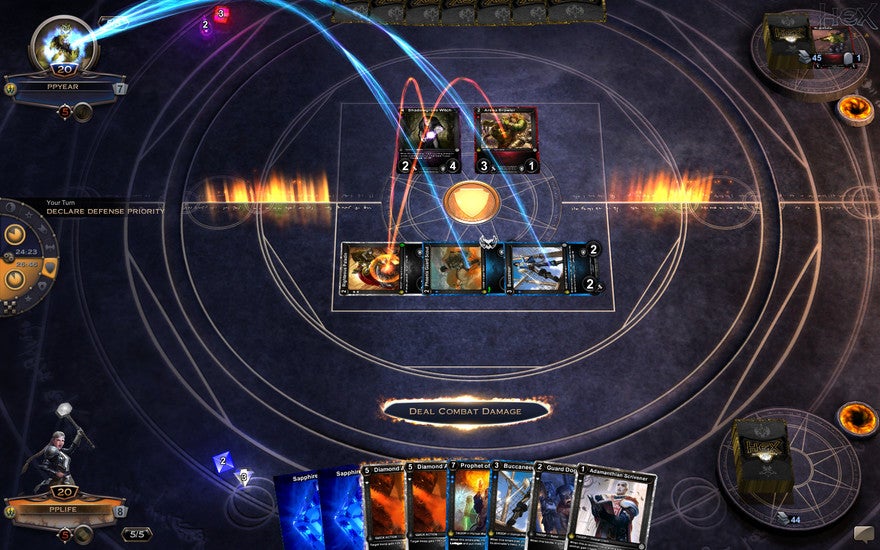 Eurogamer Was competition like Hearthstone a proof of concept or an obstacle? Do you even consider it competition?
Cory Jones
Hearthstone is a great game but it isn't necessarily a TCG. You merely collect all cards and that's it. Playing physical TCGs was always about trading cards with your friends or selling them. Hex brings all of that interaction back into the digital world. Our auction house allows players to trade every single item in the game for either gold or platinum, our premium currency. Via the in-game mail system you can send cards to friends or perform C-O-D delivery. Plus, the depth of Hex when it comes down to PvP, is exceeding the limits of Hearthstone without putting up too much complexity. Being able to play a card during your opponent's turn is fundamental to a trading card game, and we find that Hex players appreciate that level of control and interactivity. Of course, there's room for both games. It doesn't have to be a competition. They provide a specific experience, and we provide a different one even though we're both card games on the surface.
"The two constants we've seen across our community, many coming from Kickstarter, are kindness and generosity"
Eurogamer What's the demographic you envision for Hex: Shards of Fate?
Cory Jones
As long as you can read and follow the cards, Hex is open for everybody. Hex has no limits in this. Without being too violent the humor might aim for people who have a little more gaming and real-life experience - imagine Mushrooms giving you a buff! - but, it also connects with people who just started in the world of TCGs. The two constants we've seen across our community, many coming from Kickstarter, are kindness and generosity. Our community has been great since the beginning. Now, we see veterans helping out new players by giving them new cards and teaching them how to play. We have a group of streamers who stream consistently and show players how welcoming our tight-knit community is.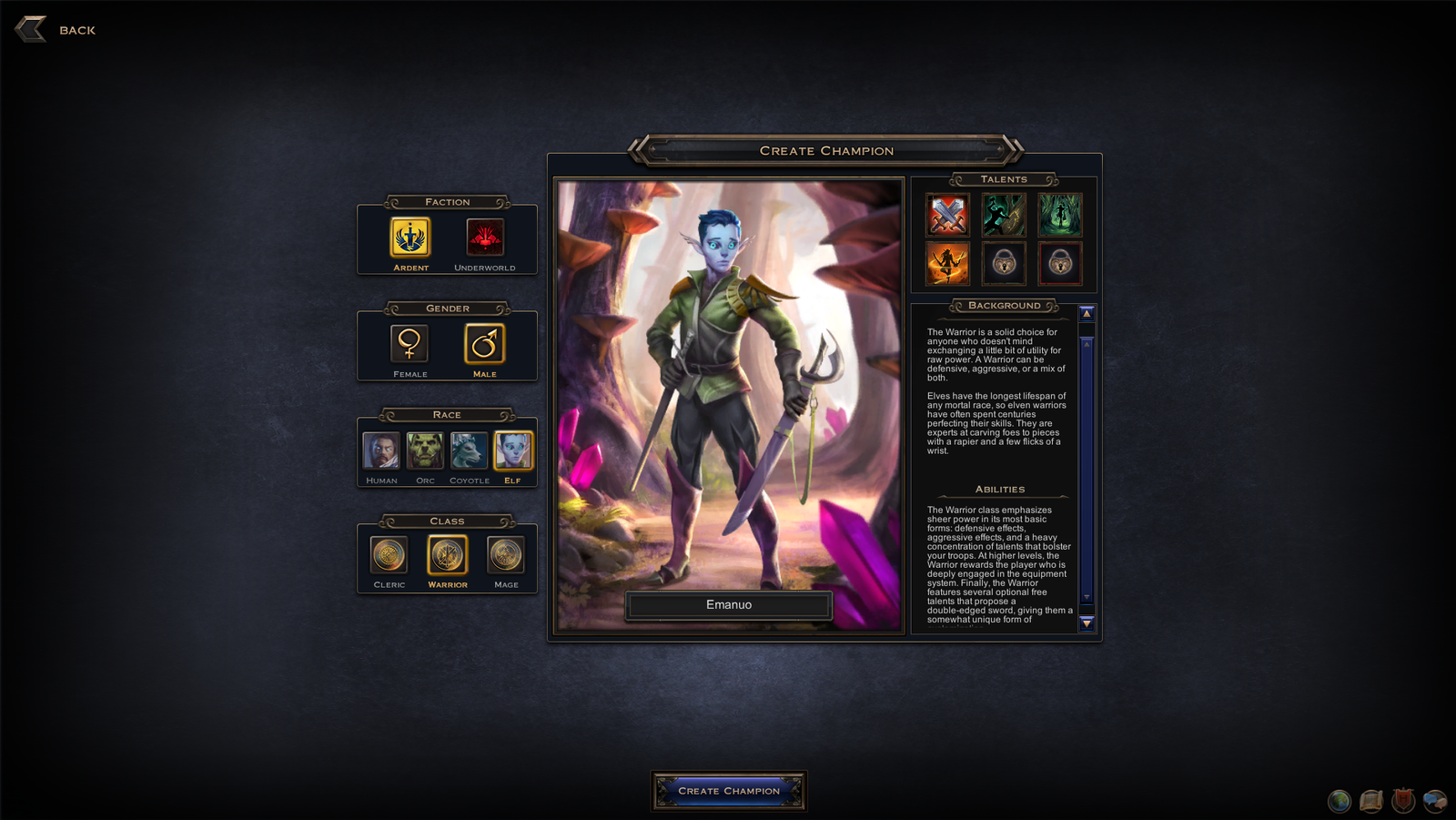 Eurogamer Do you hope to lure away players of more casual titles?
Cory Jones
Luring away is the wrong word. Hex offers a different approach. It might be that players who hit the limit in entertainment in other digital CCGs want to dive in deeply into the world of Hex, and that's what it's for. We don't see any players as "too casual" for not playing our game. With the PvE you can enjoy the complete depth of Hex without throwing yourself into PvP and find yourself facing some real TCG pro players.
Eurogamer Why was Kickstarter the right funding source for this project?
Cory Jones
As mentioned before, Hex is a completely unique approach in this genre. Kickstarter not only provided us with the amount of resources we needed to bring our dream to live but also gave us the feedback that our vision was a greatly desired one. It also ended up being a proof-of-concept for when we were looking for experienced and capable publishers, such as Gameforge
.
Eurogamer Why did you decide to launch a Hex: Shards of Fate tournament?
Cory Jones
It is - despite the PvE- the core nature of TCGs to be competitive. Going into eSports was just a natural step for us and has been a core element of our vision ever since the Kickstarter.
Eurogamer Did its potential as an eSports affect any development decisions?
Cory Jones
TCGs are created to be played against others. So, no. eSports had no direct effect on the development as the basic gameplay decisions were made in this direction anyway. There are many benefits that will come to Hex thanks to being a great candidate for eSports, but these are all additional bonuses on top of a great game.