Hermit Crab Studios playing its own shell game
CCO Guilherme Gonçalves talks about the Football Freestyle studio's history of adaptation
Brazilian game developer Hermit Crab Studios chose an appropriate namesake. Just as actual hermit crabs leave behind their shells to find new ones as they grow, Hermit Crab Studios has been similarly shifting its strategy as it grows.
The studio formed in 2014, originally setting to work on advergames and educational titles. Speaking with GamesIndustry.biz recently, Hermit Crab co-founder and CCO Guilherme Gonçalves says it was part of the foundation of the studio, but by 2016 a change was needed.
Gonçalves points to the studio's motto -- "More than good games, games for the good" - to explain its pivot.
"We believe that the content must have values that contribute to our society, and this is why we chose sports. You're not going to see Hermit Crab developing games with any sort of violence. We don't want to make games about guns and no sort of violence in our games because we're really concerned about this type of content."
"We know that sports are not the most profitable category in games, but we can see that there's space to grow in this niche"
Gonçalves says sports can be a valuable tool to teach values like fair play, perseverance, discipline, and sporting behavior.
"There are a lot of different values we're trying to approach in our projects," he says. "We know that sports are not the most profitable category in games, but we can see that there's space to grow in this niche."
The first project of this new-look Hermit Crab was The Blur Barbosa vs. Aliens, a free-to-play basketball game starring Brazilian NBA star Leandro "The Blur" Barbosa, released in 2016. Around the same time, the company found its new CEO in Matheus Vivian, a professional football player living in France. Vivian remains in France, giving the studio a European office to handle business concerns and relationships while a team of about 14 developers spread across Brazil makes the games remotely.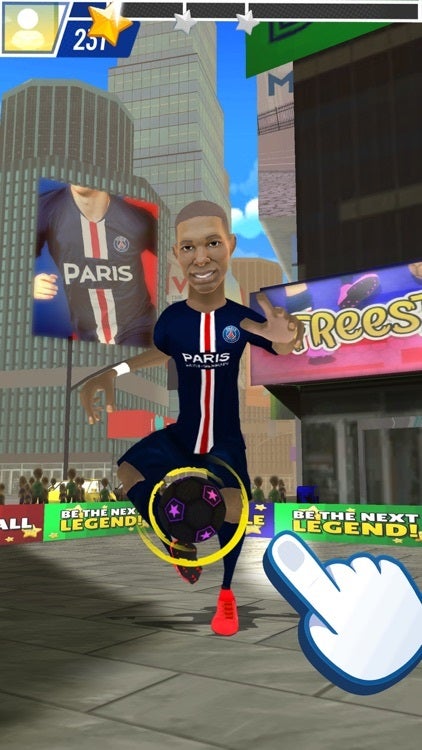 After The Blur Barbosa vs. Aliens -- which Gonçalves described as a beta project to test out the studio's new sports remit -- Hermit Crab shifted its focus to the sport Vivian was most familiar with, leading to the creation of its new Football Freestyle franchise. To date Hermit Crab has announced a pair of Football Freestyle titles based on specific football clubs, one carrying the brand of the Ligue 1's Paris Saint-Germain, and the other based on the Premier League's Arsenal.
The PSG Football Freestyle is set to launch globally on Google Play and App Store next month, with Arsenal to follow at a later date. The studio is also working on a deal with a third club and plans to do more in the future, but has nothing to announced as yet.
Regardless of how many such Freestyle Football games Hermit Crab makes, Gonçalves says they'll be more than just reskins of the same game.
"Our games are based not only on principles we believe in in the studio, but they're connected to the digital strategy of the clubs," he says. "So we have PSG and we have Arsenal and the games are not the same, because we've been building the games with the marketing front of each club. So even if it's a franchise, they are reflecting the club's identity, the club's history, the club's strategy, and position."
When asked for examples of how those changes are reflected in the games, he explains that marketing strategies can change from team to team, so the games would need to fit with those varying strategies.
"In PSG, for example, we target younger audiences to contribute to the development of a fresh fan base, which in many cases are gamers but do not have a direct connection to the affinity of sports," he says. "In this way, we can use the universe of games as a gateway for these audiences to the club, its culture, and its athletes."
"People don't usually look at those numbers so of course, they really want a big fish like Google Play or the App Store, and they just forget about this piece of the market"
Both the PSG and Arsenal games are both free-to-play, but in another bit of adaptation, Hermit Crab is producing premium versions as well.
Gonçalves describes the premium versions of the game as smaller experiences than their free-to-play counterparts, and ones that will be sold exclusively in markets where players are buying their games through service provider storefronts that don't use free-to-play models. He says those storefronts account for about 5% of the global mobile game market.
"If you just analyze that number on its own, it's not that big, but for a studio, 5% of the market is huge," Gonçalves points out. "People don't usually look at those numbers so of course, they really want a big fish like Google Play or the App Store, and they just forget about this piece of the market."
The number of developers who ignore that part of the market opened up another area of adaptation for Hermit Crab, which now offers its services as a distributor for those service provider storefronts.
"We got in the market by opportunity, and have been making a lot of good relationships with these channels," Gonçalves says. "We see an opportunity to help other studios get in, because we know there's a lot of laws and bureaucracy which make it a little harder for a studio to get in. So we can use our expertise as a shortcut for others to use."
While individual games can see varying performances on such storefronts, Gonçalves acknowledges developers should expect their returns from such storefronts to be incremental rather than make-or-break. For Hermit Crab itself, he estimates distribution currently makes up about 10% of its business.
As for its next adaptation, Gonçalves says the company has added a hypercasual production pipeline to test out various gameplay concepts that it can then carry forward into its other projects.
Regardless of how its current plans may shift, Hermit Crab's history of adaptation and evolution suggests that the shell it wears in the future will bear little resemblance to the one it carries now.