Here's how the games industry is honouring International Women's Day
We round up all the events and other activities video games firms are hosting to celebrate women everywhere
As you have no doubt noticed from your various social media feeds this morning, March 8th is celebrated globally as International Women's Day.
While this most often manifests as individual tweets, posts and other messages celebrating the contributions and accomplishments of notable women, various firms in the video games industry are taking this one step further.
Below is our round-up of this year's International Women's Day activity. If there's an initiative or event we've missed out, be sure to let us know by emailing news@gamesindustry.biz.
King
The creator of Candy Crush Saga is hosting an event at its London office today, in which various members of staff will be discussing this year's IWD theme: #PressforProgress.
Speakers will include lead producer Sabrina Carmon, senior director for talent development Mariabrisa Cesario, sales director Kimberly Port, and agency sales director Sinead Gilbody. You can follow the event via King's Facebook and Twitter channels.
The firm is also building on the work of its global Women@King network with a campaign entitled SHEroes, which will highlight the talented women employed at the various studios around the world.
Zynga
Casual games giant Zynga has partnered with the International Game Developers Association to help better support women working in games, GamesBeat reports.
The FarmVille firm is sponsoring two IGDA Foundation programs: Women In Games Ambassador and IGDA Scholars, which will both kick off later this month at GDC 2018 in San Francisco.
The initiative will be led by internal team Women At Zynga, which will host 60 foundation participants and take six female students from USC School of Cinematic Arts' games division and the Marshall School of Business to GDC.
PlayStation
The platform holder has released a free theme for all PlayStation 4 owners to celebrate International Women's Day. The theme features artwork of heroines and female protagonists from various first-party titles, including Uncharted's Chloe Frazer and Nadine Ross, Horizon: Zero Dawn's Aloy, The Last Of Us' Ellie, Kara from the upcoming Detroit: Become Human, and the little pink creature from Dreams.
The theme is available to download for free from the PlayStation Store, and was designed and drawn by Maja-Lisa Kehlet, an artist at Dreams and LittleBigPlanet studio Media Molecule.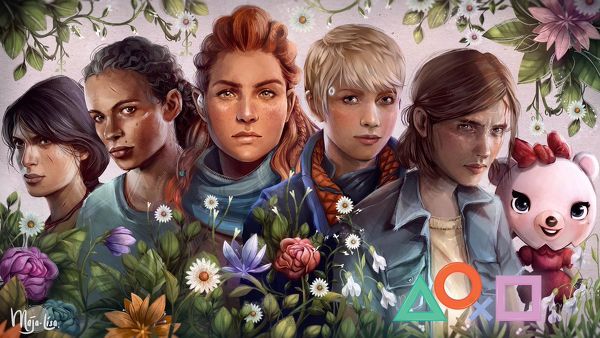 Google Play
The mobile platform holder is running a week-long promotion in its digital store celebrating the best content either developed by women or featuring strong female protagonists. This extends beyond games, into books, movies and TV shows as well.
Some of the female-led games highlighted include seminal narrative advenure 80 Days, innovative puzzle title Kami 2, free-to-play collection game Zen Koi 2, and the mobile adaptation of sci-fi board game Race for the Galaxy.
Today, Google will also be partnering with popular YouTubers - including OMGItsFireFoxx, CyberNova, Gloom and Rosanna Pansino - to share stories of how they got into gaming.
Creative Assembly
The Total War studio held its latest girls-only schools workshop last week and invited a TV crew to come and film the event. Jodie Azhar, lead technical artist on the Total War: Warhammer games, was also interviewed about the studio's goals.
The developer tells GamesIndustry.biz this ongoing activity aims to "raise awareness on a global scale that the games industry can be a career for anyone, not matter a person's gender - or any other characteristic."
You can view the video of the event below.
Testronic
The UK QA firm has taken this opportunity to launch a new long-term project: The Testronic 50% Initiative. This will encourage more young women to consider careers in games by offering advice on various roles across the industry.
Testronic will also offer mentoring and self-development where possible. The venture is led by Ann Hurley, head of new business for games in West Europe. Anyone that wants to get involved can email women@testroniclabs.com.
"At Testronic we buck the trend in some areas - 40% of our management team based out of London and Warsaw are female, while 42% of our localisation QA team are women," she says. "But there are other areas we need to work on, and it's the same for many other companies in the business - whether publishers, developers or service companies."
Unity
The engine provider has quizzed several of its female employees from around the world about what International Women's Day means to them. They also touch on the treatment of women in the games industry, the barriers they face and how these barriers might be overcome.
You can read the discussion in full at the Unity blog.
Double Fine
The Psychonauts 2 developer spent the whole day sharing short videos that highlight key female developers and other notable figures, using the hashtag #WomenBehindTheGames. You can watch the whole series here.
Vodafone
While not a video games firm per se, the industry could potentially benefit from the mobile network's pledge to provide free coding training for 1,000 14 to18-year-old girls across 26 countries. This is part of ongoing efforts to increase the number of young women interested in STEM subjects, which are essential to anyone seeking a career in games development.
You can read more at the official International Women's Day website.
Twitch
Twitch is partnering with 1,000 Dreams Fund (1DF), a national non-profit that provides micro-grants to young women in the US, to launch Streams for Dreams, a campaign to help young women pursuing a career in STEM fields. The program offers bonuses for streamers who raise funds for it throughout the month, and will create BroadcastHER grants from $500 to $2,000 for streamers in high school, college, or grad school. It will also feature women streamers on its front page throughout the month.
If your company is running activity for this year's International Women's Day, email us via news@gamesindustry.biz and we'll add it to our round-up.