Hearthstone makes $20m a month - SuperData
Blizzard title easily leading the digital card game market, which SuperData forecasts will hit $1.3 billion this year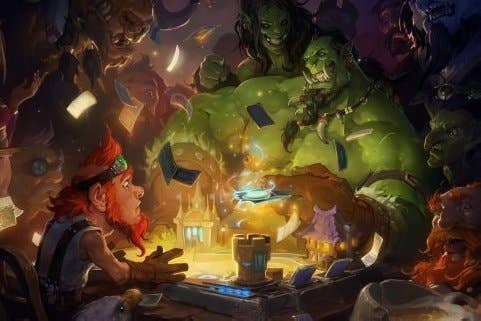 According to a new report from SuperData, the worldwide market for digital collectible card games (CCGs), led by Blizzard's Hearthstone, should hit an all-time high of $1.3 billion this year. The research firm noted that Hearthstone "transformed the landscape after earning more last year than its three closest competitors combined."
Mobile has had a sizable impact on the digital CCG market and on Hearthstone. After Blizzard launched the game on smartphones this April, the game's revenue and player base jumped up significantly. SuperData said that Hearthstone is now generating $20 million every month, with more players on mobile than PC (9 million vs. 8 million).
"In the same way that World of Warcraft became the dominant MMO when it was launched, Hearthstone is now the digital card game to beat. Blizzard made a game that is more accessible than long-running CCGs like Magic: The Gathering without sacrificing deep and engaging game play for hardcore fans," SuperData CEO Joost van Dreunen said. "Publishers like EA and Bethesda are developing new CCGs as a direct result of Hearthstone's success, and Wizards of the Coast revamped its Magic video game series as well."
SuperData estimates that smartphones will continue to lead the digital CCG market with roughly $532 million generated next year; while smartphone players tend to spend less than PC or tablet users, SuperData notes that smartphones remain the fastest growing audience for digital CCGs. It's not necessarily an either/or scenario, though, as almost half of digital card gamers play on more than one major platform. Typically, multi-platform CCG players will play on either a PC or tablet at home and then use a smartphone while on the go. It's also worth noting that the digital CCG genre is one of the most male-dominated genres, as the adult audience is 80 percent male with an average player age of 31.
"Previously, smartphones were the realm of relatively simple card games like Rage of Bahamut and Marvel: War of Heroes. Highly-complex digital CCGs modeled after tabletop games tended to exclusively target PC and tablet players," van Dreunen added. "The success of Hearthstone on smartphones shows that the most dedicated CCG players want to play their games on the go too. As digital card gamers grow to expect seamless play across devices, publishers will need to rethink their game designs to account for players' diverse tastes and different play habits across PCs, smartphones and tablets."