Haven is about "cooking, chatting, drinking, kissing -- that's very French"
The Game Bakers' Audrey Leprince on finding the recipe for a quintessentially French game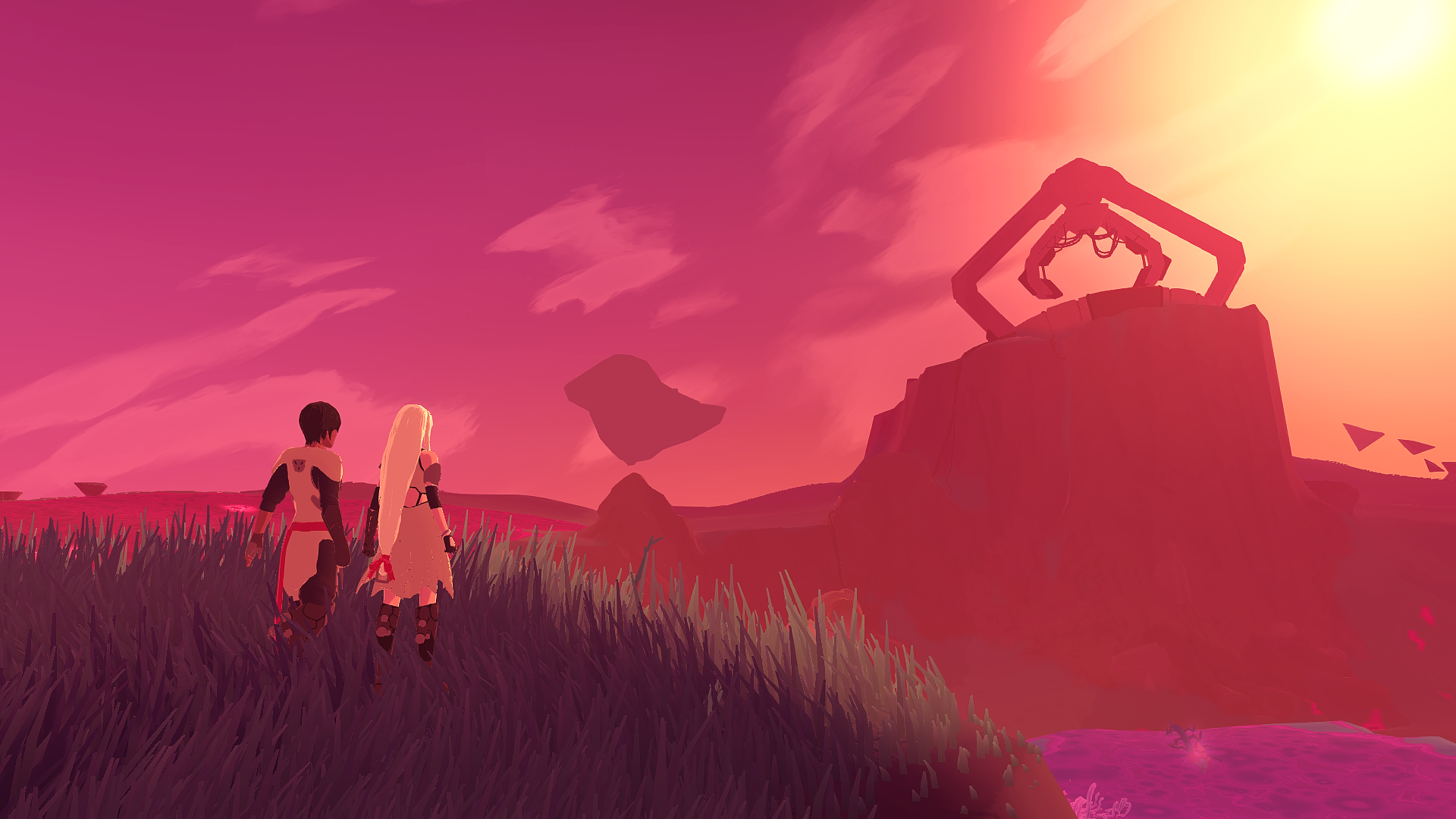 You'd be forgiven for thinking, if you were unfamiliar with the studio's work otherwise, that The Game Bakers primarily makes cooking games.
Aside from its name, the company's website features an interactive cooking pot with click-and-drag ingredients for making different types of games. And then there's co-founder Audrey Leprince, who keeps dipping back into mentions of food during our conversation at PAX West about the studio's upcoming game, Haven. "It's all about cooking, spending time together, chatting, drinking, kissing -- and that's very French," she says.
That said, as many times as it came up as a part of the discussion, Haven doesn't revolve entirely around food. Rather, Haven uses food and cooking and the companionship they foster to take a sharp turn from the fiercer plot of the company first title, Furi, opting to tell a love story instead. "Furi was about freedom," she says, "and this game is about love and what you're willing to do for love."
"There are a lot [of games] about dating, or where you love someone but they've been killed. We decided to do a love story about an established couple"
"Emeric [Thoa], the creative director, and myself wanted to do a love story for a very long time," she adds. "We had just done Furi. It was a challenging, hardcore, skill-based game. Very intense. And we wanted to change things completely. To go for the opposite, which is relaxing, feel-good, going to bring a smile on your face. We wanted to make something that wasn't already being done everywhere in the industry. And there are actually not that many love stories in games.
"There are a lot [of games] about dating, and some stories where you actually love someone but they've been killed and you have to avenge them, or you have to save the princess. That's about the range of the love stories. So we decided to do a love story about an established couple. They're already in love, and they're going to have a happy, healthy relationship. It's not going to be horrible and terrible and dark, and they're [not] going to have to survive or die of starvation. No, it's going to be okay."
Though she knows she's bucking a trend, Leprince thinks that all types of love stories are important for games. She suspects that gaming's history of treating relationships either in terms of dating or loss is reflective of the industry's age -- indicating we may start to see more games like Haven over time.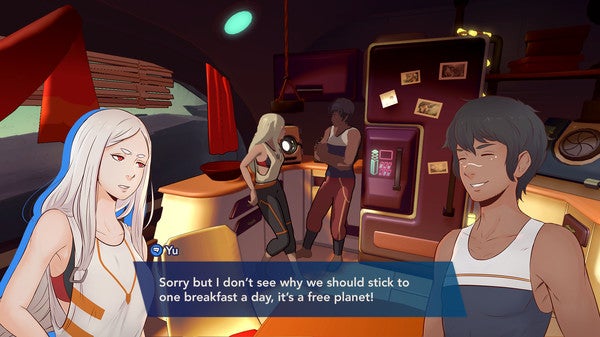 "Maybe we want to talk about dating when we ourselves are in a dating phase, and now we're a bit older at Game Bakers and we want to talk about an established relationship because we are in established relationships," she says. "Game developers always talk about what they're living at the moment.
"I don't think other games get it wrong. I just think they treat it from a different angle, which can be interesting. We all love dating; it's a big part of relationships and life. We just wanted to do something different, something that's not done enough, and that we think is fresh for people."
Specifically, Haven is about an established couple in a fantastic, futuristic world that arrive on an unknown planet, fleeing some enemy force that would otherwise tear them apart. At least in the short demo shown at PAX, it appears that the lovers will spend the rest of their lives on the empty planet, alone except for one another.
"Usually people rely on drama, right? We have to rely on something else: intimacy"
Leprince is firm that they're not on the verge of breaking up or dying, so the story will revolve around the ups and downs of their normal, presumably healthy relationship. But she adds that this presents a very particular creative challenge -- Haven can't rely too heavily on conflict to push the story forward. Instead, despite the urgency of the game's opening, it wants players to stick around because they find the characters' relationship relatable.
"Usually people rely on drama, right? We have to rely on something else, more of the intimacy you find with the characters. The fact that they make you laugh, they make you smile. The food they eat, the way they talk, it feels so familiar. And the characters, we designed them to make you [see yourself] a little bit in them. I've heard a lot of players say, 'Oh, this is totally my girlfriend,' or 'This is totally me.' It's all about making those characters relatable, fun, and touching."
All that said, Haven is still an RPG, with the main characters Yu and Kay exploring their new home planet together, gathering ingredients, looking for signs of life, and eventually fighting with strange, corrupted creatures. But even here, their relationship is at the heart of everything; the pair level up not just by fighting together, but also by talking to one another back at the ship, cooking together, eating, and doing any number of other activities side by side.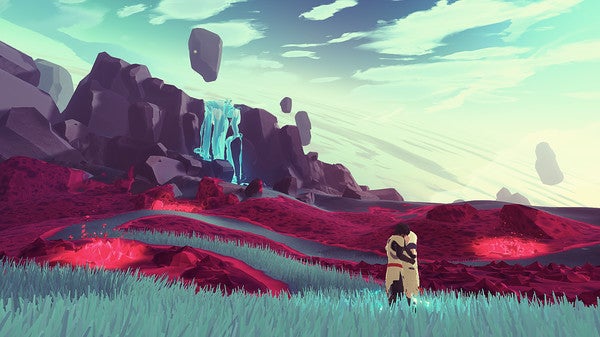 In that regard, Haven is both a unique take on relationships as well as a little bit of everything in terms of genre. Leprince tells me that another quintessentially French element of their studio is a passion for Japanese cartoons and art, something that ended up being reflected in the game's art and style.
"We're French, and we've been raised on Japanese cartoons from the 80s," she says. "We love Japan. We like the anime style, and we wanted to have super expressive characters with details and emotions on their faces. This is where the design of the characters came from. [Haven has] colorful environments, a lot of vibes of color, and relaxing plains. It's a bit like Journey meets Persona in some way; you have from Journey the beauty of the environment and the gliding [the characters move through the world by sort of hover-gliding], and Persona for the story-driven RPG, strong characters, and action."
"How many times have you seen two people in a bed together, hugging, in a game?"
One other element of Haven that was instantly striking in its PAX West demo was the amount of physical intimacy between characters. In games depicting relationships, it can often be awkward or outright immersion-breaking to watch two 3D models kiss, hug, or otherwise be intimate with one another. But Haven doesn't shy away from kissing or hugging, and goes even farther to frequently depict movements like Kay playfully backing Yu up onto a table as things heat up, or Yu gently resting her arm on Kay's chest while they sleep. The pair constantly hold hands out in the field.
"It's an established couple, so of course they have physical intimacy. We're not going to show it graphically, but they kiss, they hug, they're in bed together. How many times have you seen two people in a bed together, hugging, in a game?
"The challenge is to find the fine line between too cheesy and not touching enough. It's a very fine line, even with the character design and how they speak to each other. You can't be too cheesy. But you can't be too cold or too sarcastic. It doesn't work. We have a really great writer, and I think he managed to hit that line."
Though she's not willing to get into specifics just yet -- Haven is due for release in 2020 -- Leprince has a particular idea in mind for what she wants players to feel when they finish it.
"We need to have meaning in our games," she says. "We love entertaining games that are just entertaining and fun and crazy. But the games we make, we want you to remember them long after you finish them."
"It's okay to be happy," she adds a bit later. "It's okay to have happiness in everyday life. There is beauty in your everyday life, and I hope people will see it there."
Disclosure: PAX organizer ReedPOP is the parent company of GamesIndustry.biz.