Half of US and UK players want more diverse characters in games
Research conducted by Newzoo shows that gamers want publishers to take an "active stance" on societal issues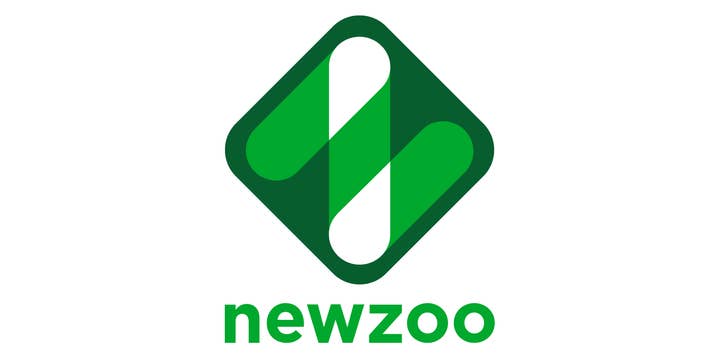 Newzoo's latest Gamer Sentiment Study on diversity and inclusion showed how important these themes are to players.
54% of US players said that diversity is important in game characters, with 47% adding that they avoided playing a game in the past because they felt it wasn't made for them. The results were a bit lower in the UK, with 47% of the respondents feeling that diverse characters are important, and 41% having avoided a game not made for them.
A third of all respondents said that they prefer to play as characters that look like them, and an important portion of them want publishers to take a stance on societal issues (see graph below).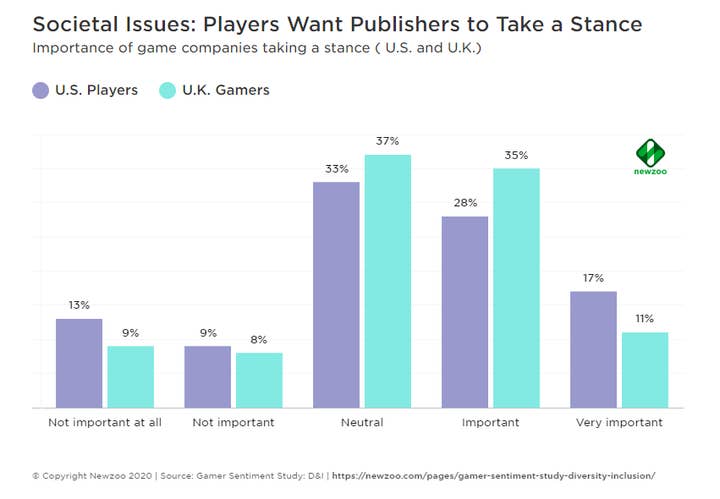 Publishers willing to take a stance could potentially benefit from a wider audience going forward, as half of the respondents in both territories said they would be more likely to buy games from companies that take an "active stance."
The research was conducted among 4,000 gamers across the UK and the US, and painted a diverse picture of the games industry's audience.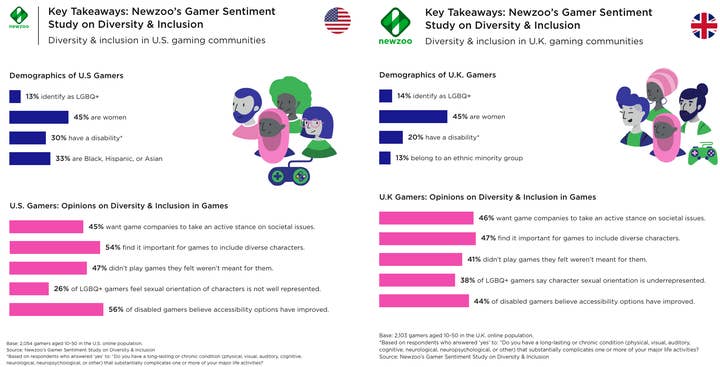 45% of players in the UK and the US identify as women. 13% of all respondents identified as LGBTQ+ in the US and 14% in the UK, while 30% identified as disabled in the US, versus 20% in the UK.
In terms of racial diversity, 13% of UK gamers said they belong to an ethnic-minority group, and a third of US respondents are Black, Hispanic or Asian.
While players are becoming more and more diverse, the industry itself is still overwhelmingly white and male in some territories such as the UK, as highlighted by UKIE's UK Games Industry Census earlier this year.
On the US side of things, the latest IGDA developer survey showed that the industry was increasingly supportive of diversity initiatives, but respondents were overwhelmingly white and male there too.