Guardians of the Galaxy and Mario Party can't defeat FIFA | UK Boxed Charts
Riders Republic debuts at No.8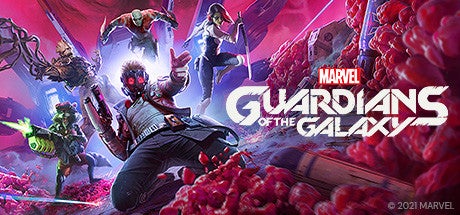 FIFA 21 is No.1 for a fifth consecutive week in the UK boxed charts, according to the latest GfK data.
EA's football game dropped 11% in sales week-on-week, but comfortably holds the top spot despite two new contenders for its crown.
The game that came the closest is Marvel's Guardians of the Galaxy at No.2. This is the second Square Enix game based on Marvel IP after last year's The Avengers. Compared to that game, launch sales are 58% lower for Guardians. of course, Guardians of the Galaxy is a smaller game in scope and won't have the same financial expectations. It's also worth noting that digital data is not currently available. 63% of launch sales were on PS5, 19% on PS4 and 18% on Xbox.
Just behind Guardians is Mario Party Superstars at No.3. Mario Party may not get the same headlines as other big Nintendo titles, but it is a significant seller over time. The last title in the series, Super Mario Party, is in the Top Ten Switch games in the UK.
Mario Party Superstars boxed launch sales are slightly below Super Mario Party (6% lower), but this doesn't factor in digital sales, and the download market has accelerated significantly in the three years since that game launched.
As a result of the new games, Ubisoft's Far Cry 6 falls to No.4 after a 23% dip in sales.
Also new to the charts this week is Ubisoft's sports game Riders Republic, which makes No.8. 52% of sales were on PS5, 28% on Xbox and 20% on PS4.
Last week's new horror game The Dark Pictures Anthology: House of Ashes falls from No.6 to No.21 after a 52% sales slide.
Elsewhere, racing up the charts this week is F1 2021 at No.12, which is proving popular as the real world sport heats up. And Deathloop returns to the Top 40 at No.35 after some pricing activity on the game.
Finally, Nintendo's recently-released Metroid Dread slips out of the Top Ten to No.15 with a 34% sales drop. The game is now on the cusp of overtaking Metroid: Other M on Nintendo Wii to become the sixth best-selling Metroid game of all time, and that's without digital download figures.
Here is the GfK top ten for the week ending October 30, 2021:
| Last Week | This Week | Title |
| --- | --- | --- |
| 1 | 1 | FIFA 22 |
| New Entry | 2 | Marvel's Guardians of the Galaxy |
| New Entry | 3 | Mario Party Superstars |
| 2 | 4 | Far Cry 6 |
| 3 | 5 | Mario Kart 8: Deluxe |
| 4 | 6 | Animal Crossing: New Horizons |
| 5 | 7 | Minecraft (Switch) |
| New Entry | 8 | Rider's Republic |
| 10 | 9 | Grand Theft Auto 5 |
| 8 | 10 | Super Mario 3D World + Bowser's Fury |